Lectures
David Auerbach, Evgeny Morozov & Ben Wizner | EXPO 1: New York
Με αυτή τη συζήτηση στρογγυλής τραπέζης, στην οποία συμμετέχουν διακεκριμένοι ιστορικοί και πολιτικοί επιστήμονες, ολοκληρώθηκαν οι εργασίες του τριήμερου Συνεδρίου "Μεταπολίτευση: Από τη μετάβαση στη δημοκρατία στην οικονομική κρίση;" που οργάνωσε το περιοδικό Ιστορείν και συνεργασία με το Τμήμα Νεοελληνικών Σπουδών του Πανεπιστημίου του Βερολίνου και με την υποστήριξη του Ιδρύματος Friedrich Ebert, με τη συμμετοχή πολλών μελετητών από πανεπιστήμια και ερευνητικά κέντρα της Ελλάδας και του εξωτερικού. Όλες οι θεματικές ομιλίες του Συνεδρίου βιντεοσκοπήθηκαν και αναρτώνται στο Blod. Σχετικά με την προβληματική του Συνεδρίου, οι οργανωτές σημειώνουν: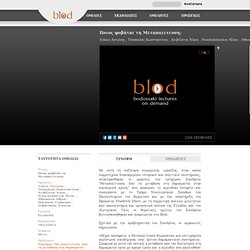 unnamed pearl
Reading Marx's Capital Volume I with David Harvey A close reading of the text of Karl Marx's Capital Volume I in 13 video lectures by Professor David Harvey. Links to the complete course:
The annual TED conference celebrates technology, entertainment and design by bringing together some of the most inspiring and revolutionary minds from across the globe. We're kicking off TED2011, which started Monday, February 28, and lasts through the week, by looking back at the best TED talks on technology from previous years. Check out our slideshow, featuring Wikileaks's Julian Assange, the Large Hadron Collider, Wii remote hacks, a robot standup comedian, and much more.
The Best Of TED: 15 Unmissable Tech Talks (VIDEOS)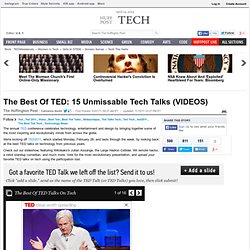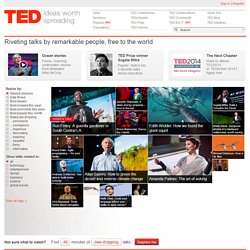 Melinda Gates and Bill Gates Why giving away our wealth has been the most satisfying thing we've done In 1993, Bill and Melinda Gates—then engaged—took a walk on a beach in Zanzibar, and made a bold decision on how they would make sure that their wealth from Microsoft went back into society. In a conversation with Chris Anderson, the couple talks about their work at the Bill & Melinda Gates Foundation, as well as about their marriage, their children, their failures and the satisfaction of giving most of their wealth away.
Category: Arts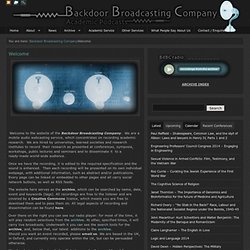 Welcome to the website of the Backdoor Broadcasting Company. We are a mobile audio webcasting service, which concentrates on recording academic research. We are hired by universities, learned societies and research institutes to record their research as presented at conferences, symposia, workshops, public lectures and seminars and to disseminate it to a ready-made world-wide audience. Once we have the recording, it is edited to the required specification and the sound is enhanced.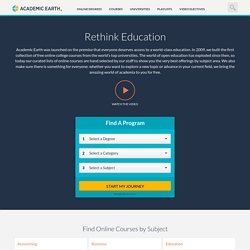 Academic Earth believes everyone deserves access to a world-class education, which is why we continue to offer a comprehensive collection of free online college courses from the world's top universities. And now, we take learning outside the classroom with our original series of thought-provoking videos, designed to spark your intellectual curiosity and start a conversation. Watch, learn, share, debate.
EGS Video
市販のダイエット食品や運動器具を試してみました。お金をかける以上成功させたいと最初は気合が入るものですが、いつの間にか部屋の隅で埃をかぶっている事も多いですよね(苦笑) EMS腹筋ベルトでお腹周りだけでもスリムになっておきたい お正月が明けてからと言うもの、私はお腹周りが非常に気になって仕方が無い状態です。