NEWS
Yahoo! Good Morning America - Latest News & Headlines
Watching America
Home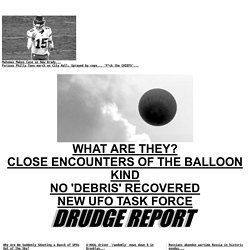 Feds form grand jury to probe Chris Christie's role in Bridgegate... Afghans line up for blocks to vote for new leader... $1.5 MILLION Hotel Bill for Obama's One-Day Visit to Brussels... Holder defends using DOJ airplane for 27 personal trips... Maryland: 60,000 Obamacare Sign-Ups, 73,000 Lost Insurance... Fear of penalty reason for late surge in CA...
The Epoch Times > United States edition
Through a special agreement with more than 800 newspapers worldwide, the Newseum displays these front pages each day on its website. The front pages are in their original, unedited form, and some may contain material that is deemed objectionable to some visitors. Discretion is advised.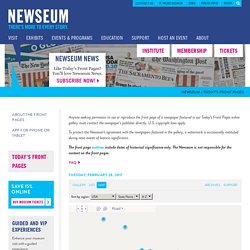 Polijam
reddit
reddit gold gives you extra features and helps keep our servers running. We believe the more reddit can be user-supported, the freer we will be to make reddit the best it can be. Buy gold for yourself to gain access to extra features and special benefits.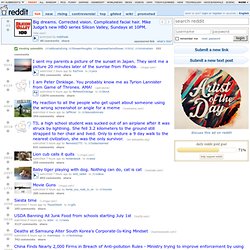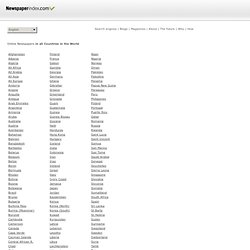 Online Newspapers in all Countries in the World Newspaper Index WorldWide: English, Dansk, Deutsch, Español, Français, Italiano, Norsk, Português, Bahasa Melayu, Polski, Romanesc, Suomi, Svensk, Tiếng Việt, Türkçe, Ελληνικά, русский язык, українська мова, اردو, اللغة العربية, हिन्दी, 中文, 日本語, 한국어, Afrikaans, Shqipe, Беларуская, Български, Català, Hrvatska, Čeština, Nederlandse, Eesti, Filipino, Galego, עברית, Magyar, Íslenska, Gaeilge, Latviešu, Македонски, Malti, فارسی, Српски, Slovenčina, Slovenski, Kiswahili, ไทย, Cymraeg, ייִדיש, Հայերեն, Azərbaycan, Euskal, ქართული, Kreyòl ayisyen To suggest newspaper for inclusion in NewspaperIndex.com send a mail to hh@newspaperindex.com Home | Privacy Policy | Contact Us | Bookmark Newspaper Index (Ctrl+D) | Tell a Friend | Free e-books
We want to be the web's one-stop resource for country statistics on everything from obesity to murders. What would the world look like if you shifted countries around based on similarity? What if you clustered countries according to statistical performance, rather than other predefined groups, regions and associations? We did just that at NationMaster. We created network graphs where the most similar countries become neighbours. The more similar their statistical performance, the closer countries are.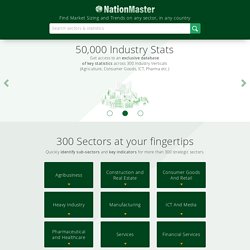 Real Clear Politics Monday Obama Schooled on How to Handle a Crisis - Joseph Curl, Washington TimesChristie's Conservative Problem - E.J. Dionne, Washington PostWhat If Americans Rebel Against Mandate? - Byron York, DC ExaminerCan This Man Sell Obamacare? - Joshua DuBois, The Daily BeastThe Health Care Law's Nebraska Nemesis - John Miller, National ReviewWhat Liberals Don't Get About Single-Payer - Ezra Klein, BloombergEnergy 2014: New Battles Loom in a Long War - Alexis Simendinger, RCPEnemies of the Poor - Paul Krugman, New York TimesHow to Fight Income Inequality: Get Married - Ari Fleischer, WSJWe Won--& Lost--the War on Poverty - Robert Samuelson, Washington PostWhy Is Religion Invisible to the Media?
RealClearPolitics
Jerusalem Post | Breaking News from Israel, the Middle East and the Jewish World
News Forum Home Page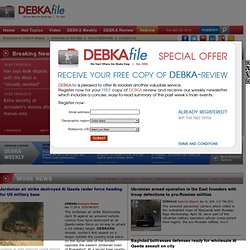 A commanding and controversial figure in Israel's military and political history, Ariel Sharon, Israel's 11th prime minister, born on Feb. 26, 1928, died aged 85, on Saturday, Jan. 11, 2014. A victorious, innovative and often maverick general, his power-motivated, divisive style in politics won him the eponym of "bulldozer." A hawk and early champion of Jewish settlement, Sharon underwent a remarkable transformation in 2005 to orchestrate Israel's unilateral withdrawal from the Gaza Strip against stiff party and popular opposition. His last eight years were spent in a stroke-induced coma from which he never recovered.
DEBKAfile, Political Analysis, Espionage, Terrorism, Security
Google Reader has been discontinued. We want to thank all our loyal fans. We understand you may not agree with this decision, but we hope you'll come to love these alternatives as much as you loved Reader.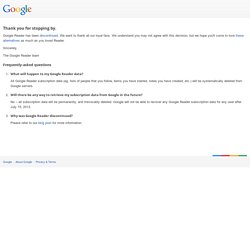 gutteruncensored.com
Al Jazeera English
The United States has said it hopes to hold talks with Iran soon and would be prepared to follow up on a plan to provide fuel for Iran's research reactor in exchange for low-enriched uranium. The plan was mooted in Geneva last October at a meeting between Iranian officials and senior diplomats from the five permanent UN Security Council members - Britain, China, France, Russia and the United States - along with Germany. "We obviously are fully prepared to follow up with Iran on specifics regarding our initial proposal involving the Tehran research reactor ... as well as, you know, the broader issues of trying to fully understand the nature of Iran's nuclear programme," PJ Crowley, the US state department spokesman, said on Wednesday. "We hope to have the same kind of meeting coming up in the coming weeks that we had last October."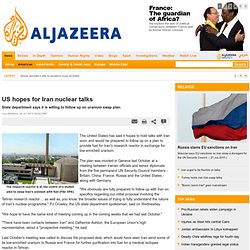 The much-hyped bipartisan Ryan-Murray budget "deal" struck late last year increases the national debt $6.4 trillion over the next ten years. It does nothing to change the trajectory of our growing debt at a time when it is among the greatest national security threats facing our nation. The "deal" also increases near term federal spending with a promise of future cuts (dubious) while raising taxes on airline passengers. Worse, it features a cut in pension benefits to current military members and veterans who earned those pensions in measures of blood and sweat. I voted against it. by Rep. Jim Bridenstine 44