Inspiration
Beautiful/Decay Cult of the Creative Arts. VECTRO AVE | Art & Design Blog | Design Mash. Incredible and Scary 3D Pencil Drawings by 17-year old Fredo. Realistic pencil drawings are always interesting.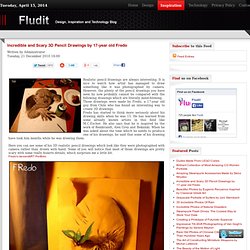 It is nice to watch how artist has managed to draw something like it was photographed by camera. However, the plenty of the pencil drawings you have seen by now probably cannot be compared with the following drawings which are literally mind-blowing.Those drawings were made by Fredo, a 17-year old guy from Chile who has found an interesting way to create 3D drawings.Fredo has started to think more seriously about his drawing skills when he was 15.
Posters
Grafická Chirurgie / Surgery Minor. Ubersuper ~ Stuff I Like. Cruzine - the place, where knowledge becomes live. Changethethought™ Laughing Squid. Whitezine | inspire Create and Share. Recave Blog: Web Design, Illustration, Photography, Graphics, Videos, Cool Products, Digital Design Inspiration. The Jailbreak – Infotainment for Creatives.
---