Cookies
The Infamous Jacques Torres Chocolate Chip Cookies - StumbleUpon. Now, I have a chocolate chip cookie recipe that I swear by.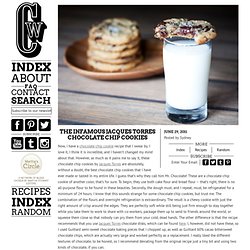 I love it, I think it is incredible, and I haven't changed my mind about that. However, as much as it pains me to say it, these chocolate chip cookies by Jacques Torres are absolutely, without a doubt, the best chocolate chip cookies that I have ever made or tasted in my entire life. I guess that's why they call him Mr. Chocolate! Cinnamon Roll Cookies. Forget the weights get your bicep curl on in this hand to mouth cookie lift.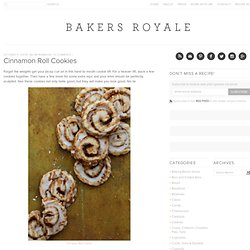 For a heavier lift, stack a few cookies together. Then have a few more for some extra reps and your arms should be perfectly sculpted. See these cookies not only taste good, but they will make you look good. No lie. Crazy Domestic: Melted Snowman Cookies - StumbleUpon. I saw a picture of these the other day on Allrecipes.com and thought it was such a cute idea, I had to try it.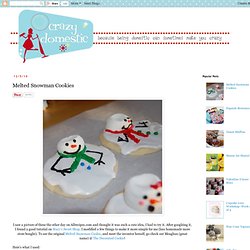 After googleing it, I found a good tutorial on Stacy's Sweet Shop. I modified a few things to make it more simple for me (less homemade more store bought). To see the original Melted Snowman Cookie, and meet the inventor herself, go check out Meaghan (great name) @ The Decorated Cookie! Here's what I used: Cake batter blondies. | girl meets life. - StumbleUpon. I don't say this very often.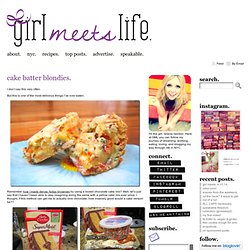 But this is one of the most delicious things I've ever eaten. Remember how I made dense, fudgy brownies by using a boxed chocolate cake mix? Well, let's just say that I haven't been able to stop imagining doing the same with a yellow cake mix ever since. I thought, if this method can get me to actually love chocolate, how insanely good would a cake version be?? Skeleton Gingerbread Men Cookies. Who says gingerbread men are just for Christmas?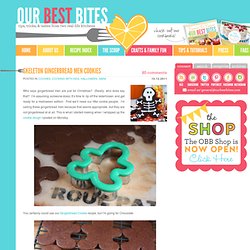 (Really, who does say that? I'm assuming someone does) It's time to rip off the lederhosen and get ready for a Halloween edition. First we'll need our little cookie people. I'm calling these gingerbread men because that seems appropriate, but they are not gingerbread at at all. This is what I started making when I whipped up the cookie dough I posted on Monday.
Under the High Chair: Browned Butter Triple Chocolate Chunk Cookies - StumbleUpon. Home from an intense blogging conference and what am I doing?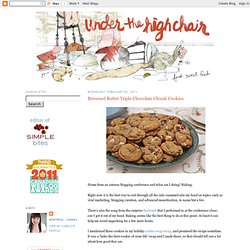 Baking. Right now it is the best way to sort through all the info crammed into my head on topics such as viral marketing, blogging curation, and advanced monetization, to name but a few. There's also the song from the surprise flashmob that I performed in at the conference close; can't get it out of my head. Baking seems like the best thing to do at this point.
---