Digital Pedagogy
Private Today, Public Tomorrow (9-10)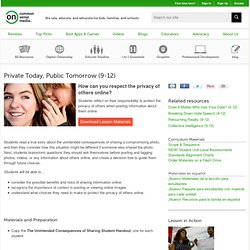 INVITE students to reflect on the saying, "A picture is worth a thousand words." ASK: What do you think this saying means? Students should consider that a complex idea can often be illustrated with a single image, and that context plays a role in how an image is interpreted. ARRANGE students in groups of four or five, and distribute the Unintended Consequences of Sharing Student Handout, one for each student. INSTRUCT students to read the "Drunken Pirate" article, either silently or aloud (taking turns).
Follow the Digital Trail (2-3)
Warm-up (5 minutes) DEFINE the Key Vocabulary term trail. SHARE with students that you can place information online much like you pin something to a bulletin board.
People love to learn by examining visual representations of data. That's been proven time and time again by the popularity of both infographics and Pinterest. So what if you could make your own infographics ? What would you make it of? It's actually easier than you think… even if you have zero design skills whatsoever.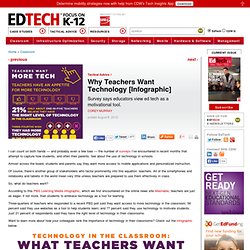 I can count on both hands — and probably even a few toes — the number of surveys I've encountered in recent months that attempt to capture how students, and often their parents, feel about the use of technology in schools. Almost across the board, students and parents say they want more access to mobile applications and personalized instruction. Of course, there's another group of stakeholders who factor prominently into this equation: teachers. All of the smartphones and notebooks and tablets in the world mean very little unless teachers are prepared to use them effectively in class. So, what do teachers want? According to this PBS Learning Media infographic, which we first encountered on the online news site Mashable, teachers are just as eager, if not more, than students to embrace technology as a tool for learning.
Why Teachers Want Technology [Infographic]
Nativos Digitais - Literacia para os media
Free online tutorial for using Word Press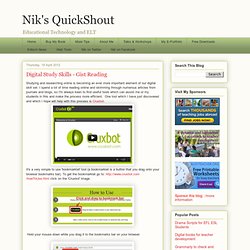 Digital Study Skills - Gist Reading
Studying and researching online is becoming an ever more important element of our digital skill set. I spend a lot of time reading online and skimming through numerous articles from journals and blogs, so I'm always keen to find useful tools which can assist me or my students in this and make the process more efficient. One tool which I have just discovered and which I hope will help with this process is Cruxbot.
Added by Terry Heick on 2012-02-29 Pinterest is (apparently) here to stay. The social bookmarking site is seeing exponential growth and is quickly being adopted by users young and old. That includes teachers and students. Did you know there's an education area on Pinterest?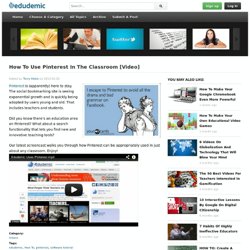 How To Use Pinterest In The Classroom [Video]
educreations We're Hiring! Already registered?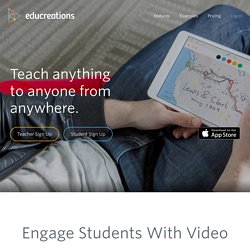 Home >>> Welcome to Learnerstv.com. This is a comprehensive site providing thousands of downloadable Video lectures, Live Online Tests,etc in the fields of Biology, Physics, Chemistry, Mathematics, Computer Science, Engineering, Medicine, Management and Accounting, Dentistry, Nursing, Psychology, History, Language Training, Literature, Law, Economics, Philosophy,Astronomy, Political Science etc FREE to its visitors... This site provides free video and audio lectures of whole courses conducted by faculty from reputed universities around the world.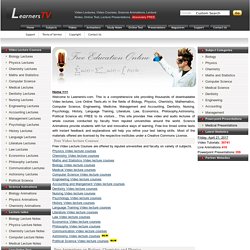 In case you haven't heard the news, we're putting out a special mini-issue early next week. It'll be available in the Edudemic Magazine iPad app and, best of all, FREE to subscribers! If you're not (yet) a subscriber, it'll be just $0.99. The following is an excerpt from just one of the articles in the mini-issue. It's all about iPads in education, Apple's role in the future of learning, and much more than that. Want to get the mini-issue free when it comes out?
Pelas Tecnologias da Informacao e Comunicacao :: Ver todos os movimentos :: O Meu Movimento
As TIC, são hoje em dia um pilar na formação da nova geração, pelo que será muito importante maximizar esta área de formação. 1º Porque os Nossos jovens merecem um ensino de qualidade e global. 2º Porque neste século o domínio das TIC, ditará o sucesso ou falência da Nação. 3º Porque vivemos em plena revolução informacional e a próxima geração deverá estar preparada para esta. 4º Porque, hoje em dia, usam-se ferramentas de comunicação sem uma formação básica destas e o seu uso acaba descontrolado.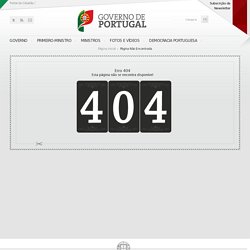 welcome back! Forget your password? Click here. Trouble signing in? Click here.
Russell Stannard Presentations
Russell's plenary talk at the University of Barcelona Russell's recent plenary at the University of Barcelona is available to view. It is about the feedback idea that he began working on in 2006. Russell's talk in Barcelona
Web 2.0 Tools: text, images, music, video | Glogster EDU - 21st century multimedia tool for educators, teachers and students
0 Comments January 5, 2010 By: Tech Learning Blog Staff Jan 5 Written by: 1/5/2010 8:48 AM ShareThis "If I have seen further it is by standing on the shoulders of giants."
Edudemic often features posts providing a list of top resources for a particular category. Recently, the site gettingsmart.com posted the names of the LAUNCHedu finalists chosen by the SXSWedu® Conference, offering even more resources for the Edudemic staff to consider! On March 7, 2012, they will choose winners after a full day of presentations by the finalists. There are so many sites and programs on the Internet already, but this competition just goes to show that the need for educational resources is still great. Necessity is the mother of invention, they say. The cliche works because it is true.
Are you looking for teaching tools that are actually easy to use and, dare I say it, fun? It's a perpetual hunt for most teachers and there are simply far too many resources available to go through. After all, you've gotta teach at some point, no? Lucky for you, Erik Schreefel over at GoEdOnline spent a month (yes, a MONTH) going through a pantload of web 2.0 tools and narrowed his list of recommendations down to 101 products.
Pedagogia para a autonomia e supervisão : a observação de aulas como estratégia de (re)definição dos papéis pedagógicos na educação em línguas
www.cats-pyjamas.net/wp-content/uploads/2011/05/MoodleToolGuideforTeachers__BrazPort.pdf
Digital Pedagogy: Content is a Tyrant, Context is King