Education
I met a seer
Fair warning: This article will piss off a lot of you. I can say that with confidence because it's about Peter Thiel. And Thiel – the PayPal co-founder, hedge fund manager and venture capitalist – not only has a special talent for making money, he has a special talent for making people furious.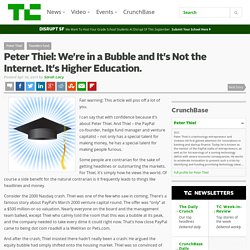 My Coupons - StudentRate.com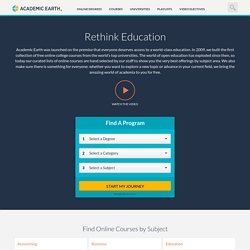 Academic Earth believes everyone deserves access to a world-class education, which is why we continue to offer a comprehensive collection of free online college courses from the world's top universities. And now, we take learning outside the classroom with our original series of thought-provoking videos, designed to spark your intellectual curiosity and start a conversation. Watch, learn, share, debate. After all, only through questioning the world around us, can we come to better understand it.
Texas Academy of Mathematics and Science
The Texas Academy of Mathematics and Science (TAMS) is a unique residential program for high school-aged Texas students who are high achievers and interested in mathematics and science. While living in McConnell Hall, students in this two-year program complete a rigorous academic curriculum of college coursework at the University of North Texas (UNT). Instruction is by regular university faculty. There are no high school courses taught, but students enjoy many of the activities of high school and the company of age mates who are intellectual peers.