Reading
Open Culture. The 20 Most Beautiful Bookstores in the World. [Editor's note: In celebration of the holidays, we're counting down the top 12 Flavorwire features of 2012.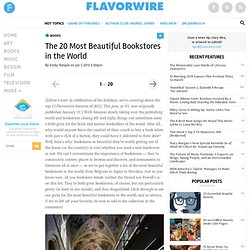 This post, at #1, was originally published January 31.] With Amazon slowly taking over the publishing world and bookstores closing left and right, things can sometimes seem a little grim for the brick and mortar booksellers of the world. After all, why would anyone leave the comfort of their couch to buy a book when with just a click of a button, they could have it delivered to their door? Well, here's why: bookstores so beautiful they're worth getting out of the house (or the country) to visit whether you need a new hardcover or not. We can't overestimate the importance of bookstores — they're community centers, places to browse and discover, and monuments to literature all at once — so we've put together a list of the most beautiful bookstores in the world, from Belgium to Japan to Slovakia. Goodreads | Recent Updates. أدب .. محمد إقبال : رأيت الشيخ بالمصباح يسعى.
The Book Shelter. Poems from the Edge of the Continent | just the poems please… Banipal (UK) Magazine of Modern Arab Literature - Home. أدب .. الموسوعة العالمية للشعر العربي - adab. :: موسوعه الأدب الشعبي :: أبجد • موسوعة الأدب العربي. Celebrating Ramadan: Poems of Muslim Faith and Islamic Culture by Becca Klaver. Illustration by Jason Novak To mark the beginning of Ramadan, the ninth month of the Islamic calendar, we present poems and features that examine Muslim faith and Islamic culture.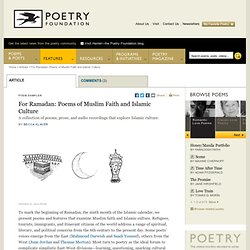 Refugees, tourists, immigrants, and itinerant citizens of the world address a range of spiritual, literary, and political concerns from the 6th century to the present day. Some poets' voices emerge from the East (Mahmoud Darwish and Saadi Youssef), others from the West (June Jordan and Thomas Merton). Most turn to poetry as the ideal forum to complicate simplistic East-West divisions—learning, questioning, sparking cultural conversation, and speaking from what Nomi Stone calls "[t]his quiet voice that is borrowed or my own." Ecstatic Exchange / Poetry of Daniel Abdal-Hayy Moore. LITERATURE. Home. How to Create an Awesome Summer Reading List. Here's my one bit of advice on the subject — summer is for reading stuff you *want* to read, not stuff you *have* to, or stuff you feel like you *need* to.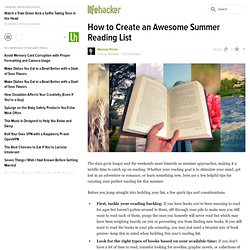 I review books for my web site, and I can't say that I ever enjoy them enough to carry them to the beach, you know what I mean? That's a job. Do not stand at my grave and weep. Do Not Stand at My Grave and Weep is a poem written in 1932 by Mary Elizabeth Frye.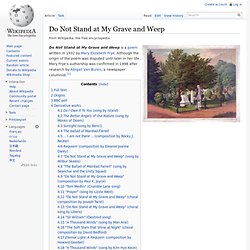 Although the origin of the poem was disputed until later in her life, Mary Frye's authorship was confirmed in 1998 after research by Abigail Van Buren, a newspaper columnist.[1] Full text[edit] Do not stand at my grave and weep, NOR'S LETTERS | 30mosques. Before prison, David only knew one world — the biker one.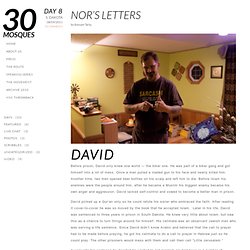 He was part of a biker gang and got himself into a lot of mess. Once a man pulled a loaded gun to his face and nearly killed him. Another time, two men opened beer bottles on his scalp and left him to die. Before Islam his enemies were the people around him, after he became a Muslim his biggest enemy became his own anger and aggression. David lacked self-control and vowed to become a better man in prison.
---