Reading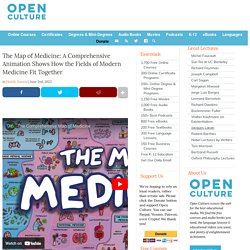 In a classic essay of Joan Didion's, "Goodbye to All That," the novelist and writer breaks into her narrative—not for the first or last time—to prod her reader. She rhetorically asks and answers: "…was anyone ever so young? I am here to tell you that someone was." The wry little moment is perfectly indicative of Didion's unsparingly ironic critical voice.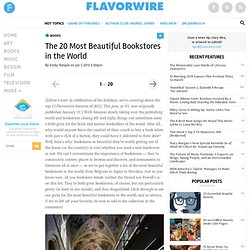 [Editor's note: In celebration of the holidays, we're counting down the top 12 Flavorwire features of 2012. This post, at #1, was originally published January 31.] With Amazon slowly taking over the publishing world and bookstores closing left and right, things can sometimes seem a little grim for the brick and mortar booksellers of the world. After all, why would anyone leave the comfort of their couch to buy a book when with just a click of a button, they could have it delivered to their door? Well, here's why: bookstores so beautiful they're worth getting out of the house (or the country) to visit whether you need a new hardcover or not. We can't overestimate the importance of bookstores — they're community centers, places to browse and discover, and monuments to literature all at once — so we've put together a list of the most beautiful bookstores in the world, from Belgium to Japan to Slovakia.
The 20 Most Beautiful Bookstores in the World
أدب .. محمد إقبال : رأيت الشيخ بالمصباح يسعى
The Book Shelter
25-02-2013 Library at Circle Cafe in Abu Dhabi Our library in Circle Cafe in Raha Gardens , Khalifa City A is now open to the public! 18-12-2012 Social Entrepreneurship 101 at Maraya Art Centre Read about our talk on Social Entrepreneurship that went down last week at Maraya Art Centre and the amazing crowd that attended!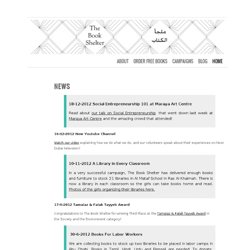 Poems from the Edge of the Continent | just the poems please…
Working It Out I have been alone for days dusk and dawn breathing in the distance while the silence envelops like an approaching front. But don't get me wrong, the weather is fine even as the coyotes call from the ridge line and veils of moisture drift in to the trees. These days, it is I who am the sentinel turning the light toward the movement in the underbrush, dispersing the dark. . pbsweeney. 9/27/2008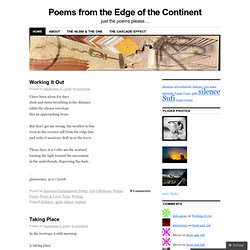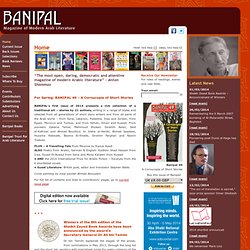 For Spring: BANIPAL 49 – A Cornucopia of Short Stories BANIPAL's first issue of 2014 presents a rich collection of a traditional art – stories by 21 authors, writing in a range of styles and selected from all generations of short story writers and from all parts of the Arab world – from Syria, Lebanon, Palestine, Iraq and Jordan; from Egypt, Morocco and Tunisia; and from Yemen, Oman and Kuwait. From pioneers Zakaria Tamer, Mahmoud Shukair, Ibrahim Aslan, Said al-Kafrawi and Ahmed Bouzfour, to Jokha al-Harthi, Ahmed Saadawi, Huzama Habayeb, Basma El-Khatib, Ibrahim Farghali and Nasrin Trabulsi.
Banipal (UK) Magazine of Modern Arab Literature - Home
أدب .. الموسوعة العالمية للشعر العربي - adab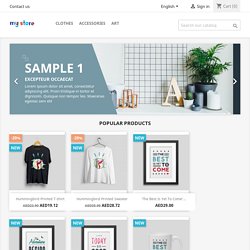 أخواني و أخواتي زوار هذا الموقع .. نرحب بكم باسم القائمين على هذا الموقع أجمل ترحيب و نتمنى لكم طيب الإقامة معنا في هذا الصرح الأدبي الذي يهتم بالموروث الأدبي الشعبي في الوطن العربي , و يسعدنا مشاركتكم لنا للحفاظ على هذا الكنز . لرقي بآدابنا الشعبية من شعر و غيره . و أنه يسعدنا مشاركتكم سوى في هذا الصفحة أو صفحات الديوان الشعري الذي سوف يضم إبداع رموز هذا الشعر العذب و عمالقته .
:: موسوعه الأدب الشعبي ::
أبجد • موسوعة الأدب العربي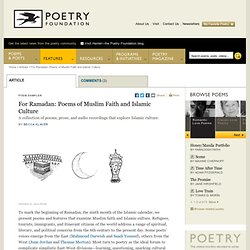 Celebrating Ramadan: Poems of Muslim Faith and Islamic Culture by Becca Klaver
Illustration by Jason Novak To mark the beginning of Ramadan, the ninth month of the Islamic calendar, we present poems and features that examine Muslim faith and Islamic culture. Refugees, tourists, immigrants, and itinerant citizens of the world address a range of spiritual, literary, and political concerns from the 6th century to the present day. Some poets' voices emerge from the East (Mahmoud Darwish and Saadi Youssef), others from the West (June Jordan and Thomas Merton). Most turn to poetry as the ideal forum to complicate simplistic East-West divisions—learning, questioning, sparking cultural conversation, and speaking from what Nomi Stone calls "[t]his quiet voice that is borrowed or my own."
From a particular heighta stone bird is sought From another altitudesilk rain's beseeched From yet another more daringGod's outline in the dark His perspective from a peakover all the world The heart like a pinnaclescaled in a blink
Ecstatic Exchange / Poetry of Daniel Abdal-Hayy Moore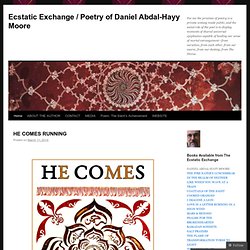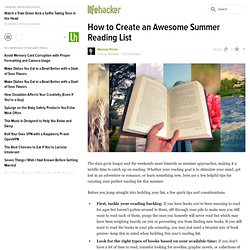 Here's my one bit of advice on the subject — summer is for reading stuff you *want* to read, not stuff you *have* to, or stuff you feel like you *need* to. I review books for my web site, and I can't say that I ever enjoy them enough to carry them to the beach, you know what I mean? That's a job.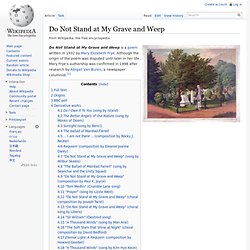 Do Not Stand at My Grave and Weep is a poem written in 1932 by Mary Elizabeth Frye. Although the origin of the poem was disputed until later in her life, Mary Frye's authorship was confirmed in 1998 after research by Abigail Van Buren, a newspaper columnist.[1] Full text[edit] The "definitive version", as published by The Times and The Sunday Times in Frye's obituary, 5 November 2004:[2]
Before prison, David only knew one world — the biker one. He was part of a biker gang and got himself into a lot of mess. Once a man pulled a loaded gun to his face and nearly killed him. Another time, two men opened beer bottles on his scalp and left him to die. Before Islam his enemies were the people around him, after he became a Muslim his biggest enemy became his own anger and aggression. David lacked self-control and vowed to become a better man in prison.
NOR'S LETTERS | 30mosques
Keep your Kindle full and happy with these great reads tonight! For non-U.S. readers, Kindle content availability and pricing will vary. Genre: Contemporary Fiction, Family Saga, Horror, Mystery, Romance Prices are subject to change without notice. For non-U.S. readers, Kindle content availability and pricing will vary.