Crossword Puzzle
Create a Crossword Puzzle!
Daily Critical Thinking Quick Prints Puzzles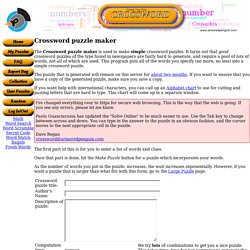 The Crossword puzzle maker is used to make simple crossword puzzles. It turns out that good crossword puzzles of the type found in newspapers are fairly hard to generate, and require a pool of lots of words, not all of which are used. This program puts all of the words you specify (no more, no less) into a simple crossword puzzle. The puzzle that is generated will remain on this server for about two months. If you want to ensure that you have a copy of the generated puzzle, make sure you save a copy.
Just Crosswords is a site of 15x15 crossword puzzles that you solve right in your Web browser. Click on the clues or the spaces in the puzzle, and then simply type to fill in the blanks. Standard puzzles use symmetric grids with lots of standard crossword words and a few words that fit the theme.