News and Current Events
Crooks and Liars. Firedoglake. Home. About_us. The MEDIA IS THE ENEMY Find out why maverick, independent grass-roots media voices such as American Free Press have declared all-out war on the elite-controlled Big Media Monopoly in America and around the globe . . .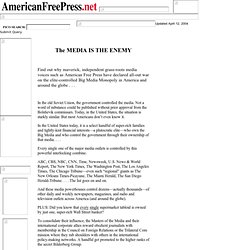 In the old Soviet Union, the government controlled the media. Not a word of substance could be published without prior approval from the Bolshevik commissars. Today, in the United States, the situation is starkly similar. But most Americans don't even know it. The Nation | Unconventional Wisdom Since 1865. The Progressive | Peace and social justice since 1909.
The Daily Beast. Uppity Wisconsin | Making Wisconsin Progressive Again. Slate Magazine. Noam Chomsky denied entry into Israel. Sunday, 16 May 2010 11:39 Left-wing American linguist Professor Noam Chomsky was denied entry into Israel on Sunday, for reasons that were not immediately clear.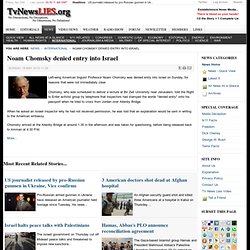 Chomsky, who was scheduled to deliver a lecture at Bir Zeit University near Jerusalem, told the Right to Enter activist group by telephone that inspectors had stamped the words "denied entry" onto his passport when he tried to cross from Jordan over Allenby Bridge. When he asked an Israeli inspector why he had not received permission, he was told that an explanation would be sent in writing to the American embassy. Firedoglake. Truthdig: Drilling Beneath the Headlines. Glenn Greenwald. Salon.com. Crooks and Liars.
---