Tariqyusuf
Tariq Yusuf
If you want to change the way people respond to you, change the way you respond to people. If you want me to know who you are, know yourself first.
Education and 21st century Competencies Symposium delves on learning. THE three-day national symposium titled "Education and 21st century Competencies", kickstarted at Shangri-La's Barr al Jissah, praised the country's efforts in the education arena and hailed the modern techniques used in the dissemination of information to its citizens across the country.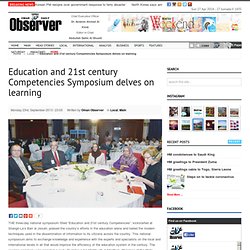 This national symposium aims to exchange knowledge and experience with the experts and specialists on the local and international levels in all that would improve the efficiency of the education system in the century. The opening ceremony was presided over by Dr Yahaya bin Mahfoudh al Mantheri, Chairman of the State Council, in the presence of Dr Madeeha bint Ahmad al Shaibaniyah, Minister of Education, and other officials. The event was also attended by a representatives from the educational processes, teachers, supervisors and managers of schools, students, parents, business owners, researchers, business leaders, academics, and members of various curricula. Edudemic | Education Technology, Teacher Tools, Apps and More.
Bloomstaxonomy. Problem based learning. Connectivism. Michael Wesch. Learning. Multiliteracies. Web 2.0. Chaos Theory. Paradigm shifts.
---