Photography
Picture Style
60d Promo Video and Review Shot with Canon DSLRs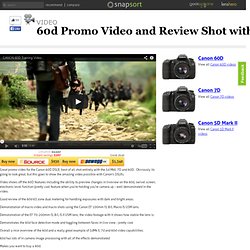 Great promo video for the Canon 60D DSLR, best of all shot entirely with the 5d MkII, 7D and 60D.
Canon 60D Live View Tutorial
Live View is available on the Canon 60D right out of the box.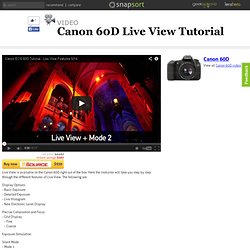 Canon EOS learn - World of EOS Learn: Experimenting with Low Light
» Top 20 Photography Tutorials
» Understanding F/Stops & Stops In Photography Exposure
» 4 Steps To Understanding White Balance
» Take Fewer, Better Photos
» Basic Composition Techniques: Eye-Lines
» A Beginner's Guide To Photography
How Learning Composition Will Improve Your Photography - Expert Photography
» Advanced Composition Techniques: Dynamic Tension
» Top 20 Essential Camera Gear
» Hidden Camera Mirror Photo Trick (Photoshop)
As I was browsing the internet for cool photography links earlier this week, I stumbled upon this very interesting article, which I just had to try for myself. It's not really my style to rip off someone else's idea, so credit where credit's due, if you want to learn in more detail about how to do it, check out this article. The idea, as I'm sure you can see, is to take a photo of yourself into a mirror, without the camera being visible. But how? Well, it takes roughly three photos, and a little bit of photoshop trickery. Before you start, make sure you clean your mirror, and no, you don't need a tripod.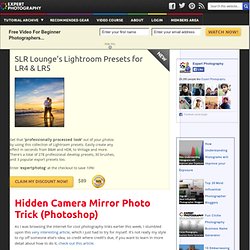 » 11 Things You Can Do Today to Make Money From Photography
» Top 20 Photography Websites 2012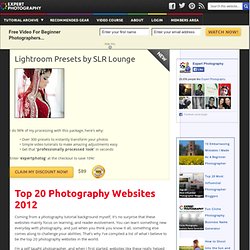 Coming from a photography tutorial background myself, it's no surprise that these websites mainly focus on learning, and reader evolvement. You can learn something new everyday with photography, and just when you think you know it all, something else comes along to challenge your abilities. That's why I've compiled a list of what I believe to be the top 20 photography websites in the world. I'm a self taught photographer, and when I first started, websites like these really helped me along, so I know what to look for in a great photography website. The order of these websites have nothing to do with who writes them, or how many people follow them; it's all about the content they produce.
» 10 Must-Have Apps for the iPhone Photographer
» How to Achieve Beautiful Bokeh
The Basics of Photography : How to Blur the Background With a Digital SLR
9 Tips for Getting Backgrounds Right
A Post By: Darren Rowse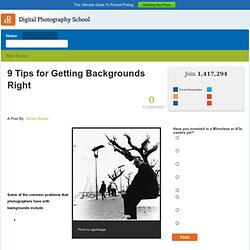 Bokeh Photography Tutorial
What is AV A aperture mode on your digital camera blurred background
How to use aperture priority, AV (for Canon) or A (for Nikon) mode on your digital SLR camera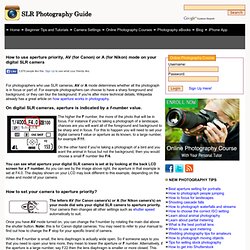 Aperture (F Stop)|Shoot a series of images with the lens wide open and stopped down one or two stops]].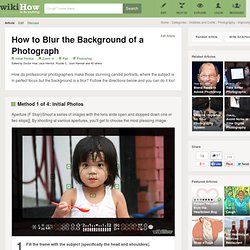 How to Blur the Background of a Photograph: 4 Methods
In the interest of keeping in the Hallowe'en mood, this week I'll focus on the more costume-y side of fashion.
Fashion Photography: Fairy Tale Shoot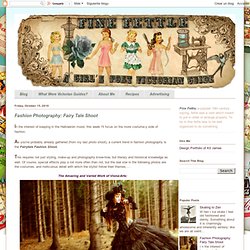 Splashup Image Editor – Upload Photos, Transform and Apply Effects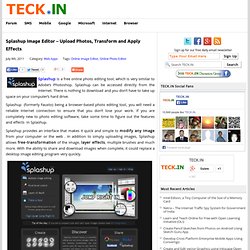 Splashup is a free online photo editing tool, which is very similar to Adobe's Photoshop.
Celebrity Morph - MyHeritage.com
Side-by-side camera comparison
It is from a book titled Everest: Reflections From the Top by Christine Gee & Garry Weare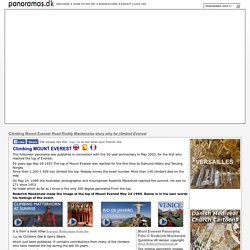 When I'm out on the streets, I often encounter faces that make me look twice; faces that stand out in the crowd without trying; faces that are out of the ordinary.