Photography
Picture Style. 60d Promo Video and Review Shot with Canon DSLRs. Great promo video for the Canon 60D DSLR, best of all shot entirely with the 5d MkII, 7D and 60D.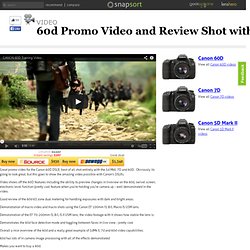 Obviously its going to look great, but this goes to show the amazing video possible with Canon's DSLRs. Video shows off the 60D features including the ability to preview changes in liveview on the 60d, swivel screen, electronic level function (pretty cool feature when you're holding you're camera up - well demonstrated in the video. Good review of the 60d 63 zone dual metering for handling exposures with dark and bright areas. Canon 60D Live View Tutorial. Live View is available on the Canon 60D right out of the box.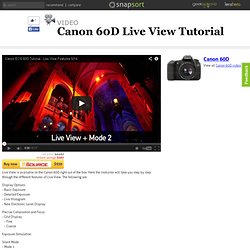 Here the instructor will take you step by step through the different features of Live View. The following are Display Options - Basic Exposure - Detailed Exposure - Live Histogram - New Electronic Level Display. Canon EOS learn - World of EOS Learn: Experimenting with Low Light. » Top 20 Photography Tutorials. I've written over 100 posts on this website now, and as I look back on it, I realise that a lot of it would probably be lost to many users, who have only started using the website recently.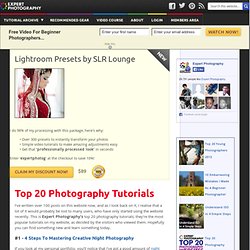 This is Expert Photography's top 20 photography tutorials; they're the most popular tutorials on my website, as decided by the visitors who viewed them. Hopefully you can find something new and learn something today. #1 - 4 Steps To Mastering Creative Night Photography If you look at my personal portfolio, you'll notice that I've got a good amount of night photography in there, and that's because night-time is one of my favourite times to shoot. » Understanding F/Stops & Stops In Photography Exposure.
What is a stop?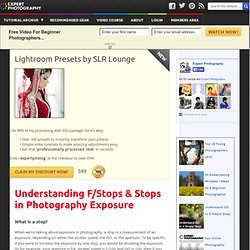 When we're talking about exposure in photography, a stop is a measurement of an exposure, depending on either the shutter speed, the ISO, or the aperture. To be specific, if you were to increase the exposure by one stop, you would be doubling the exposure. So for example, your aperture is f/4, shutter speed is 1/100 and ISO is 100, then if you keep the aperture at f/4, the shutter speed at 1/100, but you increased the ISO to 200, you have increased the exposure by one stop.
Doubling the ISO makes the exposure twice as sensitive, hence the jump in single stops. It can get a little bit confusing, but it's really important that you learn this, and here's why… As your skills as a photographer improve and you start to shoot in manual more often, you're in charge or looking after how the camera exposes, so knowing what a stop is for the shutter speed, ISO, and most importantly, aperture, will affect how you change each.
» 4 Steps To Understanding White Balance. Why White Balance is important for you If you've ever taken photos indoors, without a flash, and wondered why everyone looks so orange, then this post will definitely help you.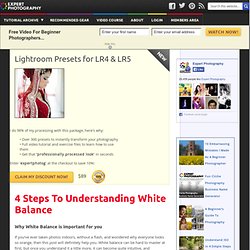 White balance can be hard to master at first, but once you understand it a little more, it can become quite intuitive, and understanding white balance is absolutely key to making your photos look good. Section 1 – What is White Balance? » Take Fewer, Better Photos. Is this you?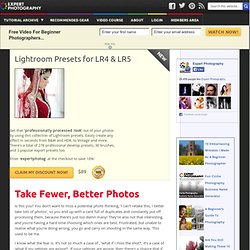 You don't want to miss a potential photo thinking, 'I can't retake this, I better take lots of photos', so you end up with a card full of duplicates and constantly put off processing them, because there's just too damn many! They're also not that interesting, and you're having a hard time choosing which ones are best. Frustrated, but unable to realise what you're doing wrong, you go and carry on shooting in the same way. This used to be me. I know what the fear is.
» Basic Composition Techniques: Eye-Lines. If you take photos of people, then you take photos with eye lines, so it's important to understand the effect that they have over how we view photos.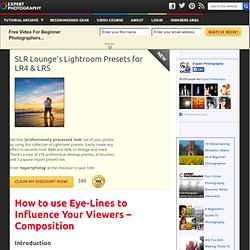 If you've read up on visual weight before, then you should understand the effect that having a face in a photo has, but there's much more to it than that. Eye-lines have the ability to focus our attention on another part of the photo, as well as producing tension and other photographic elements. » A Beginner's Guide To Photography. I've been writing on this site for a while now, and I've put together a lot of good content, but the trouble is that a lot of it can be hard to find, especially if you don't know what you're looking for.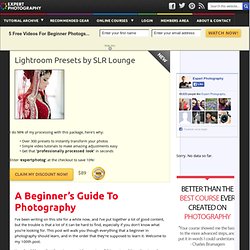 This post will walk you though everything that a beginner in photography should learn, and in the order that they're supposed to learn it. Welcome to my 100th post. How Learning Composition Will Improve Your Photography - Expert Photography. This is a post that I've had in me for almost the entire life of my website, which is nearing a year now, but I've never been able to put it into words before now.
I always try to bring you varied content on this website, so I will look at what I haven't written about in a while, and write about that to make the site more interesting. The problem is though, no matter how much I write about composition, people are just never as interested. I can track how many people have been on my website, and where they've come from, where in the world they live, how long they stay on the site, how many pages they visit, and which are the most popular pages (this sounds a little creepy, but I can't tell who you are, and this is common practice through Google software). Time after time, I've found that my articles on composition have been the least popular content, even though I regard it as some of the most important content to learn. » Advanced Composition Techniques: Dynamic Tension. What is it?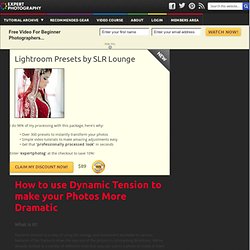 Dynamic tension is a way of using the energy and movement available in various features of the frame to draw the eye out of the picture in contrasting directions. We've already looked at a variety of different lines that you can use in a photo to make it more interesting, but dynamic tension takes these lines and adds varying degrees of contrast between them, making them much more interesting. Expert Photography | Photography Tips. » Top 20 Essential Camera Gear. Why These? I've got a personal experience with every item on the list and I can personally recommend them all. I've spent a fair bit of money in the past on stuff I didn't need, so learn from my mistakes and bookmark this list now!
» Hidden Camera Mirror Photo Trick (Photoshop) As I was browsing the internet for cool photography links earlier this week, I stumbled upon this very interesting article, which I just had to try for myself. It's not really my style to rip off someone else's idea, so credit where credit's due, if you want to learn in more detail about how to do it, check out this article. The idea, as I'm sure you can see, is to take a photo of yourself into a mirror, without the camera being visible.
But how? Well, it takes roughly three photos, and a little bit of photoshop trickery. Before you start, make sure you clean your mirror, and no, you don't need a tripod. » 11 Things You Can Do Today to Make Money From Photography. With the help of this post, you should be able to start earning money from your photography, as soon as today if everything goes to plan. I hope to reveal a few lesser known ways that a photographer can make money and find work.
Whether you're finally getting around to setting up a portfolio, or struggling to find the work you're ready for, this post should help you out. 1 – Sell Prints If you're any good at photography (and I'm sure you are, if you're following this site), and you take a lot of photos, then there's a good chance that you've taken some really good ones by now, so good in fact that people are going to want to buy them. » Top 20 Photography Websites 2012. Coming from a photography tutorial background myself, it's no surprise that these websites mainly focus on learning, and reader evolvement. You can learn something new everyday with photography, and just when you think you know it all, something else comes along to challenge your abilities. That's why I've compiled a list of what I believe to be the top 20 photography websites in the world. I'm a self taught photographer, and when I first started, websites like these really helped me along, so I know what to look for in a great photography website.
The order of these websites have nothing to do with who writes them, or how many people follow them; it's all about the content they produce. » 10 Must-Have Apps for the iPhone Photographer. It's safe to say that most of us have some sort of smartphone these days, and I don't know about you, but most of my friend's use iPhones. The problem is though; the camera fully sucks on it. It's slow, and inaccurate, and the HDR isn't much better. But it's a camera I always have on me, so here's some iPhone apps to help you make it much better. » How to Achieve Beautiful Bokeh. Photo Contests - Photography Competitions - Photo Awards. Prints, Posters, Canvas & Framed Wall Art from Independent Artists at Imagekind. The Basics of Photography : How to Blur the Background With a Digital SLR. 9 Tips for Getting Backgrounds Right. Bokeh Photography Tutorial. What is AV A aperture mode on your digital camera blurred background.
How to Blur the Background of a Photograph: 4 Methods. Fashion Photography: Fairy Tale Shoot. The Perception Laboratory's Face Transformer | Digg Topnews. How will you look when you are older? | Digg Topnews. Splashup Image Editor – Upload Photos, Transform and Apply Effects. Celebrity Morph - MyHeritage.com. What will my baby look like? Morph Faces and Celebrities Online For Free - MorphThing.com. Digital Cameras & Digital Photography | PhotoRadar.
Side-by-side camera comparison. Mount Everest-Monte Everest -360 panorama view from summit - Climbing Mt Everest - Nepal Trekking-panoramic photo from top of Mont Everest. Portraits of Strangers | Danny Santos II - Street Photographer in Singapore.
---