Recipies
Hungry Girl. PER SERVING (1/36th of recipe, 1 piece): 67 calories, 1g fat, 50mg sodium, 14g carbs, 0.5g fiber, 9.5g sugars, 0.5g protein -- PointsPlus® value 2* Peppermint bark is awesome.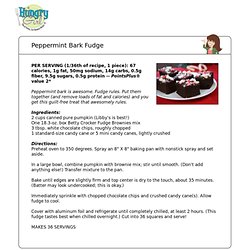 Fudge rules. Put them together (and remove loads of fat and calories) and you get this guilt-free treat that awesomely rules. Ingredients: 2 cups canned pure pumpkin (Libby's is best!) One 18.3-oz. box Betty Crocker Fudge Brownies mix 3 tbsp. white chocolate chips, roughly chopped 1 standard-size candy cane or 5 mini candy canes, lightly crushed Directions: Preheat oven to 350 degrees. Web's Tastiest: Pancakes Recipes. Everyone knows that breakfast is the most important meal of the day.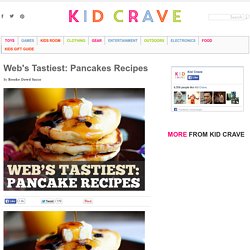 So of course you want to get off to a good, healthy start. However, anyone with kids knows that some mornings are just too special to worry about a properly balanced meal. Spending time in the kitchen as a family, whipping up something absolutely decadent and definitely too sweet, is the stuff that memories are made of. The Web's Tastiest Pancake Recipes are here to turn Saturday into Whattaday! Now youre cooking with comics.
- StumbleUpon. Banana Cookies. This banana cookie recipe came from my grandmother, Sybil Capune; she was a spry woman who made me fresh orange juice in the mornings, loved her toast burnt, and was an amazing home cook.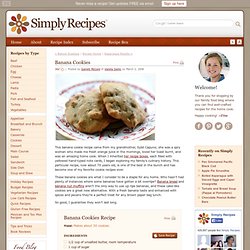 When I inherited her recipe boxes, each filled with yellowed hand-typed note cards, I began exploring my family's culinary history. This particular recipe, now about 70 years old, is one of the best in the bunch and has become one of my favorite cookie recipes ever. These banana cookies are what I consider to be a staple for any home. Classic Banana Bread Recipe Print Page.
---