Publishing
John Kremer
John Kremer's Book Promotion Resource Filing Cabinet features resources for book publishers, authors, self-publishers, & ebook authors. This BookMarket.com URL is for sale. Minimum bid: $300,000 Find us on Google+ 36 Ways to Help a Book Author You Love - free article to pass on to your friends who want to help you sell more books.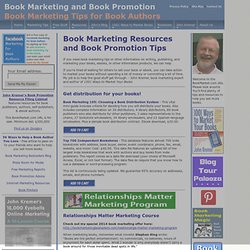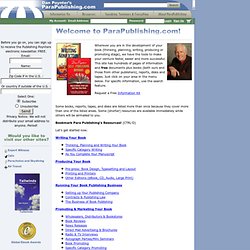 Dan Poynter
Some books, reports, tapes, and disks are listed more than once because they cover more than one of the listed areas. Some (shorter) resources are available immediately while others will be airmailed to you. Bookmark Para Publishing's Resources! (CTRL-D) Let's get started now.
Fol­low­ing World War 2, book pub­lish­ers vis­ited the famous prod­uct pro­moter Edward Bernays. How could he help them revive the war-torn book pub­lish­ing business? Bernays stud­ied books and peo­ple. He dis­cov­ered that books were found in libraries and that a pri­mary moti­va­tion for vis­it­ing libraries was that it made peo­ple feel smarter. So, Bernays vis­ited major home­builders such as Levitt and sons. He sug­gested that home­builders add book­shelves to the new homes to make buy­ers feel smart and enhance their pride of home own­er­ship.
ParaPublishing Blog
Bowerman: Well-Fed Self-Publisher
The Brand-New 2014 Edition of The Well-Fed Self-Publisher Now Available!(Click "Book" or "Ebook" at right) Just try to land a publisher these days…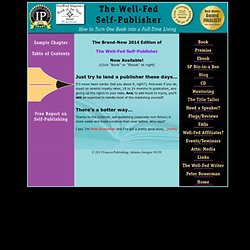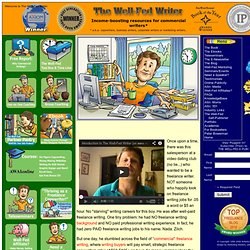 Bowerman: Well-Fed Writer
Once upon a time, there was this salesperson at a video dating club (no lie...) who wanted to be a freelance writer. NOT someone who happily took on freelance writing jobs for .05 a word or $5 an hour. No "starving" writing careers for this boy.
Bob Burg's latest book, Adversaries Into Allies, shows how to leverage the ideas in your book and blog posts into enhanced personal influence. Authors don't operate in a vacuum! To be successful, authors have to overcome objections and persuade others to give their ideas a chance. They need to win people over before their book is published, and as long as their career involves helping readers solve their problems and achieve their goals. Why readers buy books
Roger Parker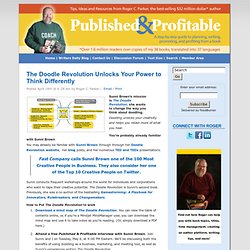 Illumina
"ISBN" stands for "International Standard Book Number". An ISBN is a number, not a bar code. One agency per country is designated to assign ISBNs for the publishers and self-publishers located in that country.
Bowker: ISBN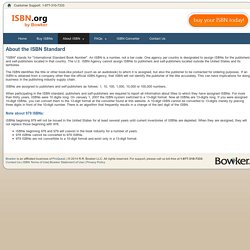 Bowker: Bar Code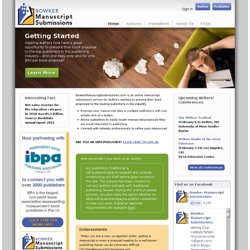 Getting Started Aspiring authors now have a great opportunity to present their book proposal to the top publishers in the publishing industry – all in one easy step and for only $99 per book proposal! Interesting Fact Mystery buyers mostly rely on the best-seller list & recommendations. Source: PubTrack Consumer 2Q2011 Report BowkerManuscriptSubmissions.com is an online manuscript submission service for Authors wanting to present their book proposals to the leading publishers in the industry.
Bowker Manuscript Submissions
LOC: PCN
LOC: CIP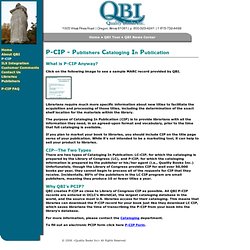 P-CIP - Publishers Cataloging In Publication What is P-CIP Anyway? Click on the following image to see a sample MARC record provided by QBI. Librarians require much more specific information about new titles to facilitate the acquisition and processing of those titles, including the determination of the exact shelf location for the materials within the library.
QBI | P-CIP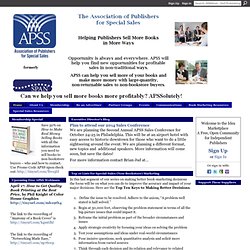 There are many elements that go into producing and marketing a book successfully. APSS has reduced them to a list of the 150 most important things you can do to reach your goals. These will be presented in groups of five over a period of time.
Self Publishing and Independent Publishing Trade Association
Printellectual (printing quotes)
Bookmasters is one of the largest integrated providers of book publishing services in the world. For 40+ years, Bookmasters has offered services to publishers and authors such as book printing services, print book storage/warehousing and book distribution, eBook conversion and distribution, editorial and design. Bookmasters is a one-stop solution if you're looking for book printers, book distributors, or book publishers. Bookmasters Integrates All Elements of the Book Manufacturing Process — From Book Creation to Book Printing Services, eBook Services, Distribution, and Storage Book Editorial Services U.S.
BookMasters
Doorstart TenPages een feit Graag infomeren we u over de overeenstemming die we hebben bereikt met de curator van TenPages inzake de overname van bepaalde activa van TenPages. Tekst en Uitleg BV is van plan het crowdfundingplatform TenPages in gewijzigde vorm voort te zetten. In dit kader verwijs ik naar de onderstaande berichtgeving.
Note: I'll be donating 10% of proceeds to support kids programming events. Check out some early feedback from readers. Modern software development is a game of ever-increasing frequency of change. This is why it is imperative to build systems that are flexible and can adapt to changing requirements, both expected and (more often) unexpected. That is why I've written this book.
Independent Publishing with CreateSpace Free and Easy Tools Do-it-yourself and finish fast with tools like Interior Reviewer, Cover Creator, Preview, and Image Gallery. Higher Royalties Place more in your pocket with some of the best economics in the industry.