Publishing
John Kremer. Dan Poynter. Some books, reports, tapes, and disks are listed more than once because they cover more than one of the listed areas.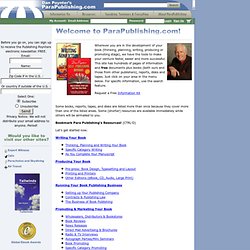 Some (shorter) resources are available immediately while others will be airmailed to you. Bookmark Para Publishing's Resources! (CTRL-D) Let's get started now. ParaPublishing Blog. Bowerman: Well-Fed Self-Publisher. Bowerman: Well-Fed Writer. Roger Parker. Illumina. Bowker: ISBN. "ISBN" stands for "International Standard Book Number".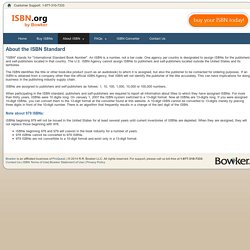 An ISBN is a number, not a bar code. One agency per country is designated to assign ISBNs for the publishers and self-publishers located in that country. Bowker: Bar Code. Bowker Manuscript Submissions. Copyright Office. LOC: PCN. LOC: CIP. Library of Congress. QBI | P-CIP. P-CIP - Publishers Cataloging In Publication What is P-CIP Anyway?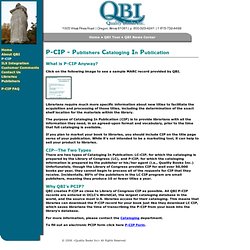 Click on the following image to see a sample MARC record provided by QBI. Librarians require much more specific information about new titles to facilitate the acquisition and processing of those titles, including the determination of the exact shelf location for the materials within the library. Self Publishing and Independent Publishing Trade Association. Printellectual (printing quotes) BookMasters. Ten Pages. Authonomy. LeanPub (blog to book) CreateSpace:
---