World
MadMaking. Carambar organise sa vraie-fausse rumeur : fini de rigoler.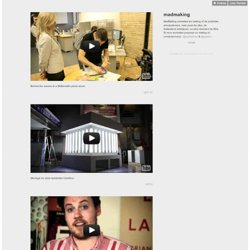 Behind the scenes at a McDonald's photo shoot Montage du store éphémère Carrefour. Le blog de Timothée de Laitre - Social Media Marketing, Social Commerce & Entrepreneurship. Creattica. Modern graphic design inspiration blog + vintage graphics resource. Design Blog | Inspiration and Resources for Designers | Design Shard.
Wire | News, Insights & Reports. Ads of the World. The Inspiration Room. MY private brand. Lovely Package® Today and tomorrow. Package Design.
POPSOP.COM. The Gruen Transfer. NewMediaAge UK. You know you're working in UX when … I'm sure you've heard the expression 'Never work with children or animals' right?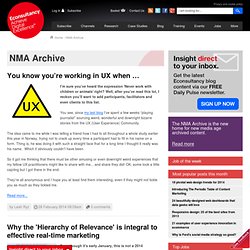 Well, after you've read this lot, I reckon you'll want to add participants, facilitators and even clients to this list. You see, since my last blog I've spent a few weeks "playing journalist" sourcing weird, wonderful and downright bizarre stories from the UX (User Experience) Community. The idea came to me while I was telling a friend how I had to sit throughout a whole study earlier this year in Norway, trying not to crack up every time a participant had to fill in his name on a form.
Thing is, he was doing it with such a straight face that for a long time I thought it really was his name. Retail Leverage. Advertolog. Cannes Lions International Advertising Festival. AdAge. TWEED. Les 130 blogs de Bordeaux et la CUB. Cette création est mise à disposition sous un contrat Creative Commons par Bastien DONJON.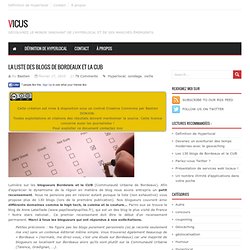 Toutes exploitations et citations des résultats doivent mentionner la source. Cette licence concerne aussi les journalistes ! Vintage Ad Browser.
---