Work Style
Edit Article Edited by Krystle C., Jack Herrick, Whichmonkey, Wes Platt and 138 others Do you need to carve time out of your day to be still? Sometimes, you need to take a break from the daily hustle and bustle and just do nothing. However, if you're a particularly jittery or impatient person, this can be difficult. It can be helpful for you to disconnect, find a quiet place, and schedule your break ahead of time so you can take advantage of the experience as much as possible.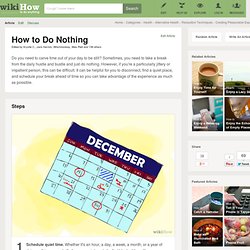 How to Do Nothing
"Early to bed and early to rise makes a man healthy, wealthy and wise" – Ben Franklin, famously "Put no trust in the benefits to accrue from early rising, as set forth by the infatuated Franklin …" – Mark Twain By Leo Babauta Recently, reader Rob asked me about my habit of waking at 4:30 a.m. each day, and asked me to write about the health benefits of rising early, which I thought was an excellent question. Unfortunately, there are none, that I know of. However, there are a ton of other great benefits.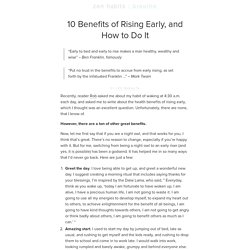 We all want to get stuff done, whether it's the work we have to do so we can get on with what we want to do, or indeed, the projects we feel are our purpose in life. To that end, here's a collection of 50 hacks, tips, tricks, and mnemonic devices I've collected that can help you work better. Most Important Tasks (MITs): At the start of each day (or the night before) highlight the three or four most important things you have to do in the coming day.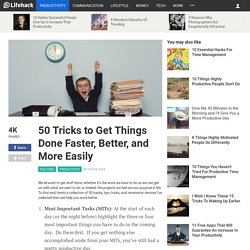 A few years ago, my life was a mess. So was my house, my desk, my mind. Then I learned, one by one, a few habits that got me completely organized. Am I perfect? Of course not, and I don't aim to be. But I know where everything is, I know what I need to do today, I don't forget things most of the time, and my house is uncluttered and relatively clean (well, as clean as you can get when you have toddlers and big kids running around).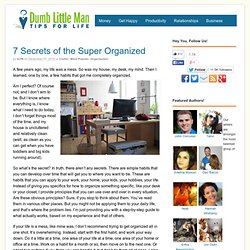 Monkey On Your Back