Weblog
Boing Boing
Drew Curtis' FARK.com
MetaFilter | Community Weblog
The Bureau of Communication - Fill-in-the-blank Correspondence
Paleofuture - Paleofuture Blog
Personalizemedia
Readaloo - Just the good stuff
BlogWebkatalog - Eintragen im Blog Verzeichnis für Blogs
Forget The Box - Montreal Blog
Schnurpsel | Das Putzlowitsch Test- und SEO-Blog
Web 3.0
TheMishMash.com
Computer, Tablet PC, Handy, Smartphone und Home Entertainment - bei digitallife.germanblogs.de
Für die Klimaforschung war 2013 kein gutes Jahr, die Temperaturentwicklung sorgte für Verwirrung: Seit 16 Jahren scheint sich die bodennahe Luft nicht weiter erwärmt zu haben, trotz des ungebremsten Ausstoß von Treibhausgasen - Computermodelle hatten die Pause nicht vorhergesehen. Nur drei von 114 Klimasimulationen könnten den Trend der letzten 15 Jahre wiedergeben, bilanzierte der Uno-Klimarat IPCC im September in seinem fünften Sachstandsbericht.
Deutscher Alltag - November 2011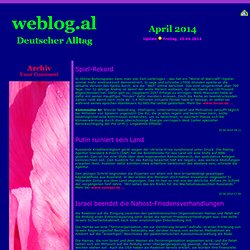 xoJane
BASIC thinking | Alles über iPhone, iPad, Twitter, Facebook & Co.
An Event Apart: The Design Conference For People Who Make Web Sites
Uncover the Net - Web Directory & Search Engine
Spreeblick
CyberNet News
Querschuesse
Usability-now.com Blog über Benutzerfreundlichkeit und Webdesign
PR-Blogger
Pierre Far
Evolutionary Designs
Minterest | Blogging, Digital Marketing, Technology, and Web 2.0
For information in English, please go to the English pages.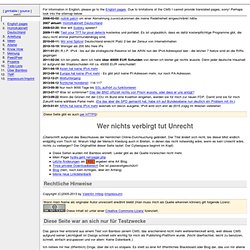 Wer nichts verbirgt tut Unrecht