Webdesign general
A Beginner's Guide to Wireframing. Wireframing is an important step in any screen design process.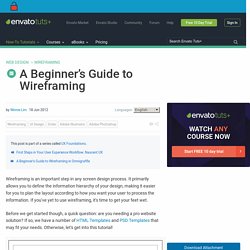 It primarily allows you to define the information hierarchy of your design, making it easier for you to plan the layout according to how you want your user to process the information. If you've yet to use wireframing, it's time to get your feet wet.. It's like an architectural blueprint; you need to see it in two-dimensional black and white diagrams before you understand how to build the actual house. 35 High Quality Photoshop Web Design Tutorials. 26 Beautiful Free Retro Fonts.
How to Get a Professional Look With Color. What makes a design look coordinated, planned and professional?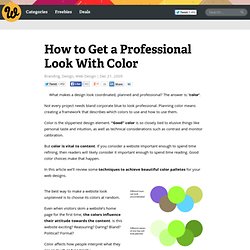 The answer is: 'color'. Not every project needs bland corporate blue to look professional. Planning color means creating a framework that describes which colors to use and how to use them. Designers Know Your Code: Web Design Tutorials. Oct 03 2011 As almost any web designer worth their salt, and a large percentage of web developers will tell you, to be fully considered a web designer you have to have some background in code.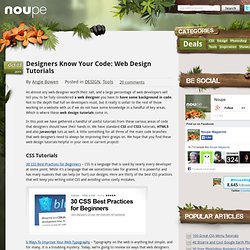 Not to the depth that full on developers must, but it really is unfair to the rest of those working on a website with us if we do not have some knowledge in a handful of key areas. Top 50 Photoshop Web Layout Tutorials from 2011. We all know that Photoshop is the best computer software program for editing digital photos and images.But it is also excellent for web designers.Most of the web designers use Photoshop to design web layouts.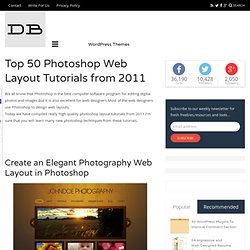 Today we have compiled really high quality photoshop layout tutorials from 2011.I'm sure that you will learn many new photoshop techniques from these tutorials. Create an Elegant Photography Web Layout in Photoshop View Tutorial Create a Modern Lab Theme Web Design in Photoshop. Which CSS Grid Framework Should You Use for Web Design? Ever wondered how all those slick "magazine" themes for WordPress and other platforms were created?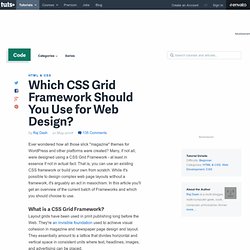 Many, if not all, were designed using a CSS Grid Framework - at least in essence if not in actual fact. That is, you can use an existing CSS framework or build your own from scratch. While it's possible to design complex web page layouts without a framework, it's arguably an act in masochism. In this article you'll get an overview of the current batch of Frameworks and which you should choose to use.
All About Website Sidebars: Content, Design, and Examples. What goes into your sidebar?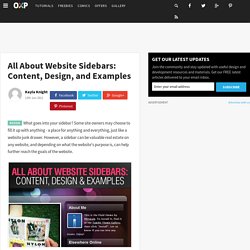 Some site owners may choose to fill it up with anything - a place for anything and everything, just like a website junk drawer. However, a sidebar can be valuable real estate on any website, and depending on what the website's purpose is, can help further reach the goals of the website. In this post today we'll talk about sidebars in detail, from what goes in them to how they're designed. Webdesign - Graphic Design Blog, Tips and Jobs. Tutorials | Ultimate Designer Toolkit. PSD to HTML tutorial using 960 Grid System Sign up to download this tutorial plus 60,000+ more premium design items.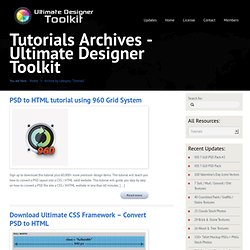 This tutorial will teach you how to convert a PSD layout into a CSS / HTML valid website. Six Revisions - Web Design Articles, News, Tutorials. Web development tutorials, from beginner to advanced. Web Design Blog - Designers Inspiration Community - Web Development Blog - Web Design Blog – DesignM.ag. 1stwebdesigner - Graphic and Web Design Blog.
Css tutorial and help site - CSS How to. Just Creative Design - Graphic Designer, Logo & Brand Identity Specialist. Noupe Design Blog. Design Gallery, Deals, Tutorials & Community. Web Design Blog - Designers Inspiration Community - Web Development Blog - Web Design Blog – DesignM.ag. Smashing Magazine. DzineBlog.
---