Webdesign general
Wireframing is an important step in any screen design process. It primarily allows you to define the information hierarchy of your design, making it easier for you to plan the layout according to how you want your user to process the information. If you've yet to use wireframing, it's time to get your feet wet.. It's like an architectural blueprint; you need to see it in two-dimensional black and white diagrams before you understand how to build the actual house.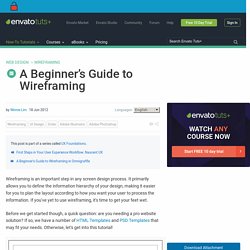 What makes a design look coordinated, planned and professional? The answer is: 'color'. Not every project needs bland corporate blue to look professional. Planning color means creating a framework that describes which colors to use and how to use them.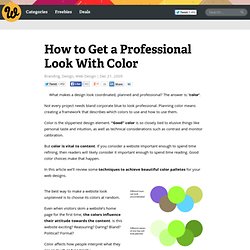 Designers Know Your Code: Web Design Tutorials
Oct 03 2011 As almost any web designer worth their salt, and a large percentage of web developers will tell you, to be fully considered a web designer you have to have some background in code. Not to the depth that full on developers must, but it really is unfair to the rest of those working on a website with us if we do not have some knowledge in a handful of key areas.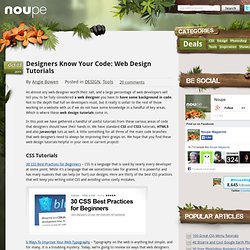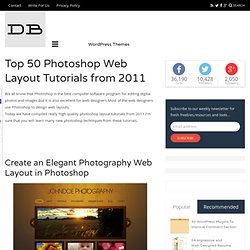 Top 50 Photoshop Web Layout Tutorials from 2011
We all know that Photoshop is the best computer software program for editing digital photos and images.But it is also excellent for web designers.Most of the web designers use Photoshop to design web layouts. Today we have compiled really high quality photoshop layout tutorials from 2011.I'm sure that you will learn many new photoshop techniques from these tutorials. Create an Elegant Photography Web Layout in Photoshop View Tutorial Create a Modern Lab Theme Web Design in Photoshop
Which CSS Grid Framework Should You Use for Web Design?
Ever wondered how all those slick "magazine" themes for WordPress and other platforms were created? Many, if not all, were designed using a CSS Grid Framework - at least in essence if not in actual fact. That is, you can use an existing CSS framework or build your own from scratch. While it's possible to design complex web page layouts without a framework, it's arguably an act in masochism. In this article you'll get an overview of the current batch of Frameworks and which you should choose to use.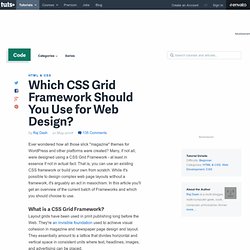 What goes into your sidebar? Some site owners may choose to fill it up with anything - a place for anything and everything, just like a website junk drawer. However, a sidebar can be valuable real estate on any website, and depending on what the website's purpose is, can help further reach the goals of the website. In this post today we'll talk about sidebars in detail, from what goes in them to how they're designed.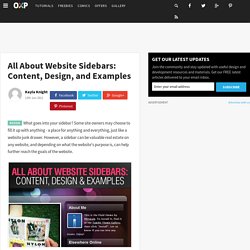 All About Website Sidebars: Content, Design, and Examples | Onextrapixel - Showcasing Web Treats Without A Hitch
Tutorials | Ultimate Designer Toolkit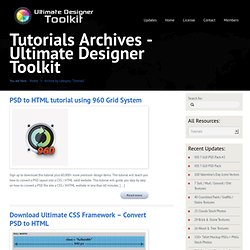 PSD to HTML tutorial using 960 Grid System Sign up to download this tutorial plus 60,000+ more premium design items. This tutorial will teach you how to convert a PSD layout into a CSS / HTML valid website.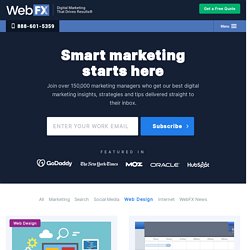 The Future of WordPress Starting with just a simple line of code 11 years ago, WordPress has evolved to become the platform of more than 74 million websites. Even with a vast array of competitors offering similar functionality, WordPress still dominates the CMS market with a 21.9% market share.
Are you getting started with mobile design? Any designer who's had the opportunity to design for ... Are you getting started with mobile design? Any designer who's had the opportunity to design for mobile devices as well as desktop computers knows that mobile design is a one of a kind discipline. You'll find challenges unique for mobile.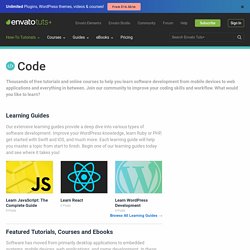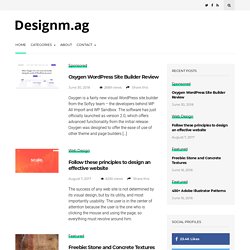 Get the FlatPix UI Kit for only $7 - Learn More or Buy Now We have something a little different for you today. Our friends over at iStock reached out to us to let us know about a promotion they are running and gave us these promo codes to share with our readers for additional savings off any credit pack… Read More
HTML5 Introduction – What is HTML5 Capable of, Features, and Resources After analyzing our new focus here at 1WD, which basically is teaching new, young, designers about web design and helping them improve their skills and to start in the business, we realized that we really need to go as deep as possible into the basics. And while we covered many of these already, two basic things are still missing from the website, and these two are in-depth introductions and discussions about HTML5 and CSS. Therefore it is one of my assignments for the next period to teach you about these two technologies and, after this, to create several tutorials for you. So in the next two to three months, I will cover aspects of front-end web design, basic coding and tutorials about them.
Thanks for staying with us and here we now have part 3 of 4 in our series of how to turn a psd to css/html. In part 1 and part 2 of this article we created some of the major elements that we will need in order to hold our content. This article will deal with the more difficult left column and all the content within it, as well as sorting out the.
Css tutorial and help site - CSS How to
Top 10 E-mail Etiquette Tips During Your Career Search Posted on 01'14 Apr Posted on April 1, 2014 along with 13 JUST™ Creative Comments Get the best tips on how to craft an email to maximize your job search results by using these 10 email etiquette tips. The Secret Process of Writing Magnetic Design Briefs