Écrire-publier
Website Builder | Create a Free Website with Wix.com. 4 façons d'utiliser Storify comme outil pédagogique / 4 ways journalism educators are using Storify as a teaching tool | Poynter. | Le journalisme de presse écrite et les NTIC... | Scoop.it. More and more news sites have been using Storify to capture reaction and highlight interesting discussions taking place on social networks.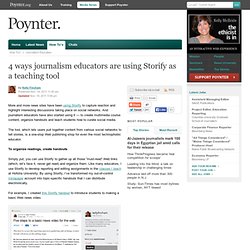 And journalism educators have also started using it — to create multimedia course content, organize handouts and teach students how to curate social media. The tool, which lets users pull together content from various social networks to tell stories, is a one-stop Web publishing shop for even the most technophobic educator. To organize readings, create handouts. Stixy: For Flexible Online Creation Collaboration and Sharing. Spécial 11 septembre 2001 : le jour où l'Amérique est devenue vulnérable. Reel – Present your ideas and reel in the feedback. Online Stickies - lino. Cinq sites pour faire des nuages de mots. Si vous voulez embellir un blogue ou écrire un cv en nuages de mots, voilà 5 services qui vont vous être utiles.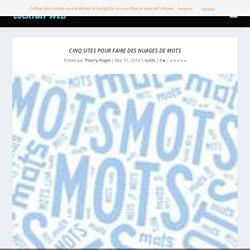 Le nuage de mots est un peu le symbole du web2.0, ça commence a être un peu démodé, mais on aime quand même. Pour ceux qui ne connaissent pas le nuage de mots, c'est une représentation graphique de mots où les mots les plus répétés dans un texte sont les plus gros et les mots les moins répétés sont les plus petits J'ai aussi testé une option freeware logiciel dans ce billet, mais je préfère nettement les versions en ligne. Semble être le plus connu des services, il est rapide, vous pouvez prendre le texte à partir d'un url ou encore d'un texte que vous allez copier. Vous pouvez également mettre le profil d'un utilisateur Delicious pour y voir tous les tags (j'en ai déjà parlé ici. Webdoc beta - For rich expression. Glogster : le Québec culturel.
Bougainville.
Photo to Cartoon to Comic Story, Make your own comic so Easy on kusoCartoon.com. Concevoir et scénariser un diaporama jourde 2010. Des exemples de travaux web 2.0. en classes de collège. Pen.io - Simple Online Publishing. Portail Skoden : Pen.io. eNq1V1FP2zAQfudXRHlvUmBAQWnRVmCrNLQOqLaHSpWbXNsU1w5np7T79bukBRIpEdTUb4nP+u58vvvuc3C5WnBnCahiKdruodd0HRChjGIxbbuDh5tGy73sHARztmTFbWdec3R06DohZ0q13czsjYEJ5f29/XkFBADodg6cQI7nEOrSvlTH3PvB1OyWJdkeJ1jKOHIWoGcyartJqvNVJ1AaKYxOIlEz3mUaphLXgb9dLm6Zj06L64GfIX4AOlZ/JD6qhIXQR7mMI4gq8SeMKzDyMHmO+kzPemIiK5F9Ct0H4c/kwszB88sBahLzxTAxAwX4k4mpvbx0pdCw0ll6KsENA+/n5WIp7DTLigwZr043iNHg3ggY4ekecMmhPh9+FKuEs7U3V4mpj98p4Po+/630EUdt014aMwUD5JWwM62TC99Xj8QLwkOYEo00xgiaTQV4E/RNz2OlhhCUTJEooQ51Hi7UpxuXuCcWkXxWey5R6gCGjMyARLCW+iBMEUFoS6TcLzG+pSPEqidukOrn12QS19CnxtQMPClcQRn5IwOxFr7YqCVYMjBEti7hcqJvb9PsrsNBTPWMZvcL0tYH1SCs2m7zdbnu/nLT6/nzn9zlNuA3S+BvzrjrwEGbpN2VqdA1hWpI2bHq6tW2SGNQloJnc7a6g6deNe5XslIUutFsHB6fnx2fn540j1qt1meGfj7erDXdXYFcrTn5tplFNkUAq5mgIMwII6e8ahLiMDppnhybEXWxRPc5Ip+yC3xAkvyc8KtTfHUx3Iz8IUqph0QoQ/o2nphJOi67ESnn/m5XZypQ9jLyKWvUyikoPbjr2dF4pKtrNd7u6SK09wLeV2KqX0m7h0zqIR3zOGSartCW+rGhOjeGSrzv1w+mE+otUmtk2y1rQUt+to2xfSTtV61Rmb/7+Mrq/BNTdas/LCXnnxTVAnbTC6b6+HrHMN+UX+BnCrRz8B8CBAId.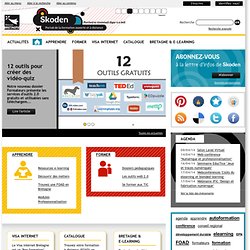 Notes.io | Online Notes Services | Fast . Easy . Short | www.notes.io.
---