Web Apps
Babbel.com. Do Not Track Plus. Abine is a Boston-based privacy company.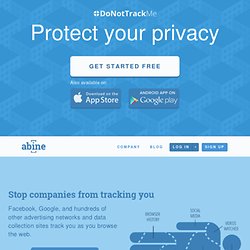 Led by consumer protection, privacy, and identity theft experts, we are passionate about making easy-to-use privacy solutions for everyday people. We strongly believe that these solutions must improve as online privacy becomes more difficult to get, and we work hard to stay ahead of the curve. We look forward to helping you navigate the complicated the world of online privacy. Imo instant messenger. Instapaper. Lovemoney.com. Mint. Moonfruit.
Picnik. Springpad. Zootool. Powerful and free web apps - Kimpl. The Best Free Web Apps of 2011 - PCMag.com. 51.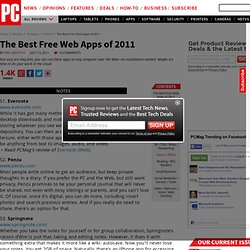 Evernotewww.evernote.com While it has got many methods of use beyond the Web—including desktop downloads and mobile apps—at heart, Evernote is all about storing whatever you see worth keeping online in your own online depository. You can then access and organize the stored info at your leisure, either with those apps or right on the site. Your "notes" can be anything from text to images, audio, and video.• Read PCMag's review of Evernote (Web). 52. Penzuwww.penzu.com Most people write online to get an audience, but keep private thoughts in a diary.
---