Web 2.0
Gratis Films Kijken Met Ondertiteling - EuMovies.eu.
Uitzoeken. Wrts. Google Docs. Google sites. Bubbl.us | brainstorm and mind map online. Slideshare. MindMeister. Jing. MaxClass. Weebly. Picasa. Wordle.
Animoto. Dropbox - Online backup, file sync, and sharing made easy. Issuu. SurveyMonkey. Storybird. Inspirational The gorgeous illustrations inspire students to write.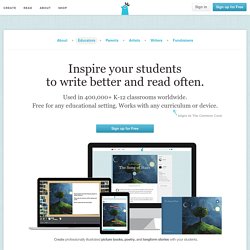 The more they write, the more they read. It's an addictive, virtuous cycle. Prezi.
---