United Nations
MPTF Office GATEWAY
General Assembly - Legal - Sixth Committee
Back to top General information The Sixth Committee is the primary forum for the consideration of legal questions in the General Assembly. All of the U.N. Member States are entitled to representation on the Sixth Committee as one of the main committees of the General Assembly. NEW: Revised programme of work of the Sixth Committee for the sixty-eighth session (as adopted on 1 November 2013)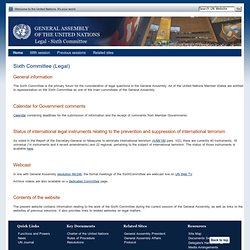 Presidents of the General Assembly of the United Nations
www.unog.ch/80256EDD006B8954/(httpAssets)/05EAF70078A01A3BC1256F2C0034137F/$file/DOCUMENT GUIDELINES.pdf
pan1.un.org/intradoc/groups/public/documents/UN/UNPAN006342.pdf
United Nations Development Fund for Women-UNIFEM
United Nations Information Centres
UN-OHRLLS
UNIDO
Follow us on: The Commission's mandate was expanded in 1987 by ECOSOC resolution 1987/22 to include the functions of promoting the objectives of equality, development and peace, monitoring the implementation of measures for the advancement of women, and reviewing and appraising progress made at the national, subregional, regional and global levels. Following the 1995 Fourth World Conference on Women, the General Assembly mandated the Commission to integrate into its programme a follow-up process to the Conference, regularly reviewing the critical areas of concern in the Beijing Platform for Action and to develop its catalytic role in mainstreaming a gender perspective in United Nations activities.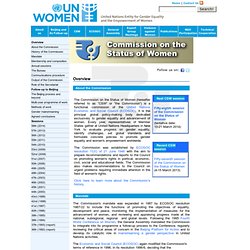 Commission on the Status of Women - UNCSW
2008 National Composite Policy Index (NCPI) reports - Countries
United Nations Girls' Education Initiative-UNGEI
USG Statements and Speeches
Brussels
Policies, Standards and Guidelines | ARMS
United Nations Research Institute for Social Development: UNRISD
PCDC-Home
Welcome to ICSC - International Civil Service Commission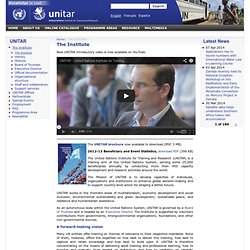 The UNITAR brochure now available to download (PDF, 3 MB) 2012 Beneficiary and Event Statistics, download PDF (219 KB) The United Nations Institute for Training and Research (UNITAR) is a training arm of the United Nations System, serving some 27,000 beneficiaries annually by conducting more than 400 capacity development and research activities around the world. The Mission of UNITAR is to deliver innovative training and conduct research on knowledge systems to develop capacities of beneficiaries in the fields of Environment; Peace, Security and Diplomacy; and Governance.
United Nations Institute for Training and Research (UNITAR)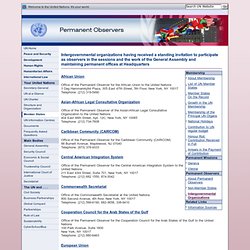 Intergovernmental organizations having received a standing invitation to participate as observers in the sessions and the work of the General Assembly and maintaining permanent offices at Headquarters
ited Nations member States - intergovernmental organizations participating as observers
High Level Panel on Global Sustainability - Home
International Days — United Nations Observances
ited Nations News Service
WHO Framework Convention on Tobacco Control
United Nations Development Business Online
International Decades — United Nations Observances
United Nations Economic Commission for Africa - UNECA
CSO Net - Civil Society Network
Welcome to the United Nations. It's your world. General Assembly of the United Nations
General Assembly - United Nations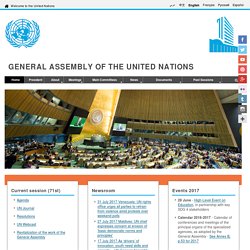 UN Public Administration Programme - Thematic Websites
The UNCITRAL Secretariat has established a system for collecting and disseminating information on court decisions and arbitral awards relating to the Conventions and Model Laws that have emanated from the work of the Commission. The purpose of the system is to promote international awareness of the legal texts formulated by the Commission and to facilitate uniform interpretation and application of those texts. The system is explained in document A/CN.9/SER.C/GUIDE/1/Rev.2. Abstracts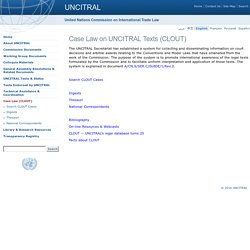 Case Law on UNCITRAL Texts (CLOUT)
Federation of associations of former international civil servants - FAFICS
Home Contact Us Site Map Search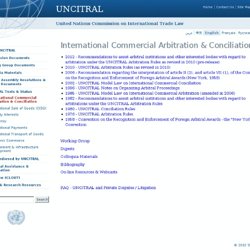 International Commercial Arbitration & Conciliation-UNCITRAL
United Nations Economic and Social Council - ECOSOC
Human Resources Website - United Nations
Association of Former International Civil Servants of the United Nations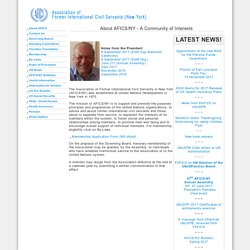 The Association of Former International Civil Servants in New York (AFICS/NY) was established at United Nations Headquarters in New York in 1970. The mission of AFICS/NY is to support and promote the purposes principles and programmes of the United Nations organizations; to advise and assist former international civil servants and those about to separate from service; to represent the interests of its members within the system; to foster social and personal relationships among members, to promote their well being and to encourage mutual support of individual members. For membership eligibility click on By-Laws. Membership Application Form (MS-Word)
United Nations Development Group-UNDG
United Nations Population Information Network (POPIN)
United Nations Peacekeeping Operations