Mobile
11,868Distinct Android devices seen this year 3,997Distinct Android devices seen last year 682,000Devices surveyed for this report. 47.5%Samsung's share of those devices. 8Android versions still in use 37.9%Android users on Jelly Bean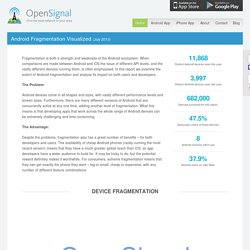 I've been wondering why Apple chose to make the iPhone 4's screen 3.5-inches when other comparable phones with Android and Windows Phone 7 have larger, more inviting screens. When you first see a phone with a 4-inch or larger screen, it seems like a much better experience.
3.5 Inches by Dustin Curtis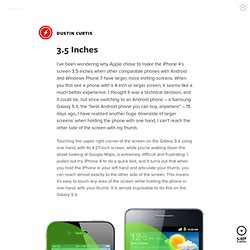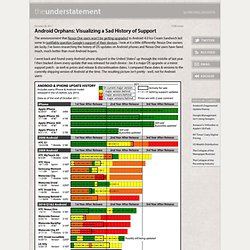 The announcement that Nexus One users won't be getting upgraded to Android 4.0 Ice Cream Sandwich led some to justifiably question Google's support of their devices.
Detect iPhones and iPods using Javascript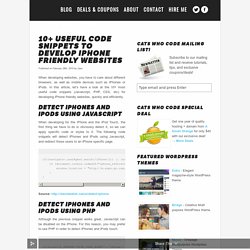 10+ useful code snippets to develop iPhone friendly websites - CatsWhoCode.com
Bjango ✎ Marc Edwards Over the past few years, mobile web usage has considerably increased to the point that web developers and designers can no longer afford to ignore it.
How to fit your website for the Apple iPad « x7 Labs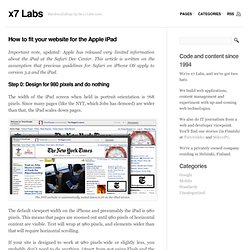 Important note, updated: Apple has released very limited information about the iPad at the Safari Dev Center. This article is written on the assumption that previous guidelines for Safari on iPhone OS apply to version 3.2 and the iPad. Step 0: Design for 980 pixels and do nothing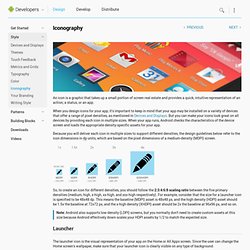 An icon is a graphic that takes up a small portion of screen real estate and provides a quick, intuitive representation of an action, a status, or an app. When you design icons for your app, it's important to keep in mind that your app may be installed on a variety of devices that offer a range of pixel densities, as mentioned in Devices and Displays.
I held a 6-hour workshop at NSConference in both the UK and USA recently, focusing on software design and user experience. Predictably, an extremely popular topic was the iPad, and how to approach the design of iPad applications. I gave a 90-minute presentation on the subject to start each workshop, and I want to share some of my observations here. Please note: this is about the user interface conventions and considerations which apply to creating software for the iPad platform (and touch-screen tablet devices in general). It is not a technical discussion of iPad-related APIs (which remain under NDA at time of writing in early March 2010).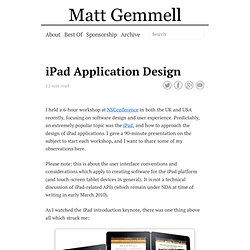 unlock iPhone 4 4S 5
http://www.iphoneosunlock.com/ by smyross Mar 20
Advertisement The iPhone will always be part of a much bigger picture. How well you address human and environmental factors will greatly determine the success of your product.
iPhone Apps Design Mistakes: Disregard Of Context - Smashing Magazine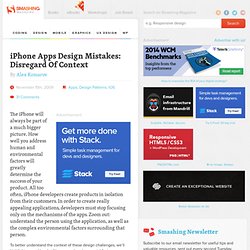 The most useful tools for mobile web are emulators and simulators. In Chapter 4 of Programming the Mobile Web I've made an extensive description and installation guideline for creating a desktop mobile testing environment.
Our Choice will change the way we read books. And quite possibly change the world. In this interactive app, Al Gore surveys the causes of global warming and presents groundbreaking insights and solutions already under study and underway that can help stop the unfolding disaster of global warming.
Android runs on a variety of devices that offer different screen sizes and densities.
Official user interface (UI) and user experience (UX) guidelines from the manufacturers, links to which you can find below, are a source of inspiration for mobile web and app design.