Trends analitics
Alerty Google – monitorowanie sieci w poszukiwaniu nowych, interesujących treści. Alerty Google to aktualizacje wysyłane pocztą e-mail dotyczące najnowszych, trafnych wyników Google (wyszukiwania witryn, wiadomości itp.) przygotowywane na podstawie Twoich zapytań.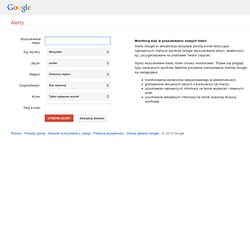 Wpisz wyszukiwane hasło, które chcesz monitorować. Pojawi się podgląd typu zwracanych wyników. Niektóre przydatne zastosowania Alertów Google są następujące: Correlate. Voyant Tools: Reveal Your Texts. Spread of information. Knoema - Home. Twitter StreamGraphs. A StreamGraph is shown for the latest 1000 tweets which contain the search word.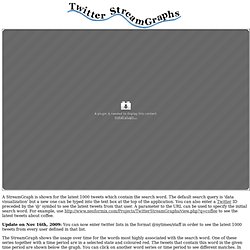 The default search query is 'data visualization' but a new one can be typed into the text box at the top of the application. You can also enter a Twitter ID preceded by the '@' symbol to see the latest tweets from that user. A parameter to the URL can be used to specify the initial search word. Eugenio Archontopoulos. Crazy Egg Web Analytics - Click Tracking, Website Heatmaps and Usability Software. Monitter : real time, live twitter search and monitoring. TrendCompass. Tweet Cloud. Cytoscape: An Open Source Platform for Complex Network Analysis and Visualization. Population Density. Massive Health. Mapping Wikipedia. Neoformix. Websites as graphs.
Everyday, we look at dozens of websites.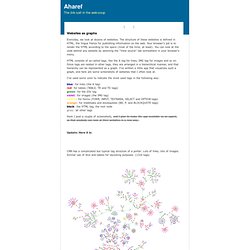 The structure of these websites is defined in HTML, the lingua franca for publishing information on the web. Your browser's job is to render the HTML according to the specs (most of the time, at least). You can look at the code behind any website by selecting the "View source" tab somewhere in your browser's menu. HTML consists of so-called tags, like the A tag for links, IMG tag for images and so on. Since tags are nested in other tags, they are arranged in a hierarchical manner, and that hierarchy can be represented as a graph.
Weave (Web-based Analysis and Visualization Environment) Online Reporting and Business Intelligence Service: Zoho Reports. 1 Easy Set Up / Fast Implementation Traditional Reporting & BI software typically take months to set up.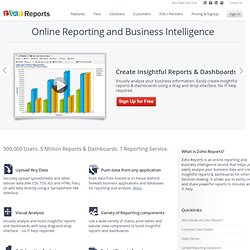 Zoho Reports being a SAAS BI solution, you can get started in days saving huge time & effort. 2 Easy to Use Drag & Drop Reporting Zoho Reports spreadsheet-like interface and very intuitive drag-and-drop based reports designer, makes it very easy to learn & use. "game. What's this?
Each line in this chart represents a topic's mentions (y-axis: mentions every 100K tweets) over the last days (x-axis) The colored areas represent periods of time in which the topic was hot, the darker areas show the time with the most mentions of the topic. You can click on the areas to change the detail of that topic to be focused on that particular popular interval. You can double click the areas to zoom in to them. Trendistic - see trends in twitter. Untitled.
---