The Resistance to Change
The authoritarian response to the occupations and protests brought international criticism, and disgust by many. That response is the face of another force in the social landscape; a generalized fear of change and a desire to maintain the peace and defend the status quo. For some helpful perspective on authoritarianism take a look at the section on The Tea Party within the GOP section under bipartisan politics. The Tea Party is an authoritarian movement, a political leaning that fundamentally differentiates it from The Occupy Movement. tor.nelson Jan 2
By Jonathan Larsen and Ken Olshansky, MSNBC TV A well-known Washington lobbying firm with links to the financial industry has proposed an $850,000 plan to take on Occupy Wall Street and politicians who might express sympathy for the protests, according to a memo obtained by the MSNBC program "Up w/ Chris Hayes." The proposal was written on the letterhead of the lobbying firm Clark Lytle Geduldig & Cranford and addressed to one of CLGC's clients, the American Bankers Association.
Lobbying firm's memo spells out plan to undermine Occupy Wall Street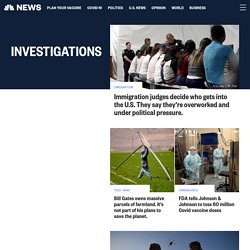 On November 19th, 2011 the story breaks about the existence of a secret memo soliciting support and offering lucrative compensation for discrediting the occupy movement and any political candidates expressing support for it. An actual conspiracy to subvert the movement by the corporatocracy and through respected establishment channels is thus revealed without question, believe it or not. by tor.nelson Jan 4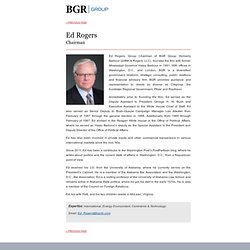 Ed Rogers is Group Chairman of the BGR Group, formerly Barbour Griffith & Rogers, LLC (BGR). He founded the firm with current Mississippi Governor Haley Barbour in 1991.BGR is a diversified government relations, public relations, and financial advisory firm. BGR is the premier government relations, strategic consulting, public relations, mergers and acquisitions, and investment firm with offices in Washington D.C. and London. The firm provides guidance and representation to clients as diverse as Citigroup, the Kurdistan Regional Government, Pfizer, and Raytheon.
BGR Public Relations — Ed Rogers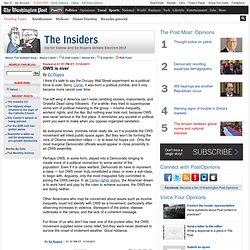 Posted at 01:57 PM ET, 11/16/2011 Nov 16, 2011 06:57 PM EST TheWashingtonPost I think it's safe to say the Occupy Wall Street experiment as a political force is over. Sorry, Carter , it was born a political zombie, and it only became more rancid over time. The left wing in America can't resist rambling stoners, malcontents, and Grateful Dead camp followers.
OWS is over - The Insiders
This blog post by Ed Rogers, group chairman of the lobbying firm BGR Group, was published through a respectable national news outlet on November 16th, 2011. by tor.nelson Jan 4
THE BEST VIDEO ON "OCCUPY THE WORLD"
One of the Most Chilling Photos from OWS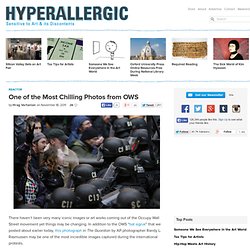 There haven't been very many iconic images or art works coming out of the Occupy Wall Street movement yet things may be changing. In addition to the OWS " bat signal " that we posted about earlier today, this photograph in The Guardian by AP photographer Randy L. Rasmussen may be one of the most incredible images captured during the international protests. Taken yesterday, during the November 17 day of action at Pioneer Courthouse Square in Portland, Oregon, the young protester being pepper sprayed by riot police is a visual symbol of the power imbalance taking place at these protests. Seemingly faceless black-clad police with visors and helmets are pushing back and harming non-violent protesters. Here the protester's face is fully exposed to a stream of pepper spray, according to the caption, while an adjacent protester holds up the peace sign.
A police officer carries trash through Zuccotti Park (AP) During our coverage of the eviction of the Occupy Wall Street protesters early this morning, a NPR reporter, a New York Times reporter, and a city councilmember were arrested. Airspace in Lower Manhattan was closed to CBS and NBC news choppers by the NYPD, a New York Post reporter was allegedly put in a "choke hold" by the police, a NBC reporter's press pass was confiscated and a large group of reporters and protesters were hit with pepper spray. According to the eviction notice, the park was merely "cleaned and restored for its intended use." If this is the case, why were so few people permitted to view it? "Get the fuck back!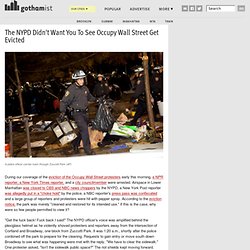 The NYPD Didn't Want You To See Occupy Wall Street Get Evicted
What Police Officers Did To Occupy Wall Street Laptops
Occupy Oakland mass arrest attempt caught on video
WASHINGTON -- The United Nations envoy for freedom of expression is drafting an official communication to the U.S. government demanding to know why federal officials are not protecting the rights of Occupy demonstrators whose protests are being disbanded -- sometimes violently -- by local authorities. Frank La Rue, who serves as the U.N. " special rapporteur " for the protection of free expression, told HuffPost in an interview that the crackdowns against Occupy protesters appear to be violating their human and constitutional rights. "I believe in city ordinances and I believe in maintaining urban order," he said Thursday.
U.N. Envoy: U.S. Isn't Protecting Occupy Protesters' Rights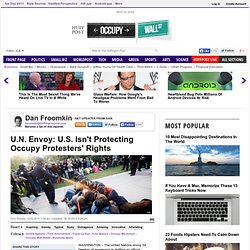 Russia concerned about protesters' rights violations in US, Canada
The Russian Foreign Ministry has expressed concern over reports of violation of protesters' rights in the United States and Canada. The Foreign Ministry Ombudsman, Konstantin Dolgov, has levelled criticism at the mass arrests of Occupy Wall Street movement activists in Chicago and university students in Montreal, amid disproportionate use of force and riot control agents despite the fact that the protests were peaceful in character, particularly at the beginning. Dolgov voiced hope that the US and Canadian authorities will in future exercise maximum restraint in dealing with peaceful protests. The Russian Foreign Ministry also hopes that the response by the US and Canadian authorities to peaceful protests will be 'responsible' and in compliance with these countries' commitments under international law.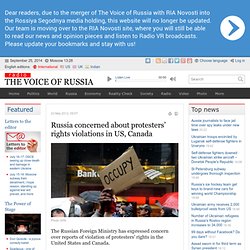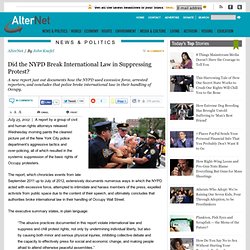 Did the NYPD Break International Law in Suppressing Protest? | Alternet
July 25, 2012 | Like this article? Join our email list: Stay up to date with the latest headlines via email. A report by a group of civil and human rights attorneys released Wednesday morning paints the clearest picture yet of the New York City police department's aggressive tactics and over-policing, all of which resulted in the systemic suppression of the basic rights of Occupy protesters.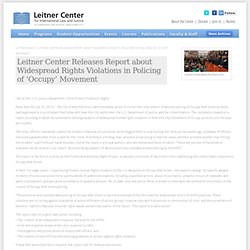 Leitner Center - Fordham Law | Welcome
LeitnerCenter@law.fordham.edu Leitner News // Leitner Center Releases Report about Widespread Rights Violations in Policing of 'Occupy' Movement Leitner Center Releases Report about Widespread Rights Violations in Policing of 'Occupy' Movement Call on NYC, U.S. Justice Department, UN to Protect Protestors' Rights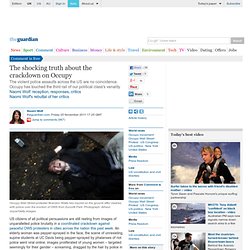 US citizens of all political persuasions are still reeling from images of unparallelled police brutality in a coordinated crackdown against peaceful OWS protesters in cities across the nation this past week . An elderly woman was pepper-sprayed in the face; the scene of unresisting, supine students at UC Davis being pepper-sprayed by phalanxes of riot police went viral online; images proliferated of young women – targeted seemingly for their gender – screaming, dragged by the hair by police in riot gear; and the pictures of a young man, stunned and bleeding profusely from the head, emerged in the record of the middle-of-the-night clearing of Zuccotti Park. But just when Americans thought we had the picture – was this crazy police and mayoral overkill, on a municipal level, in many different cities? – the picture darkened.
January 26, 2012 Contact Deep Green Resistance: Lierre Keith lierrekeith[at]yahoo[dot]com Aric McBay aric[at]aricmcbay[dot]org (847) 773-7478 View documents here . View Deep Green Resistance response and picture of Stratfor employee here .
Press Release: Anonymous Hacked Documents Reveal Law Enforcement Spied on Occupy and Shared Information with Private Intelligence Company, STRATFOR | Deep Green Resistance
Occupy Wall Street Monitored By U.S. Conference Of Mayors, Emails Show
WASHINGTON -- After denying that they are coordinating responses to Occupy Wall Street, the U.S. Conference of Mayors recently surveyed city administrations across the country about the movement. In late November, according to documents obtained through a Freedom of Information Act request, the District of Columbia mayor's office received a request to update its answers to the survey. The questions to city officials appeared to elicit profiles of Occupy activists and answers that could help show the activists as a drain on resources. The mayor's conference asked via the emailed survey: What are the estimated Occupy-related costs?
White House & Dems Back Banks Over Protests: Newly Discovered Homeland Security Files Show Feds Central to Occupy Crackdown
A new trove of heavily redacted documents provided by the US Department of Homeland Security (DHS) in response to a Freedom of Information Act (FOIA) request filed by the Partnership for Civil Justice Fund (PCJF) on behalf of filmmaker Michael Moore and the National Lawyers Guild makes it increasingly evident that there was and is a nationally coordinated campaign to disrupt and crush the Occupy Movement. The new documents, which PCJF National Director Mara Verheyden-Hilliard insists "are likely only a subset of responsive materials," in the possession of federal law enforcement agencies, only "scratch the surface of a mass intelligence network including Fusion Centers, saturated with 'anti-terrorism' funding, that mobilizes thousands of local and federal officers and agents to investigate and monitor the social justice movement."
Exclusive: Homeland Security Kept Tabs on Occupy Wall Street | Michael Hastings | Rolling Stone
Evicting the Public
Why has occupying public spaces brought such heavy-handed repression? Across America police have been called to clear protestors from parks and university campuses. Ostensibly progressive cities like Portland and Oakland have been in the vanguard of evictions.
Many forms of Occupy protests subjected to new bill making protests illegal
City's ban on Occupy Austin ruled unconstitutional
Judge acquits Occupy Philadelphia protesters in bank sit-in
The jury of 10 women and two men had deliberated about 13 hours since Friday before it returned the verdict to a packed courtroom shortly before noon. Afterward, Judge Nina N. Wright Padilla took the unusual step of coming down from the bench and asking all 12 to approach so she could shake their hands.
NYPD Raids Activists' Homes Before Tomorrow's Occupy Wall Street Protests
Portland Tribune and Community Newspapers - Activists accuse FBI of targeting anarchists
Activists cry foul over FBI probe
For Anarchist, Details of Life as F.B.I. Target
DOD to ACLU: We surrender.
FBI Documents Reveal Secret Nationwide Occupy Monitoring
Government Surveillance of Occupy Movement
FBI OWS Documents
Democracy Now!: The FBI vs. Occupy? Secret Docs Reveal "Counterterrorism" Monitoring of OWS From Its Earliest Days
FBI Ignored Deadly Threat to Occupiers
FOCUS | How the FBI Coordinated the Crackdown on Occupy
FBI Occupy Wall Street Memos Skip Infiltration Of Occupy Cleveland