Net Privacy and Anonymity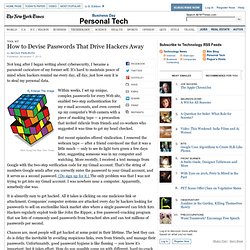 Within weeks, I set up unique, complex passwords for every Web site, enabled two-step authentication for my e-mail accounts, and even covered up my computer's Web camera with a piece of masking tape — a precaution that invited ridicule from friends and co-workers who suggested it was time to get my head checked. But recent episodes offered vindication. I removed the webcam tape — after a friend convinced me that it was a little much — only to see its light turn green a few days later, suggesting someone was in my computer and watching. More recently, I received a text message from Google with the two-step verification code for my Gmail account. That's the string of numbers Google sends after you correctly enter the password to your Gmail account, and it serves as a second password.
How to Devise Passwords That Drive Hackers Away
The security of Twofish in a password database Password Safe is now an open source project. As of May 11, 2013, the latest Windows version is 3.31.
Password Safe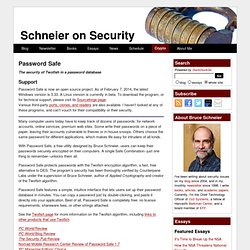 Imagine if you turned on your computer and found your entire digital life was wiped: years of photos, emails, documents—gone. That happened to Wired writer Mat Honan last weekend, when hackers broke into his most important accounts. But it could have probably been prevented if he'd done one thing: Enabled "two-factor authentication" on his Gmail account.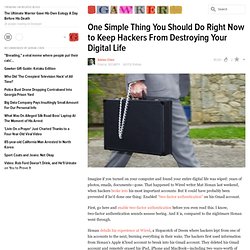 One Simple Thing You Should Do Right Now to Keep Hackers From Destroying Your Digital Life
How Your Passwords Are Stored on the Internet (and When Your Password Strength Doesn't Matter)
Between LinkedIn , Zappos , Dreamhost , and other prominent sites recently hacked, you've likely been thinking about your online security lately. But what does it actually mean when one of these sites get hacked, and how can you protect yourself? Here's how your passwords are stored on the internet, and what it means for you when a web site you used is breached. There are a number of ways a site can store your password, and some are considerably more secure than others. Here's a quick rundown of the most popular methods, and what they mean for the security of your data.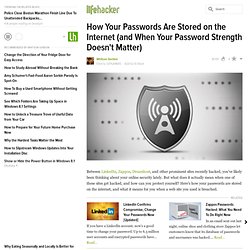 As part of research into doing away with typed passwords, Google has built rings that not only adorn a finger but also can be used to log in to a computer or online account. The search and ad company first revealed its plans to put an end to passwords in an academic paper published online in January (see " Google's Alternative to the Password "). The effort focused on having people plug a small USB key that provides their credentials into a computer. The possibility of using special jewelry in a similar manner was mentioned in that paper. At the RSA security conference in San Francisco last month, Mayank Upadhyay, a principal engineer at Google who specializes in security, became the first person at Google to speak in public about that research. He said that using personal hardware to log in would remove the dangers of people reusing passwords or writing them down.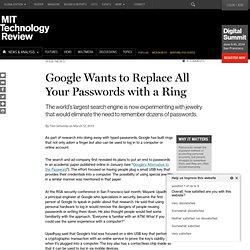 Google Experiments with a Ring that Acts as Your Password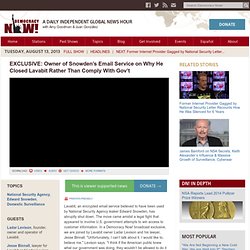 EXCLUSIVE: Owner of Snowden's Email Service on Why He Closed Lavabit Rather Than Comply With Gov't
This is a rush transcript.
2 E-Mail Services Close and Destroy Data Rather Than Reveal Files
Now that we have enough details about how the NSA eavesdrops on the internet, including today's disclosures of the NSA's deliberate weakening of cryptographic systems, we can finally start to figure out how to protect ourselves. For the past two weeks, I have been working with the Guardian on NSA stories, and have read hundreds of top-secret NSA documents provided by whistleblower Edward Snowden.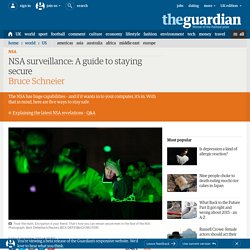 Do-Not-Track Movement Is Drawing Advertisers' Fire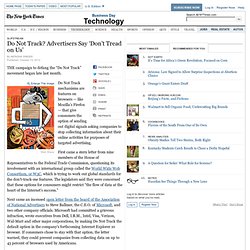 Do Not Track mechanisms are features on browsers — like Mozilla's Firefox — that give consumers the option of sending out digital signals asking companies to stop collecting information about their online activities for purposes of targeted advertising. First came a stern letter from nine members of the House of Representatives to the Federal Trade Commission, questioning its involvement with an international group called the World Wide Web Consortium, or W3C , which is trying to work out global standards for the don't-track-me features. The legislators said they were concerned that these options for consumers might restrict "the flow of data at the heart of the Internet's success." Next came an incensed open letter from the board of the Association of National Advertisers to Steve Ballmer, the C.E.O. of , and two other company officials.
A Browser To Keep The NSA From Snooping On You | Co.Exist | ideas + impact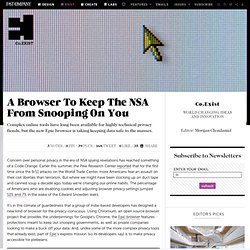 Concern over personal privacy in the era of NSA spying revelations has reached something of a Code Orange. Earlier this summer, the Pew Research Center reported that for the first time since the 9/11 attacks on the World Trade Center, more Americans fear an assault on their civil liberties than terrorism.
Tor traffic disguised as Skype video calls to fool repressive governments
Computer scientists have released a tool that disguises communications sent through the Tor anonymity service as Skype video calls, a cloak that's intended to prevent repressive governments from blocking the anonymous traffic. SkypeMorph, as the application is called, is designed to remedy a fundamental limitation of Tor : While the communications are cryptographically secured, unique characteristics of their individual data packets make them easy to identify as they travel over the networks. In the past, for example, the cryptographic key exchange was different in Tor transactions and the certificates used were typically valid for only a matter of hours, compared with as long as a year or two for certificates used by most Web servers. These fingerprints made it possible for government censors in Iran, China, and elsewhere to block data traveling over Tor while leaving the rest of the country's communications intact.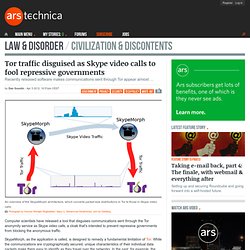 Presentation of the FreedomBox from James Vasile
PirateBox Takes File-Sharing Off The Radar and Offline, For Next To Nothing
When confronted with a doomsday scenario where mainstream online file-sharing becomes a thing of the past, it's not uncommon for people to refer to days gone by, when files were swapped freely offline using discs and other mediums. Now, an interesting and compact system can deliver the [g]olden days of data swapping with a modern twist, by turning any open space into a wireless and anonymous file-sharing system at a rock-bottom price. With the advent of the personal computer and with it the ability to endlessly copy data, the human desire to share has skyrocketed.
'Tribler' software makes Internet piracy impossible to stop
By Stephen C. Webster Wednesday, February 8, 2012 11:38 EDT Internet piracy has been a hot topic in recent weeks, but it's about to heat up even more. With lawmakers all over the world struggling to agree upon copyright regimes that would disconnect people from the Internet, shut down websites simply for linking to infringing content and cut off whole advertising networks that support pirate domains, one might think the world was on the verge of plugging up the copied media loophole for good. But then, one would be wrong.
Protects Your Privacy!
The only search engine that does not record your IP address. Your privacy is under attack! Every time you use a regular search engine, your search data is recorded .
home - help.riseup.net
occupy.here | distributed wifi occupation
Silent Circle CEO Mike Janke Courtesy of Silent Circle For the past few months, some of the world's leading cryptographers have been keeping a closely guarded secret about a pioneering new invention. Today, they've decided it's time to tell all. Back in October, the startup tech firm Silent Circle ruffled governments' feathers with a "surveillance-proof" smartphone app to allow people to make secure phone calls and send texts easily. Now, the company is pushing things even further—with a groundbreaking encrypted data transfer app that will enable people to send files securely from a smartphone or tablet at the touch of a button.
Silent Circle's latest app democratizes encryption. Governments won't be happy
This Cute Chat Site Could Save Your Life and Help Overthrow Your Government | Threat Level
Hide Secret Messages in Facebook Photos With This Chrome Extension
In Antipiracy Debate, Media Worlds (and Generations) Clash
Internet Pirates Will Always Win
SOPA Boycotts and the False Ideals of the Web
Google's Spymasters Are Now Worried About Your Secrets