Net Privacy and Anonymity
Mobile security. Psiphon.ca · delivering the net. Opt out of PRISM, the NSA's global data surveillance program - PRISM BREAK. EXCLUSIVE: Owner of Snowden's Email Service on Why He Closed Lavabit Rather Than Comply With Gov't. This is a rush transcript.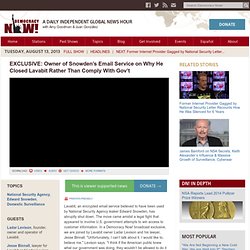 Copy may not be in its final form. AARON MATÉ: We turn now to the news an encrypted email service believed to have been used by National Security Agency leaker Edward Snowden has abruptly shut down. The move came amidst a legal fight that appeared to involve U.S. government attempts to win access to customer information. The owner of Lavabit, Ladar Levison, wrote a message online saying, quote, "I have been forced to make a difficult decision: to become complicit in crimes against the American people, or walk away from nearly 10 years of hard work by shutting down Lavabit.
" 2 E-Mail Services Close and Destroy Data Rather Than Reveal Files. An image of Silent Circle's Web page, ending its e-mail.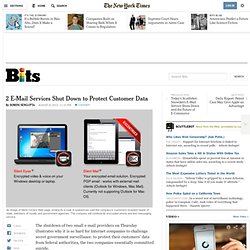 A spokesman said the company's customers included heads of state, members of royalty and government agencies. The company will continue its encrypted phone and text messaging service. The shutdown of two small e-mail providers on Thursday illustrates why it is so hard for Internet companies to challenge secret government surveillance: to protect their customers' data from federal authorities, the two companies essentially committed suicide.
Lavabit, a Texas-based service that was reportedly used by Edward J. Snowden, the leaker who had worked as a National Security Agency contractor, announced the suspension of its service Thursday afternoon. ProtonMail - Secure Email, Made Simple. How to remain secure against NSA surveillance | Bruce Schneier | World news. Now that we have enough details about how the NSA eavesdrops on the internet, including today's disclosures of the NSA's deliberate weakening of cryptographic systems, we can finally start to figure out how to protect ourselves.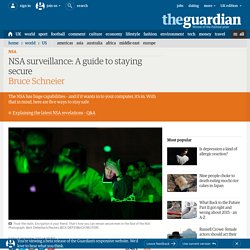 For the past two weeks, I have been working with the Guardian on NSA stories, and have read hundreds of top-secret NSA documents provided by whistleblower Edward Snowden. I wasn't part of today's story – it was in process well before I showed up – but everything I read confirms what the Guardian is reporting. At this point, I feel I can provide some advice for keeping secure against such an adversary.
The primary way the NSA eavesdrops on internet communications is in the network. That's where their capabilities best scale. Revealed: 'Collect It All' NSA Targets Those Seeking Web Privacy. (Image: via Boing Boing)Internet users who use online privacy tools or read certain websites may themselves become targets of NSA surveillance, according to a new investigation by public broadcasting outlets in Germany published on Thursday.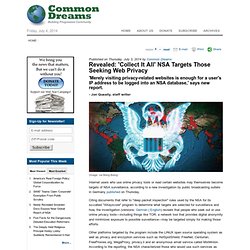 Citing documents that refer to "deep packet inspection" rules used by the NSA for its so-called "XKeyscore" program to determine what targets are selected for surveillance and how, the investigation (versions: German | English) reveals that people who seek out or use online privacy tools—including things like TOR, a network tool that provides digital anonymity and minimizes exposure to possible surveillance—may be targeted simply for making those efforts.
Other platforms targeted by the program include the LINUX open source operating system as well as privacy and encryption services such as HotSpotShield, FreeNet, Centurian, FreeProxies.org, MegaProxy, privacy.li and an anonymous email service called MixMinion. The Best Browser Extensions that Protect Your Privacy.
Do Not Track Plus. Abine is a Boston-based privacy company.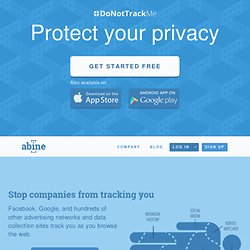 Led by consumer protection, privacy, and identity theft experts, we are passionate about making easy-to-use privacy solutions for everyday people. We strongly believe that these solutions must improve as online privacy becomes more difficult to get, and we work hard to stay ahead of the curve. We look forward to helping you navigate the complicated the world of online privacy. Do-Not-Track Movement Is Drawing Advertisers' Fire. Do Not Track mechanisms are features on browsers — like Mozilla's Firefox — that give consumers the option of sending out digital signals asking companies to stop collecting information about their online activities for purposes of targeted advertising.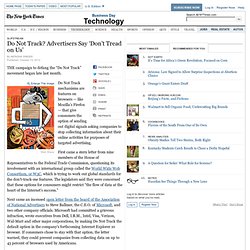 First came a stern letter from nine members of the House of Representatives to the Federal Trade Commission, questioning its involvement with an international group called the World Wide Web Consortium, or W3C, which is trying to work out global standards for the don't-track-me features. The legislators said they were concerned that these options for consumers might restrict "the flow of data at the heart of the Internet's success." Next came an incensed open letter from the board of the Association of National Advertisers to Steve Ballmer, the C.E.O. of , and two other company officials. Google tracks you. We don't. An illustrated guide. DuckDuckGo. A Browser To Keep The NSA From Snooping On You. Concern over personal privacy in the era of NSA spying revelations has reached something of a Code Orange.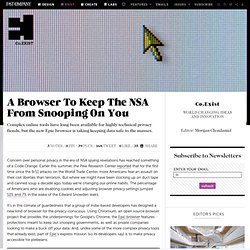 Earlier this summer, the Pew Research Center reported that for the first time since the 9/11 attacks on the World Trade Center, more Americans fear an assault on their civil liberties than terrorism. But where we might have been stocking up on duct tape and canned soup a decade ago, today we're changing our online habits: The percentage of Americans who are disabling cookies and adjusting browser privacy settings jumped 12% and 7% in the wake of the Edward Snowden leaks. It's in this climate of guardedness that a group of India-based developers has designed a new kind of browser for the privacy-conscious. Using Chromium, an open source browser project that provides the underpinnings for Google's Chrome, the Epic browser features protections meant to keep out snooping governments, as well as private companies looking to make a buck off your data.
Out in the Open: Inside the Operating System Edward Snowden Used to Evade the NSA | Enterprise. Photo: Josh Valcarcel/WIRED When NSA whistle-blower Edward Snowden first emailed Glenn Greenwald, he insisted on using email encryption software called PGP for all communications.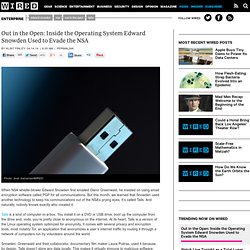 But this month, we learned that Snowden used another technology to keep his communications out of the NSA's prying eyes. Anonymity Online. Tor traffic disguised as Skype video calls to fool repressive governments. Computer scientists have released a tool that disguises communications sent through the Tor anonymity service as Skype video calls, a cloak that's intended to prevent repressive governments from blocking the anonymous traffic.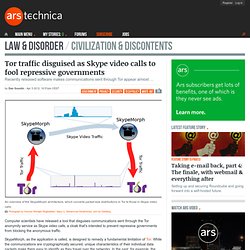 SkypeMorph, as the application is called, is designed to remedy a fundamental limitation of Tor: While the communications are cryptographically secured, unique characteristics of their individual data packets make them easy to identify as they travel over the networks. In the past, for example, the cryptographic key exchange was different in Tor transactions and the certificates used were typically valid for only a matter of hours, compared with as long as a year or two for certificates used by most Web servers. These fingerprints made it possible for government censors in Iran, China, and elsewhere to block data traveling over Tor while leaving the rest of the country's communications intact.
FreedomBox Foundation. Presentation of the FreedomBox from James Vasile. PirateBox Takes File-Sharing Off The Radar and Offline, For Next To Nothing. When confronted with a doomsday scenario where mainstream online file-sharing becomes a thing of the past, it's not uncommon for people to refer to days gone by, when files were swapped freely offline using discs and other mediums.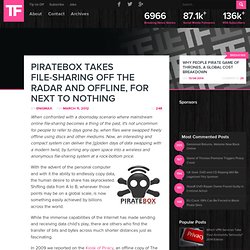 Now, an interesting and compact system can deliver the [g]olden days of data swapping with a modern twist, by turning any open space into a wireless and anonymous file-sharing system at a rock-bottom price. With the advent of the personal computer and with it the ability to endlessly copy data, the human desire to share has skyrocketed. 'Tribler' software makes Internet piracy impossible to stop. By Stephen C. WebsterWednesday, February 8, 2012 11:38 EDT Internet piracy has been a hot topic in recent weeks, but it's about to heat up even more. With lawmakers all over the world struggling to agree upon copyright regimes that would disconnect people from the Internet, shut down websites simply for linking to infringing content and cut off whole advertising networks that support pirate domains, one might think the world was on the verge of plugging up the copied media loophole for good.
But then, one would be wrong. Protects Your Privacy! The only search engine that does not record your IP address. Every time you use a regular search engine, your search data is recorded. Major search engines capture your IP address and use tracking cookies to make a record of your search terms, the time of your visit, and the links you choose - then they store that information in a giant database. Home. Occupy.here | distributed wifi occupation. Silent Circle's latest app democratizes encryption. Governments won't be happy. Courtesy of Silent Circle For the past few months, some of the world's leading cryptographers have been keeping a closely guarded secret about a pioneering new invention. Today, they've decided it's time to tell all.
Ryan Gallagher is a journalist who reports on surveillance, security, and civil liberties. Follow Back in October, the startup tech firm Silent Circle ruffled governments' feathers with a "surveillance-proof" smartphone app to allow people to make secure phone calls and send texts easily. This Cute Chat Site Could Save Your Life and Help Overthrow Your Government | Threat Level. Nadim Kobeissi, creator of Cryptocat, spoke in mid-July at the HOPE conference, held at New York's Hotel Pennsylvania every two years. Credit: Quinn Norton/Wired Twenty-one-year-old college student Nadim Kobeissi is from Canada, Lebanon and the internet. He is the creator of Cryptocat, a project "to combine my love of cryptography and cats," he explained to an overflowing audience of hackers at the HOPE conference on Saturday, July 14. Hide Secret Messages in Facebook Photos With This Chrome Extension.
It's no secret that Facebook isn't the best place for keeping secrets. Owen Campbell-Moore, a computer science student at Oxford University, designed a method to encrypt secret messages inside photos on the social networking site. It's called Secretbook — essentially, it's a Google Chrome extension that uses JPEG Steganography to encode data into photos by making virtually imperceptible changes to the image. The message is hidden in the digital makeup of the picture, not its pixels, so it's comparable to digital invisible ink. Campbell-Moore shared the news in a blog post Monday morning. Heml.is - The Beautiful & Secure Messenger. Jitsi (SIP Communicator) | Main / HomePage. In Antipiracy Debate, Media Worlds (and Generations) Clash.
Internet Pirates Will Always Win. SOPA Boycotts and the False Ideals of the Web. Google's Spymasters Are Now Worried About Your Secrets. Why Nico Sell, CEO of Wickr, Demands Privacy and Resists Social-Media Business. In Cryptography, Advances in Program Obfuscation | Simons Foundation.
---