Brainstorm, mindmap, corkboards, writing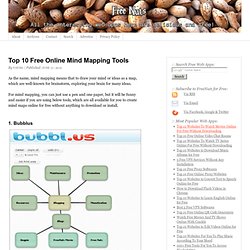 As the name, mind mapping means that to draw your mind or ideas as a map, which are well-known for brainstorm, exploring your brain for many ideas. For mind mapping, you can just use a pen and one paper, but it will be funny and easier if you are using below tools, which are all available for you to create mind maps online for free without anything to download or install. 1.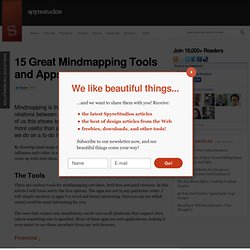 Mindmapping is the process of drawing up diagrams that show relations between various ideas, tasks or information. For many of us this shows to actually be a way of taking notes that can be more useful than just writing down keywords or sentences like we do on a to-do list. By drawing mind maps you actually visualize your tasks and how each task can influence each other in a better way, making your brain remember more easily and/or come up with new ideas. The Tools There are various tools for mindmapping out there, both free and paid versions. In this article I will focus solely the free options.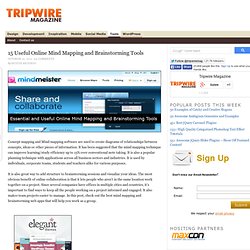 Concept mapping and Mind mapping software are used to create diagrams of relationships between concepts, ideas or other pieces of information. It has been suggested that the mind mapping technique can improve learning/study efficiency up to 15% over conventional note taking. It is also a popular planning technique with applications across all business sectors and industries. It is used by individuals, corporate teams, students and teachers alike for various purposes. It is also great way to add structure to brainstorming sessions and visualize your ideas.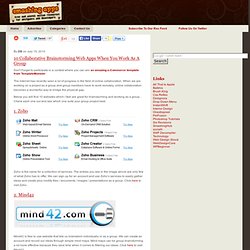 10 Collaborative Brainstorming Web Apps When You Work As A Group
Don't Forget to participate in a contest where you can win an amazing e-Commerce template from TemplateMonster. The internet has recently seen a lot of progress in the field of online collaboration. When we are working on a project as a group and group members have to work remotely, online collaboration becomes a wonderful way to bridge the physical gap. Below you will find 10 websites which I feel are great for brainstorming and working as a group. Check each one out and see which one suits your group project best.
No man (or woman) is an island – and this statement can't be any truer if you're a designer or developer. Though paid/subscription services like Basecamp and Zimbra are great, individuals strapped for cash have a ton of alternatives that provide similar (if not better) features. In this article, you'll find 15 free tools to help you facilitate remote/web-based collaboration.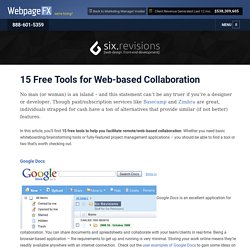 ThumbScribes - Collaborative Writing Community
Warning! We don't save your work for you! You'll need to regularly copy and paste your text into a word processor or other application to save it permanently. If you want your work saved even if you close your browser, upgrade to a recent version of Chrome, Firefox, Safari or Opera.