Flipped Classroom
Flipped Classroom A New Learning Revolution. There has been a growing buzz around a recently coined phrase " Flipped Classroom".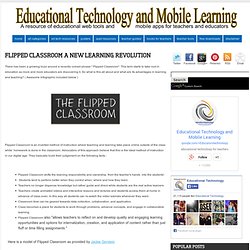 This term starts to take root in education as more and more educators are discovering it. So what is this all about and what are its advantages in learning and teaching? So you want to flip your class... - Thomasson and Morris Flip the English Classroom. Jing, screenshot and screencast software from TechSmith. Free learning videos go viral. Educator's 'profound change' on teaching Salman Khan: I had no idea my learning videos would go viralHe says he's given up hedge fund work, dedicated himself to nonprofitKhan: Videos and software don't replace teachers but can make them more effectiveTeachers can cut lecturing time and work with students one on one, he says Editor's note: TED is a nonprofit organization dedicated to "Ideas worth spreading" which it distributes through talks posted on its website.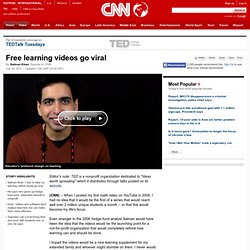 (CNN) -- When I posted my first math video on YouTube in 2006, I had no idea that it would be the first of a series that would reach well over 2 million unique students a month -- or that this would become my life's focus. Even stranger to the 2006 hedge-fund-analyst Salman would have been the idea that the videos would be the launching point for a not-for-profit organization that would completely rethink how learning can and should be done. The Flipped Classroom: The Full Picture for Tinkering and Maker Education. If you have been following my blog series on The Flipped Classroom: The Full Picture, you know that I am using this opportunity, given all the press on flipped classroom, to discuss a model of teaching and learning based on experiential education.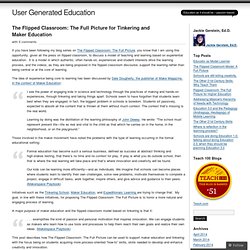 It is a model in which authentic, often hands-on, experiences and student interests drive the learning process, and the videos, as they are being proposed in the flipped classroom discourse, support the learning rather than being central or at the core of learning. The idea of experience being core to learning has been discussed by Dale Dougherty, the publisher of Make Magazine, in the context of Maker Education: I see the power of engaging kids in science and technology through the practices of making and hands-on experiences, through tinkering and taking things apart. Khan Academy.
---