UX
← Back to Blog Home Video games offer a possibility rarely had in real life - the satisfaction of being truly madly deeply 100% complete. Beating Grand Theft Auto IV will take two weeks. But then again, the main story line is only 68% of the game . To reach 100% complete, you'll have to finish umpteen side quests, like chasing down 200 pigeons , and meeting random pedestrians . It can take hundreds of hours.
The Need to Complete | Hugo Liu's Taste Blog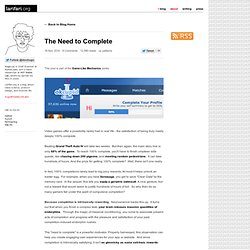 Picplum is a pretty cool startup. They let people send special photos to family members each month. So basically no need to organize, print, and ship photos to people to stay in touch. Grandma and grandpa can easily follow your kids' journey in growing up.
3 UX Ideas to Learn from Picplum (YC S11))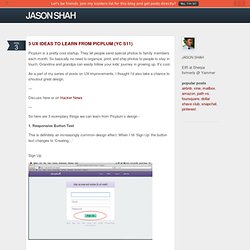 5 Simple Tips To Help You Increase User Sign Ups
There are plenty of simple things you can do on your website that can increase your signups, whether it's for something like a free newsletter or a paid subscription service. Most don't require any kind of technical or coding knowledge. And some can make a huge difference in the number of conversions you get. The five simple actions here can all be done in a matter of minutes. When you break them down to their most basic ideas, it comes down to removing psychological barriers and offering better reasons to sign up. Keep those two ideas in mind whenever you're working on a signup page: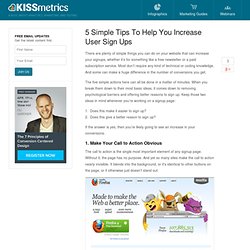 Daniel Alves is the design director for the small business web design division at the digital marketing and web design company 352 Media Group. The navigation bar is the most important design element on a website. Not only does it guide your users to pages beyond the homepage, but it's also the singular tool to give users a sense of orientation.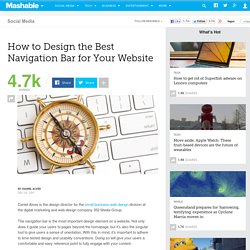 What are some UX best practices for user account cancellation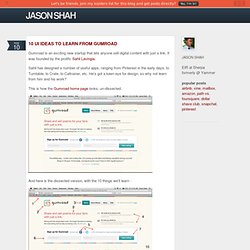 Gumroad is an exciting new startup that lets anyone sell digital content with just a link. It was founded by the prolific Sahil Lavingia. Sahil has designed a number of useful apps, ranging from Pinterest in the early days, to Turntable, to Crate, to Caltrainer, etc. He's got a keen eye for design, so why not learn from him and his work? This is how the Gumroad home page looks, un-dissected. And here is the dissected version, with the 10 things we'll learn -
10 UI Ideas to Learn from Gumroad)