Design
Get flash to fully experience Pearltrees
Apple is pushing the tech industry forward by increasing the pixel density on iPhone and iPad screens. This is great from a user's perspective, but as a web designer or developer it literally threatens to completely change the way you build websites. Are you ready for HD web design?
Colors affect us in countless ways—mentally and physically, consciously and subconsciously.
If you're like me, looking at your own design work from a few years ago can often result in some laughable or even cringe-worthy moments. Design styles have been steadily evolving and most of us can't help but be affected by these changes.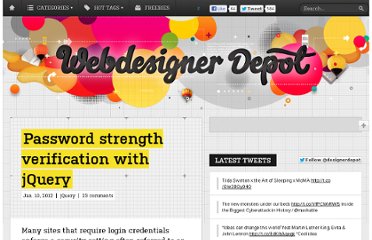 Many sites that require login credentials enforce a security setting often referred to as password complexity requirements. These requirements ensure that user passwords are sufficiently strong and cannot be easily broken.
By Matteo Penzo Published: July 12, 2006 "We were able to subject Luke's theories to usability testing and enrich them through the power of numeric data." In using eyetracking to evaluate the usability of search forms for my previous article for UXmatters , " Evaluating the Usability of Search Forms Using Eyetracking: A Practical Approach ," we discovered much interesting data. I'll provide an in-depth analysis of that data here.
For retailers, shopping is the art of persuasion. Though there are many factors that influence how and what consumers buy. However, a great deal is decided by visual cues, the strongest and most persuasive being color.
For many of us, logging into websites is a part of our daily routine.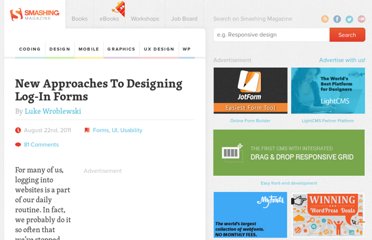 by anthony on 08/17/11 at 10:17 pm Designers use rounded corners so much today that they're more of an industry standard than a design trend.
by anthony on 02/21/12 at 6:48 pm
by anthony on 05/25/11 at 11:30 pm A question designers often wonder when designing dialog boxes is where to place their 'Ok' and 'Cancel' buttons. The 'Ok' button is the primary button that completes the action the user initiated.