General knowledge
Get flash to fully experience Pearltrees
Tools drawer at a 5S working place 5S is the name of a workplace organization method that uses a list of five Japanese words: seiri, seiton, seiso, seiketsu, and shitsuke. Transliterated or translated into English , they all start with the letter "S". The list describes how to organize a work space for efficiency and effectiveness by identifying and storing the items used, maintaining the area and items, and sustaining the new order. The decision-making process usually comes from a dialogue about standardization, which builds understanding among employees of how they should do the work.
I actually meant to get this done prior to Hurricane Irene in the hope that folks might be armed with some good reading material when the power crapped out, but down here in the tropics the weather has been so beautiful that I just couldn't bear to sit in front of my computer this past weekend. After the banking crisis, I made a vow to myself that I would learn everything I could about what really happened. I had very little understanding of economics, finance or the nature of our money system prior to that and couldn't have cared less.
A Paradise Built in Hell by Rebecca Solnit. Why do Crowds Turn Deadly? That's a good question. Here's a partial answer that challenges conventional wisdom: most crowds that stampede, crushing people, do so when entering a venue . Why? One reason is that people are more likely to surge forward when they think they are about to be excluded from something.
From Miiu.org A Bug Out Bag can be a backpack or a box you keep in the trunk of your car Description A "bug out bag" is a portable container of items that you and your family can quickly take with you in the event that an emergency forces you to leave your home (potentially permanently). This departure may be caused by natural disaster (wild fire, hurricane, flood, etc.), disorder (terrorism, riot, violent protest, gangs, police violence, etc.), or a wildly unlikely/unforeseeable event ( EMP attack , nuclear disaster/attack, pandemic/biological warfare, solar discharge, etc.).
You could also call this "The Top 100 Things You should start stocking up on." Even if you don't need more than 2 (you should always have 2 of everything) each item on this list will be great for bartering. This list was discussed and chosen by the members of SurvivalistBoards.com.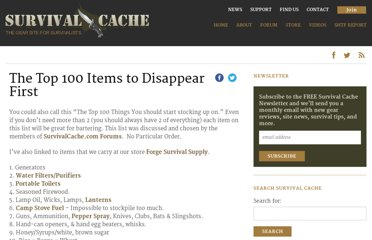 Bug Out Bag For someone new to being a Survivalist building your first Bug Out Bag can seem like a big task.
Editor's note: This is a guest post from Creek Stewart of Willow Haven Outdoor. The term 'Bugging Out' refers to the decision to abandon your home due to an unexpected emergency situation–whether a natural disaster or one caused by man. A 'Bug Out Bag' is a pre-prepared survival kit designed to sustain you through the journey to your destination once you've decided to 'Bug Out' in the event of an emergency evacuation.