Startups Ben
Facturation en ligne et gestion commerciale pour les entrepreneurs - myFacture. Comparateur de vol, billet d'avion pas cher, vol pas cher.
Lean
Social Media. Mobile. Cloud. Gaming. Divers. Ecommerce. Developer. Bantam Live. Mobile Affiliate Network - Mobile CPA Campaigns - Home. [La Start-Up française de la Semaine] : Big Bang Céréales. Cet article fait partie d'un nouveau rendez-vous hebdomadaire sur Presse-Citron.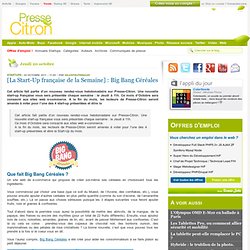 Une nouvelle start-up française vous sera présentée chaque semaine : le Jeudi à 11h. Ce mois d'Octobre sera consacré aux sites web e-commerce. A la fin du mois, les lecteurs de Presse-Citron seront amenés à voter pour l'une des 4 start-up présentées et élire la. Cadeau vin original mieux qu'un stage oenologique ? Offrez des vignes en cadeau ! Social Media Management | Facebook for Business. Business-en-trade. Dolphin - Smart Community Builder. FRIENDSCLEAR Pro | La communaute entre entrepreneurs et investisseurs.
Welcome | Jumo. Balloon - R?inventez vos ?v?nements. TripIt - Travel Itinerary - Trip Planner. TÉLIO - Fashion Fabrics & Interior Furnishings - Tissus de mode & Ameublement - Montreal, Toronto, Vancouver. Jouez avec vos amis sur les réseaux sociaux ! Hop-Cube libère la donnée environnementale des produits. Square – Accept credit card payments with your mobile phone.
Redefining Information Access for the Enterprise and the Web. MEdiaMENTO - Mémorisation publicitaire et eyetracking : institut d'études marketing "nouvelle génération" d'efficacité publicitaire. L'offre du jour de Lookingo: trouvez des offres quotidiennes dans votre ville à un prix imbattable. Faveous - All your favorite content in one single place. eYeka Europe - Concours vidéo, concours d'animation, concours de design pour vidéastes, réalisateurs, animateurs et graphistes.
Loue une petite amie. Promote your products on Facebook. Beansight. Mayoz.fr - Photos d'art en ?dition limit?e ? 150 exemplaires. Votez pour choisir les prochaines photos ?dit?es - Mayoz. Listen to Music for Free on Playlistnow.fm. Over recent months we have seen how 2015 has become a year that seems to get theaters implode with the arrival of very important blockbusters.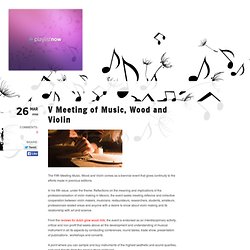 But that is one year, and 2014 thinks not remain simply as " the threshold of 2015." To demonstrate this, we present fifty titles that come over the next twelve months our rooms, films for everyone . In 2014 we will have a good portion of sequels , the occasional remake, but will also be a fantastic year for fans of filmmakers like David Fincher , Wes Anderson, Christopher Nolan Clint Eastwood or all new jobs. Cityzencar, la bonne conduite. Un mundo virtual para niños. Widilik - The creation community. Zynga - Connecting the world through games.
Voiturelib, location de voitures entre particuliers avec assurance. Bougez sur de la Zumba en 2011. PIECES AUTO sur Yakarouler - La piece auto a prix discount.
---