220_FORMES et MOUVEMENT
Magic carpet
Un bac à sable numérique
Iris Decouflé Danseur Solo
Possibly the coolest firework ever? [VIDEO]
The V Motion Project E03 The Technology
World's largest kinetic art sculpture
Super Mario 3D chalk art
About The Showcase The legendary Saatchi & Saatchi New Directors' Showcase has become one of the genuine highlights of the Cannes Lions International Festival of Creativity. The Showcase features the very best new directing talent from around the world and from an initial line up of several hundred directors, the Saatchi & Saatchi Worldwide Creative Board make the final selection. This year, 19 directors made the cut. Notable directors who have appeared in past Showcases include Fredrik Bond, Chris Cunningham, Nicolai Fuglsig, Jonathan Glazer, Michel Gondry, Spike Jonze, Danny Kleinman, David LaChapelle, Chris Palmer, The Perlorian Brothers, Jason Reitman, Mark Romanek, Tarsem, Traktor, Kinka Usher, and Ivan Zacharias. Each year we wrap the Showcase around a theme.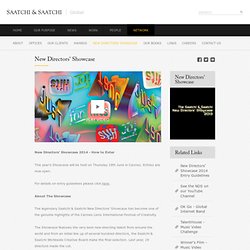 The Lovemarks Company - New Directors' Showcase
Quadrotor light show
BMW M5 becomes a slow-motion bullet
C2C - The Beat [OFFICIAL] @C2Cdjs
Voorhaft - Cool stuff
Anamorphoses - Compagnie Adrien M / Cube Festival 2010
Nicolas Boillot | Art vidéo | Netart
TEDxSummit intro: The power of x
The Splendor of Color Kaleidoscope Video v1.1 1080p
Spectrum Cube
Helix LED Hoop by Proton Labs - Now Available!
Hooptease1_hoop_lumineux_LibellulHoop
What is important to you 2011-ongoing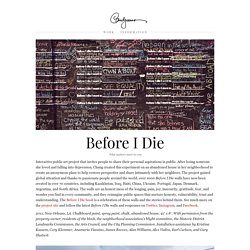 BLU and OSGEMEOS in LISBOA
BLU - DVD -2010 - trailer
Painting Reality
Deadlicious Corpses
2011 HAPPY NEW WALL on Vimeo
TECHNICS of the FIOUTCHEUR
Most Insane Immersive Movie Experience EVER, Part 3
Invisible Mercedes
The Matrix Ping Pong
WorldScott
Kids Create Bellagio-style Water Show in Pool
HP - invent on Vimeo
HP - Hit print on Vimeo
PICTURES
Sia "Breathe Me" on Vimeo
Then & Now | 100 Years of Chevrolet | Chevy Centennial
she takes a photo every day: 4.5 years
Tim & Joe
Tim & Joe
Impressive puzzle
LED snowboarding
Terminator 2 - 20 years ( July 3 1991 - July 3 2011)
Dev Harlan - "Parmenides I", 2011 on Vimeo
Time Warp 2011 on Vimeo
Sheikh Zayed Grand Mosque Projections on Vimeo
TELEGRAPHICS (fr) on Vimeo
Chaîne de TheBritishLegions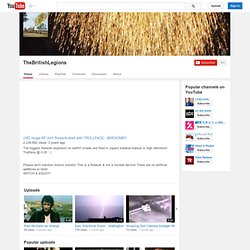 Welcome to YouTube! The location filter shows you popular videos from the selected country or region on lists like Most Viewed and in search results.To change your location filter, please use the links in the footer at the bottom of the page.
Cuelight on Vimeo
A Viper green laser pointer beam & Crystal Ball
‪Projection Mapping a Guitar‬‏