Wise Quotes
Popular Quotes. Find quotes about anything and everything. Collected Quotes from Albert Einstein. [Note: This list of Einstein quotes was being forwarded around the Internet in e-mail, so I decided to put it on my web page.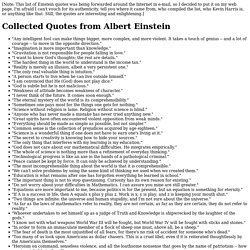 I'm afraid I can't vouch for its authenticity, tell you where it came from, who compiled the list, who Kevin Harris is, or anything like that. Still, the quotes are interesting and enlightening.] "Any intelligent fool can make things bigger, more complex, and more violent. "Seven Blunders of the World" by Mahatma Gandhi. 364 Quotes in 2011. 100 Most Inspirational Quotes Of All Time. Courtesy of My-Inspirational-Quotes.com 1.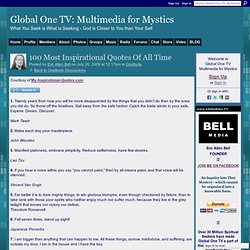 Twenty years from now you will be more disappointed by the things that you didn't do than by the ones you did do.
---