SocialCuration
Art.sy Is Mapping the World of Art on the Web. 'Lucky' Mag Plans User-Generated Section. Every day, thousands of stylish women upload pictures of their outfits, their hair, their nails — essentially, expressions of their style — to personal blogs.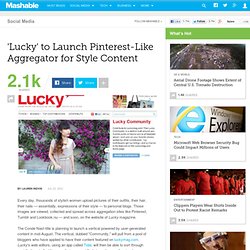 Those images are viewed, collected and spread across aggregation sites like Pinterest, Tumblr and Lookbook.nu — and soon, on the website of Lucky magazine. The Conde Nast-title is planning to launch a vertical powered by user-generated content in mid-August. Government Unveils First Map Of All The Germs In The Human Body. Bloggers and Bowerbirds - Incisive.nu. There are still a lot of elbows being thrown in the squabble about "creation" versus "curation," and it seems to be getting worse.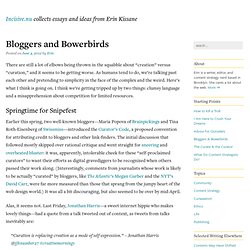 As humans tend to do, we're talking past each other and pretending to simplicity in the face of the complex and the weird. Here's what I think is going on. I think we're getting tripped up by two things: clumsy language and a misapprehension about competition for limited resources. Springtime for Snipefest Earlier this spring, two well-known bloggers—Maria Popova of Brainpickings and Tina Roth-Eisenberg of Swissmiss—introduced the Curator's Code, a proposed convention for attributing credit to bloggers and other link-finders. Crazy about Curation: 5 American Girls, 3 Fashion Startups. In today's noisy, overpopulated world, we often talk about the art of curation in terms of the process of selection, narrowing down and choosing objects fit for presentation.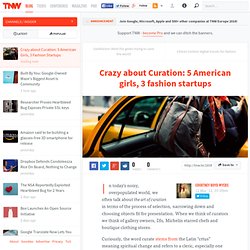 When we think of curators we think of gallery owners, DJs, Michelin starred chefs and boutique clothing stores. Curiously, the word curate stems from the Latin "crtus" meaning spiritual change and refers to a cleric, especially one who has charge of a parish. The word has traveled quite a long ways since its original meaning, but those who consider curation a primary focus of their job can relate to its commanding origins. To learn more about the importance of curation in today's fashion industry, we spoke to 5 American girls who run 3 emerging fashions startups in New York City and Los Angeles. What We Talk About When We Talk About "Curation" By Maria Popova On creative restlessness, the art of context, and the contagion of intellectual curiosity.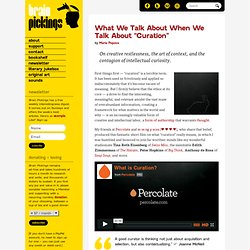 First things first — "curation" is a terrible term. It has been used so frivolously and applied so indiscriminately that it's become vacant of meaning. But I firmly believe that the ethos at its core — a drive to find the interesting, meaningful, and relevant amidst the vast maze of overabundant information, creating a framework for what matters in the world and why — is an increasingly valuable form of creative and intellectual labor, a form of authorship that warrants thought.
My friends at Percolate and m ss ng p eces (♥ ♥ ♥ ♥), who share that belief, produced this fantastic short film on what "curation" really means, in which I was humbled and honored to join far worthier minds like my wonderful studiomate Tina Roth Eisenberg of Swiss Miss, the inimitable Edith Zimmerman of The Hairpin, Peter Hopkins of Big Think, Anthony de Rosa of Soup Soup, and more.
1940 US Census becoming fully searchable online through volunteer effort. Today the National Archives and Records Administration (NARA) released images of the 1940 Census, and a project is already underway to ensure that the information becomes easily available to anyone who wants to know a bit more about the Great Depression.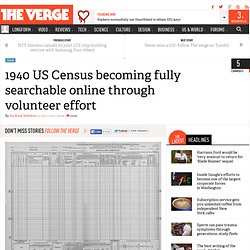 The NARA has teamed up with leading genealogy groups like Archives.com, FindMyPast.com, and FamilySearch.org to create what's being described as a "high quality, searchable database" of the more than one million pages contained in the Census. You can already browse through the Census images, but the process is cumbersome — for instance, you can't search by a person's name, but instead can only browse by location or enumeration district. What Is the Point of... Pinterest? Whenever a trendy app comes along, there are people who ask, "What is the point of this?"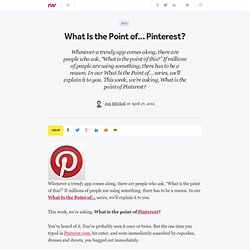 If millions of people are using something, there has to be a reason. In our What Is the Point of… series, we'll explain it to you. 5 Tips for Great Content Curation. Steven Rosenbaum is the CEO of Magnify.net, a real-time video curation engine for publishers, brands, and websites.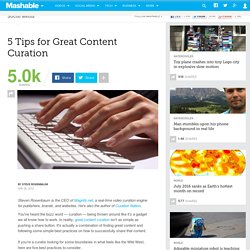 He's also the author of Curation Nation. You've heard the buzz word — curation — being thrown around like it's a gadget we all know how to work. In reality, good content curation isn't as simple as pushing a share button. It's actually a combination of finding great content and following some simple best practices on how to successfully share that content. - How We Will Read: Maria Popova. This post is part of "How We Will Read," an interview series exploring the future of books from the perspectives of publishers, writers, and intellectuals.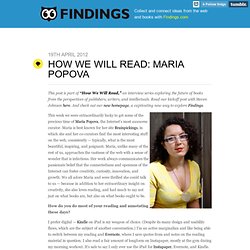 Read our kickoff post with Steven Johnson here. And check out our new homepage, a captivating new way to explore Findings. This week we were extraordinarily lucky to get some of the precious time of Maria Popova, the Internet's most awesome curator. The Verge interview: David Carr on curation, crowdsourcing, and the future of journalism. 212inShare Jump To Close David Carr has written about media for over 25 years, from his early days in Minneapolis, Minnesota, to Washington, D.C., to his current post at The New York Times, where he's been for almost a decade.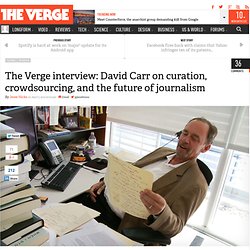 His weekly column, "The Media Equation," covers all aspects of journalism and culture, especially the always-evolving world of online news; his recent work has questioned the rise of Twitter activism, investigated the failure of Tribune media, and mused on Louis C.K.' How to Make Images Stand Out on Pinterest [INFOGRAPHIC] Do you want your Pinterest images to stand out and get repinned?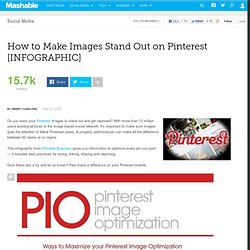 With more than 12 million users posting pictures to the image-based social network, it's important to make sure images grab the attention of fellow Pinterest users. A properly optimized pin can make all the difference between 50 repins or no repins. This infographic from Pinnable Business gives you information to optimize every pin you post — it includes best practices for sizing, linking, sharing and repinning. Give these tips a try and let us know if they make a difference on your Pinterest boards.
Pinterest Revises "Terrifying" Terms of Service, Soon To Release Private Pinboards and API. [Infographic]: Check Out This Flow Chart to See if Your Business Belongs on Pinterest. By now you probably know that Pinterest is one of the fastest-growing social communities around. Aside from sharing those cute cat pix, it can also be an attractive proposition for small businesses who want to get the word out about their products, particularly very visually-arresting ones. How do you know if Pinterest is right for your business?
What Is Curation?, Video Features Curators' Thoughts On Their Roles. The Pointless Debate Over Web Curation vs. Aggregation. For some time now, the hot new buzzword for Web services has been "curation." Whether it's Pinterest or Tumblr or Flipboard or News.me, everyone wants to ride the curation wave. What does it mean and how do you do it properly? And what makes it different from aggregation? 'Curator's code' proposed for web attribution. The brain behind Brainpickings.org, Maria Popova, has proposed a code of conduct for curators on the web to use to attribute their sources. The "Curator's Code" asks anyone sharing content on the web to give credit to the place where they discovered the thing they're sharing in one of two ways. There's the "via", and the "hat tip". Both have existed for some time, but their precise meaning has never been standardised or agreed-upon.
Under Popova's proposals, a "via" indicates direct discovery, and can be used when you repost a bit of content with little or no modification or addition. 6 reasons to use Pearltrees. Pearltrees is the first and largest social curation community on the Internet. It's a place to organize, discover and share all the cool content you find online. However, beyond this basic definition, a question remains: why would I want to use Pearltrees? Well, what I want to share with you are six major use cases (or reasons) we've identified as being most popular across our entire community of web curators. What Pinterest needs to fix – and fast. Lately, you can't help but hear about Pinterest's culminating issues. The site has been plagued by the possibility of copyright infringement and skepticism about its business model. And now the unavoidable is finally happening: phishing scams have hit the platform. Venture Beat noticed the faux promos peppering the site yesterday, and it's not the first nor last time it'll happen.
It's just one more knock against Pinterest. 20 Awesome Pinterest Tools. Need More YouTube Views? Try Pinterest. The Marketer's Guide to Pinterest. Chill: It's Like Pinterest For Video. When is the social curation bubble going to burst? How Pinterest is Making Money. How Businesses Are Using Pinterest. 15 of the Most Popular Pictures on Pinterest. 7 Tips for Planning a Wedding on Pinterest. What Pinterest is Doing That Facebook Isn't. Pinterest Becomes Top Traffic Driver for Retailers [INFOGRAPHIC] 10 Tips on Using Pinterest for your Business. 7 Ways Journalists Can Use Pinterest. Scrollsy Is A Scrollable, Pinterest-Like Version Of Etsy. The Top Brands on Pinterest. December Presents: Record Traffic For Social Interest Sites Tumblr And Pinterest.
You are what you curate: why Pinterest is hawt. Millions using YouTube Editor to enhance videos after posting — Online Video News. Pinterest Tutorial. Mixel invites iPad users to create social collages. Why Browsing Is So Important to Content Discovery.
---