Pesquisar
Untitled form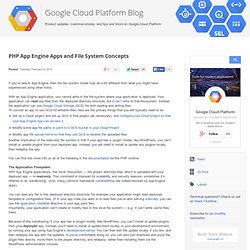 If you're new to App Engine, then the file system model may be a bit different from what you might have experienced using other hosts. With an App Engine application, you cannot write to the file-system where your application is deployed. Your application can read any files from the deployed directory structure, but it can't write to that file-system. Instead, the application can use Google Cloud Storage (GCS) for both reading and writing files.
PHP App Engine Apps and File System Concepts
Internet pode ficar mais barata no Brasil com novo cabo submarino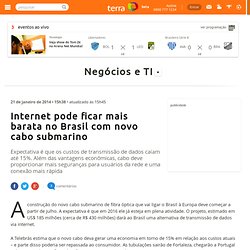 A construção do novo cabo submarino de fibra óptica que vai ligar o Brasil à Europa deve começar a partir de julho. A expectativa é que em 2016 ele já esteja em plena atividade. O projeto, estimado em US$ 185 milhões (cerca de R$ 430 milhões) dará ao Brasil uma alternativa de transmissão de dados via internet. A Telebrás estima que o novo cabo deva gerar uma economia em torno de 15% em relação aos custos atuais – e parte disso poderia ser repassada ao consumidor. As tubulações sairão de Fortaleza, chegarão a Portugal e deverão acelerar o fluxo de informações entre o Brasil e o continente europeu.
PERIÓDICOS
opsmanual
1 January 2014 NSA Codenames Date: Wed, 1 Jan 2014 16:03:04 -0800 (PST) From: xxxxxx[at]efn.org To: cryptome <cryptome[at]earthlink.net> Subject: List of NSA/GCHQ codemanes affiliated with hacking and bugging. I have compiled a list of codenames used by the NSA/GCHQ that hare affiliated with hacking and bugging.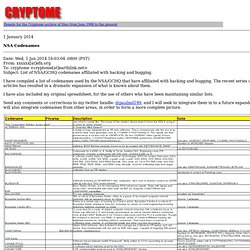 NSA Codenames
Build An Awesome Community with IPS Community Suite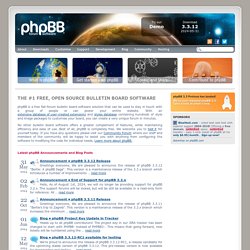 phpBB is a free flat-forum bulletin board software solution that can be used to stay in touch with a group of people or can power your entire website. With an extensive database of user-created modifications and styles database containing hundreds of style and image packages to customise your board, you can create a very unique forum in minutes. No other bulletin board software offers a greater complement of features, while maintaining efficiency and ease of use. Best of all, phpBB is completely free. We welcome you to test it for yourself today.
Disponibilizamos a página para cálculo do iGovTI2012, fruto do Levantamento de Governança de TI - Ciclo 2012 (Acórdão 2.585/2012-TCU - Plenário). Alertamos para o fato de que esta página reflete o cálculo definido para o iGovTI no Levantamento de 2012. A cada levantamento, o TCU aprimora o cálculo do índice, podendo passar a levar em consideração itens até então não considerados, ou deixar de considerar itens anteriormente computados para fins de cálculo. Isso ocorre não só por causa de mudanças ocorridas no próprio questionário (questões são inseridas, excluídas ou reformuladas de um levantamento para o outro), mas também por outros aspectos, como por exemplo: evoluções no entendimento da questão e no entendimento da dimensão, o que pode levar a modificações nos pesos, entre outros. Vale salientar que nem todas as questões do questionário aplicado pelo TCU são consideradas para fins de cálculo do iGovTI.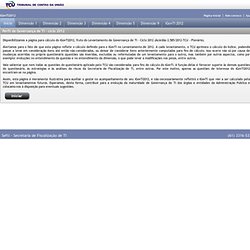 Perfil GovTI 2012
Levantamento do Perfil de Governança e Gestão de Pessoas - Ciclo 2013 Desde 2007, o TCU realiza avaliações periódicas da situação de governança e gestão de tecnologia da informação, contribuindo de forma consistente para o aperfeiçoamento do desempenho da Administração Pública Federal (APF) na referida área. Em vista disso e considerando que os resultados de qualquer organização pública dependem fundamentalmente das pessoas que nela trabalham, o TCU decidiu promover levantamento semelhante na área de pessoal. Nesse sentido, em 2013, o TCU buscou conhecer e avaliar a situação da governança e da gestão de pessoas em amostra abrangente de organizações da APF com o intuito de identificar os pontos mais vulneráveis e induzir melhorias nessa área.
Portal do Tribunal de Contas da União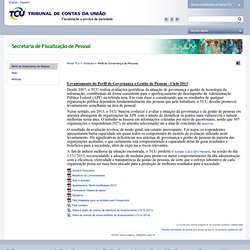 Cursos Java | Caelum
Software brasileiro fatura US$ 27 bi e cresce 26,7% em 2012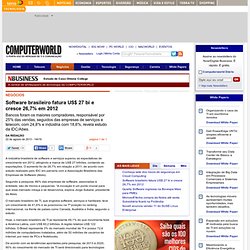 Bancos foram os maiores compradores, responsável por 25% das vendas, seguidos das empresas de serviços e telecom, com 24,8% e indústria com 18,6%, revela estudo da IDC/Abes. Da Redação 22 de agosto de 2013 - 14h19 página 1 de 1 inShare0 A indústria brasileira de software e serviços superou as expectativas de crescimento em 2012, atingindo a marca de US$ 27 bilhões, contando as exportações.
Decreto Nº 6514/2008 - "Dispõe sobre as infrações e sanções administrativas ao meio ambiente, estabelece o processo administrativo federal para apuração destas infrações, e dá outras providências."
Agenda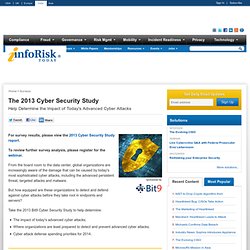 Help Determine the Impact of Today's Advanced Cyber Attacks For survey results, please view the 2013 Cyber Security Study report. To review further survey analysis, please register for the webinar. From the board room to the data center, global organizations are increasingly aware of the damage that can be caused by today's most sophisticated cyber attacks, including the advanced persistent threat, targeted attacks and malware. But how equipped are these organizations to detect and defend against cyber attacks before they take root in endpoints and servers?
The 2013 Bit9 Cybersecurity Study
infoInstituicao
Impact sur l'Eau / ...on Water
A Agência Nacional de Telecomunicações (Anatel) encerrou nesta quarta-feira (13) o leilão da faixa de frequência de 2,5 gigahertz (GHz), que será usada pelas empresas vencedoras para a oferta de serviço da banda larga e telefonia móvel de quarta geração (4G). No total foram arrecadados R$ 2,930 bilhões com a venda de 54 lotes no leilão - ágio de 31,27% - por seis grupos de empresas. As operadoras que conquistaram os lotes nacionais - Claro, Oi, TIM e Vivo - devem iniciar a oferta da banda larga 4G no país a partir de abril de 2013 e ainda garantir a oferta de internet e telefonia em áreas rurais, na frequência de 450 megahertz (MHz). Confira perguntas e respostas sobre o que foi negociado no leilão de 4G e como a oferta da banda larga ultrarrápida fará diferença em seu dia-a-dia: Qual será a velocidade da internet 4G?
Termina leilão do 4G; entenda o que pode mudar na telefonia celular - notícias em Tecnologia e Games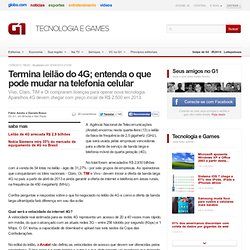 Petição Pública Brasil Confirmação
What's New? Victory Lap for Ask Patents 22 Jul There are a lot of people complaining about lousy software patents these days.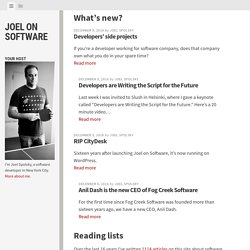 www.mdig.com.br/imagens/relogio.swf
WECIQ 2012 » Workshop-School in Quantum Computation and Information » Quantum Algorithms
In quantum computing , a quantum algorithm is an algorithm which runs on a realistic model of quantum computation , the most commonly used model being the quantum circuit model of computation. [1] [2] A classical (or non-quantum) algorithm is a finite sequence of instructions, or a step-by-step procedure for solving a problem, where each step or instruction can be performed on a classical computer . Similarly, a quantum algorithm is a step-by-step procedure, where each of the steps can be performed on a quantum computer . Although all classical algorithms can also be performed on a quantum computer, the term quantum algorithm is usually used for those algorithms which seem inherently quantum, or use some essential feature of quantum computation such as quantum superposition or quantum entanglement . All problems which can be solved on a quantum computer can be solved on a classical computer.
Google Translate
Commenting on activities Verbs complemented by prepositional phrases complement – a word, phrase or clause which is necessary in a sentence to complete its meaning Related page Gerund Objects Verb + Prepositions Lists
Verbs Followed by Prepositional Phrases: commenting on activities
Superarquivo - Todo o conteúdo da Super - SUPERINTERESSANTE
(Phys.org) -- Researchers working out of Delft University of Technology in the Netherlands have constructed a device that appears to offer some evidence of the existence of Majorana fermions; the elusive particles that are thought to be their own antiparticles. The team, as they describe in their paper published in Science, created a device with a topological superconductor that was also able to measure the relationship between current and voltage at significant points on a nanowire which when in the presence of a magnetic field or electrical current, indicated the existence of Majorana fermions. Majorana fermions are electrically neutral elementary particles of matter first theorized by Ettore Majorana in 1937.
Researchers find possible evidence of Majorana fermions
robotics news: UAVs Archives
CGU - Acesso à Informação
Supercomputadores - Inovação Tecnológica
Prospecção Tecnológica "EB 2030" - Tecnologias de Interesse da Defesa Survey
• Clique & Pronto •
Mercado - BB é o 3º banco a ser alvo de hackers; site saiu do ar - 01/02
4 dicas para aproveitar seu pendrive ao máximo
alairto_almeida_callai_modelo_dados_otan.pdf (objeto application/pdf)
Resultados da Pesquisa - Biblioteca Digital Mundial
MUSEU VIRTUAL DE BRASÍLIA