Tools
IceRocket real-time search. Der Tool-Test: Das Social Monitoring Tool Brandwatch. N E T Z S C H N I P S E L. – 06/03/2012 Eingestellt unter: Tools Wir haben Euch auf Netzschnipsel schon einige spannende Monitoring Tools vorstellen dürfen, aber mit Brandwatch steigen wir die Leiter ziemlich hoch und erklimmen neue und ziemlich geniale Sphären.
Brandwatch entstand 2004 aus dem Projekt, einen Webcrawler für die britische Regierung zu entwickeln. Twingly. Tools to Boost Your Social Media Productivity » SocialOomph.com. TweetFeel Twitter Sentiment - Twitter Search with Feelings about anything popular. The Standard for Influence.
Automatische Vervollständigung - Websuche-Hilfe. Sobald Sie einen Begriff in das Suchfeld eingeben, wird automatisch eine Auswahl von ähnlichen Suchanfragen angezeigt, damit Sie schnell und einfach zu den gewünschten Informationen gelangen.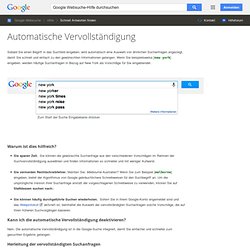 Wenn Sie beispielsweise [new york] eingeben, werden häufige Suchanfragen in Bezug auf New York als Vorschläge für Sie eingeblendet. Warum ist dies hilfreich? Sie sparen Zeit. Addictomatic: Inhale the Web.
Facebook. Website. Twitter. Übersicht & Liste. Sprout Social. Real Time Search - Social Mention. What About Me?
---