RSS-Tools
s DIY RSS feed
RSS To HTML - How To Convert RSS Feeds Into Published Web Pages
RSS feeds are a great way of not only promoting your own online content, but also of leveraging that of other independent publishers for syndication purposes. Sooner or later you are going to want to make the news from your RSS feeds accessible to a broader audience, whether you want to aggregate and filter the latest news in your particular tightly-focused niche, or bring fresh traffic to your website by allowing others to do the same. RSS To HTML services allow you to easily publish these news feeds directly to your web site, just like any other content.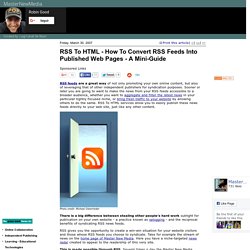 Elch24 - Die persönliche Zeitung
RDF Site Summary (RSS) 1.0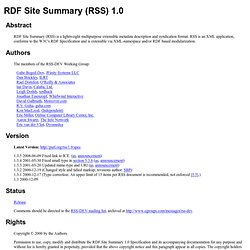 Abstract RDF Site Summary (RSS) is a lightweight multipurpose extensible metadata description and syndication format.
Easy Feed Editor - Schnell und einfach zum eigenen Feed -- Home
Feedstream - Kostenlos RSS-Feeds erstellen und verwalten
Magpie RSS - PHP RSS Parser
RSS2HTML
Your Personal News Portal
Software Garden ListGarden Program: Executable Version for Microsoft Windows This page tells you how to install and run the ListGarden Executable Version for Microsoft Windows.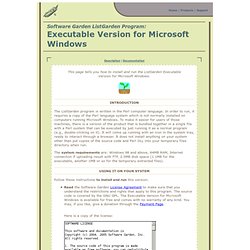 Software Garden ListGarden Program: Executable Version for Micro
SimplePie CodeIgniter Library — Elliot Haughin