Social Media
There is an argument around the blogosphere that is DRIVING ME CRAZY. When it turns to the topic of measurement and social media marketing, many "authorities" flippantly rely on the "double standard" argument — If you're trying to measure the value of SM, you might as well measure the value of a cell phone, the company car and the receptionist. One popular blogger and author recently said if your manager asks for the ROI of your social media initiative, you should ask him for the ROI of his pants. Their point is that you just need to accept the social web as something ubiquitous and necessary, so why worry about it? This is lunacy. Here are three reasons why this "no need to measure" view is an irresponsible position:
Three reasons why the "experts" are wrong about social media mea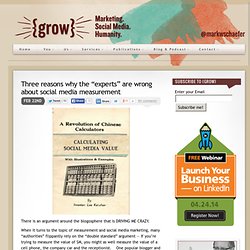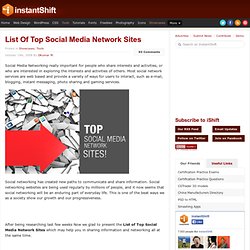 Social Media Networking really important for people who share interests and activities, or who are interested in exploring the interests and activities of others. Most social network services are web based and provide a variety of ways for users to interact, such as e-mail, blogging, instant messaging, photo sharing and gaming services. Social networking has created new paths to communicate and share information.
Another busy week at Mashable HQ has yielded another mega list of tools and resources for your reading pleasure. Check out our Social Media section for tips on how turn any video viral, find out why the web loves cats so much, or simply determine what kind of geek you are. Tech & Mobile is packed with tools like top blogger templates, Photoshop tutorials, and tips for beginners when it comes to PHP programming.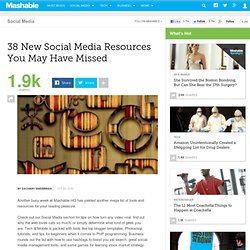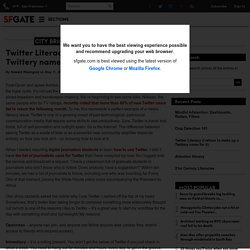 Post-Oprah and apres-Ashton, Twittermania is definitely sliding down the backlash slope of the hype cycle. It's not just the predictable wave of naysaying after the predictable waves of sliced-breadism and bandwagon-chasing. We're beginning to see some data. Nielsen, the same people who do TV ratings, recently noted that more than 60% of new Twitter users fail to return the following month. To me, this represents a perfect example of a media literacy issue: Twitter is one of a growing breed of part-technological, part-social communication media that require some skills to use productively. Sure, Twitter is banal and trivial, full of self-promotion and outright spam.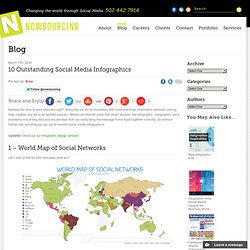 Nobody has time to read anymore, right? Every day we are all inundated with more and more information overload coming from credible and yet to be verified sources. Where can Internet users find relief? Answer: the infographic. Infographics are a wonderful mix of key data and visualization that can really bring the message home if put together correctly. So without further ado, we bring you our top 10 favorite social media infographics!
This is Your Brain Online: Recent Books on Cognition and Connection by Roy Christopher Roy Christopher recreating Peter Gabriel's 2nd LP. Image Source: RoyChristopher.com Every once in a while our collective reliance on information technology initiates a corrective – or at least a thorough reassessment.
21C Magazine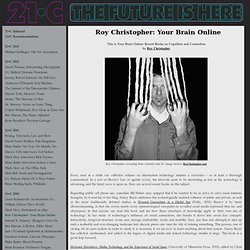 Robots msn, chat ... smart child Differences in conversation: Limited responces conversation doesn't flow changing topic is hard, where as it wouldn't be in a person to person convo responces are quick and easy can Smart conversations with computers
Media Practices: Digital Culture: New Term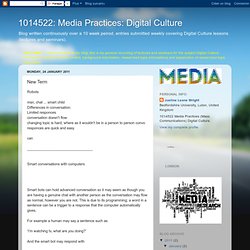 5 Differences Between Social Media and Social Networking
The differences between social media and social networking are just about as vast as night and day. There are some key differences and knowing what they are can help you gain a better understanding on how to leverage them for your brand and business. 1.
Social Media … or Social Blogmarking?
RU Sirius reviews Sherry Turkle's Alone Together: Why We Expect More from Technology and Less from Each Other, which is one wave of a supposed "tide of cyber-skepticism [sweeping] the US." I haven't read Turkle's book. but RU's review suggests an exploration of the disconnect between expectations of "social" media – that it will make us more social – and the reality, that it can make us more aware how alone we are. I have a problem with broad assumptions about any phenomenon, and I know that the perception and reality of social media is too complex for any kind of generalization. Experiences differ: some have complete and powerful social experiences in virtual environments, while others might find that they're lost in the funhouse. And I think it's misleading to analyze online social experience as somehow divorced from physical experience of the world and other people.
Social is a six letter word | WEBLOGSKY: Jon Lebkowsky's Blog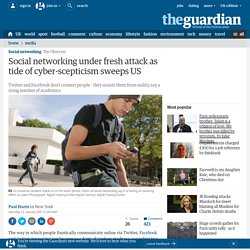 The way in which people frantically communicate online via Twitter, Facebook and instant messaging can be seen as a form of modern madness, according to a leading American sociologist. "A behaviour that has become typical may still express the problems that once caused us to see it as pathological," MIT professor Sherry Turkle writes in her new book, Alone Together, which is leading an attack on the information age. Turkle's book, published in the UK next month, has caused a sensation in America, which is usually more obsessed with the merits of social networking.
Social networking under fresh attack as tide of cyber-scepticism sweeps US | Media | The Observer
100+ pounds lost on The Slow-Carb Diet®. If you want to lose fat in 2014, how about we do it together? I need to work off some Danish butter cookies. Last year, the Lift team helped me test The Slow-Carb Diet® with 3,500 readers. The result: 84% of people lost weight and the average weight loss was 8.6 pounds over four weeks.
In certain teen social circles, it's considered a subtle act of arrogance, a signifier of the loner, to use a solo photo of yourself for your Facebook profile. Digital natives may have earned their reputation as the "entitlement generation," but apparently there are some social limits to their unabashed self-regard. In fact, there's compelling evidence the up-and-coming cohort of young Americans has grown increasingly sophisticated in navigating the public-by-default scene of social networks.
MediaShift . Teens Turn to Social Coding to Protect Privacy on Social Nets
I'm excited to talk about a new project. This description was written with my colleague Jesse Baldwin-Philippi. The Design Action Research for Government (DARG) project is a partnership between the Mayor's Office of New Urban Mechanics in Boston and the Engagement Game Lab at Emerson College. The goal of the DARG project is to advance the capacity of local governments to foster civic engagement through technological innovations. Its mission is to provide a conceptual framework and evaluative capacity to guide city-level innovations that create opportunities for the public to meaningfully engage in the creation and study of public life.
The Place of Social Media
Yes. When you feel it's appropriate, go for it. No one likes an arrogant, self-absorbed, asshole (except people like me,oddly enough). Saying thanks is a quick, easy way to connect with new followers or people who enjoyed a post. Some people think saying thanks for retweets clutters up the Twitter stream with noise.
Should I Say Thanks for Retweets?
Attention, and Other 21st-Century Social Media Literacies (EDUCAUSE Review
© 2010 Howard Rheingold. The text of this article is licensed under the Creative Commons Attribution NonCommercial License (http://creativecommons.org/licenses/by-nc/3.0). EDUCAUSE Review, vol. 45, no. 5 (September/October 2010): 14–24 Howard Rheingold (howard@rheingold.com) is the author of Tools For Thought, The Virtual Community, Smart Mobs, and other books and is currently lecturer at the University of California, Berkeley, and Stanford University. Comments on this article can be posted to the web via the link at the bottom of this page. If you were the only person on earth who knew how to use a fishing rod, you would be tremendously empowered.