Social Media + iNFOs
Releases July 2012 U.S. Online Video Rankings. August 17, 2012 comScore Releases July 2012 U.S.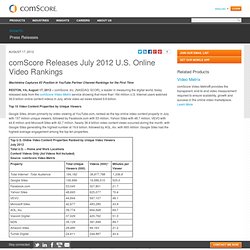 Online Video Rankings Machinima Captures #2 Position in YouTube Partner Channel Rankings for the First Time. Facebook Now The Web's Second-Most-Popular Video Site. Facebook users love video.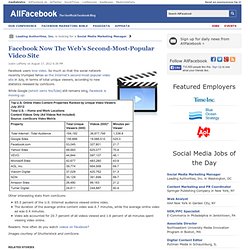 So much so that the social network recently trumped Yahoo as the Internet's second-most-popular video site in July, in terms of total unique viewers, according to new statistics released by comScore. While Google (which owns YouTube) still remains king, Facebook is moving up: 5 Awesome Content Creation Tools You Should Be Using. Getting started creating remarkable content can be a challenging concept for folks who have never done it before.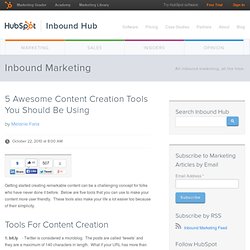 Below are five tools that you can use to make your content more user friendly. These tools also make your life a lot easier too because of their simplicity. Organizing Your Social Media Strategy. Social media has made a tremendous impact on your business and now you need to come up with ways that you can improve your strategy to make social media even more effective for you.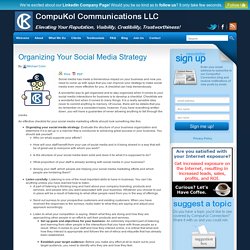 A checklist can help tremendously. A wonderful way to get organized and to stay organized when it comes to your social media interactions for business is to develop a checklist. Checklists are a wonderful tool when it comes to many things. It is a really sensible idea never to commit anything to memory. Why does information flow in networks? People like Barry Wellman and Caroline Haythornthwaite have contributed significantly to advancing the analysis of the impact of networks on society.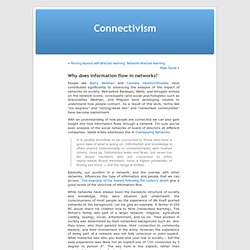 Well before Barabasi, Watts, and Strogatz arrived on the network scene, sociologists (and social psychologists) such as Granovetter, Wellman, and Milgram were developing models to understand how people connect. As a result of this work, terms like "six degrees" and "strong/weak ties" and "networked communities" have become mainstream. With an understanding of how people are connected we can also gain insight into how information flows through a network. Multi Platform Social Media – diagram-by-diagram. Over the years I have been creating lots of confusing, busy yet at the same time, meaningful and insightful emergent media diagrams.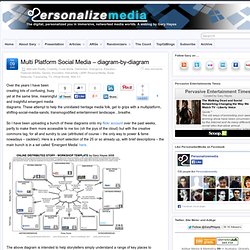 These attempt to help the uninitiated heritage media folk, get to grips with a multiplatform, shifting-social-media-sands, transmogodified entertainment landscape…breathe. So I have been uploading a bunch of these diagrams onto my flickr account over the past weeks, partly to make them more accessible to me too (oh the joys of the cloud) but with the creative commons tag, for all and sundry to use (attributed of course – the only way to power & fame nowadays – cackles!). Here is a short selection of the 25 or so already up, with brief descriptions – the main bunch is in a set called 'Emergent Media' here. Facebook Nutzerzahlen. Ning – Erstellen Sie ein soziale Netzwerk-Website mit Ning, der besten Plattform für Social Websites. How to Avoid Trolls, Landmines, and Time-Sucks in Social Media. Sagt Social Networks adieu, begrüßt Private Networks!
Blogger Richard Gutjahr glaubt, eine Art "Facebook Fatigue" ausgemacht zu haben.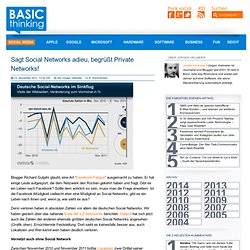 Er hat einige Leute aufgespürt, die dem Netzwerk den Rücken gekehrt haben und fragt: Gibt es ein Leben nach Facebook? Sollte dem wirklich so sein, muss man die Frage erweitern: Ist die Facebook-Müdigkeit vielleicht eher eine Müdigkeit an Social Networks, gibt es ein Leben nach ihnen und, wenn ja, wie sieht es aus? Wie sich Kundenservice durch Social Media verändert. Unternehmen und Kunden sind so sichtbar wie nie zuvor.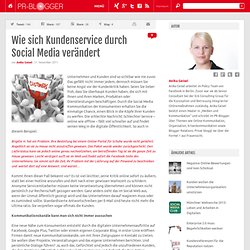 Das gefällt nicht immer jedem, dennoch müssen Sie keine Angst vor der Kundenkritik haben. Seien Sie lieber froh, dass Sie überhaupt Kunden haben, die sich mit Ihnen und Ihren Marken, Produkten oder Dienstleistungen beschäftigen. Durch die Social Media Kommunikation der Konsumenten erhalten Sie die einmalige Chance, einen Blick in die Köpfe Ihrer Kunden zu werfen. Die schlechte Nachricht: Schlechter Service – online wie offline – fällt viel schneller auf und findet seinen Weg in die digitale Öffentlichkeit. Inside Social Apps 2012 - February 8-9 in San Francisco. Conferences Delve into the current and future impact of 3D printing, as well as its applications and services with leading industry experts.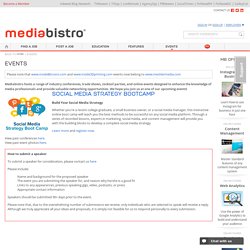 Sign up to receive the latest updates on Inside 3D Printing shows Brazil April 16-17, 2014 | Sao Paulo, World Trade Center South Korea June 12-13, 2014 | Seoul, Kintex Exhibition Center Australia July 9-10, 2014 | Melbourne Convention and Exhibition Centre. Community & Family Studies (BA), Adult & continuing education: Courses.
Reputation Intelligence - from StepRep. Social Media Führerschein - Workshops und Coaching in Social Media Kommunikation, Monitoring, Marketing und Messung. Statistiken »» Social Media Führerschein - Workshops und Coaching in Social Media Kommunikation, Monitoring, Marketing und Messung. List of social networking websites. This is a list of major active social networking websites and excludes dating websites (see Comparison of online dating websites).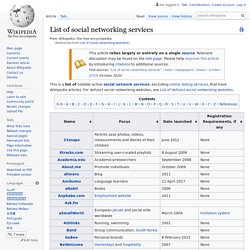 For defunct social networking websites, see List of defunct social networking websites. This list is not exhaustive, and is limited to notable, well-known sites. Top 15 Most Popular Social Networking Sites. Here are the 15 Most Popular Social Networking Sites as derived from our eBizMBA Rank which is a constantly updated average of each website's Alexa Global Traffic Rank, and U.S. Traffic Rank from both Compete and Quantcast. "*#*" Denotes an estimate for sites with limited data. 1 | Facebook3 - eBizMBA Rank | 900,000,000 - Estimated Unique Monthly Visitors | 3 - Compete Rank | 3 - Quantcast Rank | 2 - Alexa Rank | Updated: April 1, 2014.
Top 20 Most Popular Social Networking Websitess. SMO_Periodic_Table.png (2304×1584) The Ultimate List: 40 Social Networking Sites Specifically for Small Business, Entrepreneurs, and Startups. We all know of the huge social networking sites like Twitter and Facebook. They're great for large scale connections and discussion. But, as entrepreneurs and small business owners sometimes it's nice to connect with other like minded individuals in a smaller, more focused setting. If that sounds like what you are looking for in a social network, the below list is for you. We've scoured the Internet looking for social networking sites specifically for small businesses, entrepreneurs and startups, and found 40 we feel are worth a look. Social media news, strategy, tools, and techniques | Social Media Today. Social media: A guide for researchers. Social media is an important technological trend that has big implications for how researchers (and people in general) communicate and collaborate. Researchers have a huge amount to gain from engaging with social media in various aspects of their work.
This guide has been produced by the International Centre for Guidance Studies, and aims to provide the information needed to make an informed decision about using social media and select from the vast range of tools that are available. One of the most important things that researchers do is to find, use and disseminate information, and social media offers a range of tools which can facilitate this.
The guide discusses the use of social media for research and academic purposes and will not be examining the many other uses that social media is put to across society. Social Media News and Web Tips – Mashable – The Social Media Guide. 9 Digital Ways to Become a Social Good Hero in 2012. Scott Henderson is managing director of CauseShift and writes about social impact for the Chronicle of Philanthropy, RallytheCause.com and occasionally for the ableBanking blog.
January is already half-over, so how's that New Year's resolution to do more good coming along? If you haven't made much progress, don't fret — changing the world might be easier than you think. The web and social media continue to create new opportunities to do good in simple ways. Whether by putting aside some savings or checking-in with an app, you might be surprised how much good you can do with just a few clicks. Erste Social Media Week in Hamburg: ein voller Erfolg. Über 5.200 Teilnehmer in mehr als 40 Locations 88 Veranstaltungen, davon 30 im Livestream #smwhh bei Twitter zeitweise unter den Top 5 in Deutschland Ergebnisse in Kürze auch auf der SMWHamburg-Website Die erste Social Media Week in Hamburg war ein voller Erfolg - so lautet das Resümee nach einer Woche ganz im Zeichen der sozialen Netzwerke. 125 Sprecher und Referenten in 88 Veranstaltungen, 5.200 registrierte Besucher und mehr als 3.000 Teilnehmer an den Livestreams bestätigen die Organisatoren: Hamburg darf im Kreise der internationalen Gastgeber-Städte nicht mehr fehlen.
Hamburgs Erster Bürgermeister Olaf Scholz hieß im Rahmen eines Panels zum Thema 'Wertewandel, Social Media und Politik' die Veranstaltung persönlich willkommen: "Es steht Hamburg als Medienmetropole gut an, dass auch wir an der Social Media Week teilnehmen. Seit Jahrhunderten ist der Hafen Umschlagplatz nicht nur für Waren, sondern auch für Informationen. Ein Knotenpunkt der Kommunikation. " Twitter. Women Win Facebook, Twitter, Zynga; Men Get LinkedIn, Reddit [INFOGRAPHIC] SocialTimes.com - Your Social Media Source. What tech execs are saying about your privacy. Social media. Social Media. Social Media Optimization. Web 2.0. Online-Community. User Generated Content. Online-Journalismus. Enterprise 2.0.
Google+
Infographic: The Astounding Power Of Pinterest. Die große Sammlung: 60 Facebook & Social Media Infografiken. Video Tutorial: Die eigene Facebook-Seite vermarkten (40 Minuten) Social Media News. Social Media News Feed Aggregators. Social Media Marketing.
Notsoindie.
---