Transhuman
What does this say about relgion a god and a soul? What is the sole just traped inside a brain? by timothylynnjenson Dec 21
The Future Of Genetics
Interesting topic, folks. I appreciate the info. by nullnull142 Jan 28
Hi, NDE,
You had a look on biology, I see.
Wait short time for psychology...
And... survive; if you can.
Happy new billion years. :-) by reel Jan 1
I think all ares of scienic will explore new places. The future of gentics is here. today. There is a famous quote about man and God and when mans becomes a "God" ny creating new life. I think it is mans nature to repeat history, this of course means that what ever we learn, it will nevermatter because we will inevatally kill ourselfs as a race. But then again, maybe we have done this before over the last couple billion years. I am a NDE suviver.. by jwasko777 Jan 1
Interesting & yet frightening at the same time. Thanks for posting! by nullnull142 Dec 31
Synthetic biology, ethics and the hacker culture
Read Thomas L. Friedman's "The World is Flat" or Neal Stephenson's "Cryptonomicon", and you get a glimpse into how the hacker culture that emerged at the tail end of the twentieth century revolutionized the digital world. Will a confluence of emerging technologies—including information tech, biotech, and nanotech—lead to a similar revolution in the biological world? Behind every computer screen is a complexity of software and hardware that together create a virtual world in which many of us spend more time living out our lives than is probably healthy—whether crunching numbers, playing games or churning out our latest blog. This world is built in part (some would say a large part) on the work of technically savvy individuals—hackers—who have learned the art of manipulating the fundamental building blocks of the digital world.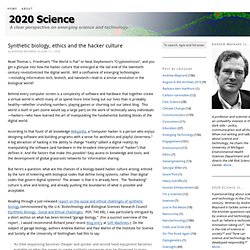 DNA trick throws ageing into reverse - health - 29 November 2010
A technique to keep the tips of your chromosomes healthy could reverse tissue ageing. The work, which was done in mice, is yet more evidence of a causal link between chromosome length and age-related disease. Telomeres, the caps of DNA which protect the ends of chromosomes, shorten every time cells divide. But cells stop dividing and die when telomeres drop below a certain length – a normal part of ageing. The enzyme telomerase slows this degradation by adding new DNA to the ends of telomeres.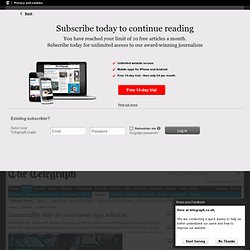 The 61-year-old American, who has predicted new technologies arriving before, says our understanding of genes and computer technology is accelerating at an incredible rate. He says theoretically, at the rate our understanding is increasing, nanotechnologies capable of replacing many of our vital organs could be available in 20 years time. Mr Kurzweil adds that although his claims may seem far-fetched, artificial pancreases and neural implants are already available. Mr Kurzweil calls his theory the Law of Accelerating Returns. Writing in The Sun , Mr Kurzweil said: "I and many other scientists now believe that in around 20 years we will have the means to reprogramme our bodies' stone-age software so we can halt, then reverse, ageing. Then nanotechnology will let us live for ever.
no ta, i have that one already, its why exams and the like have never posed a problem to me, i remember in video (or thats the best way i can describe it) if i want to remember where i put something for example i just run the bit where i had it last and i know where it is if that makes sense at all, until i was about 12 i imagined it was how everyone remembered, it amazed me when people told me that it wasnt and i still dont quite know how other people get by in life without it strangely sound is not so clear, i can remember seeing someone say something to me but not often all the words, and some parts of my earlier memories have no colour, i can still see the "video" but its all in a kind of greenish tinted greyscale, a strange old thing that grey matter 3/05/11 1:05am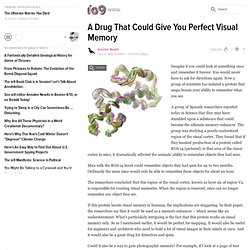 Regeneration of damaged tissues due to corneal disease begins in as few as two weeks Researchers in Australia have come up with an outwardly simple but incredibly ingenious way of curing blindness caused by corneal damage: Take everyday contact lenses, already used by millions (including me), and infuse them with a patient's own stem cells. After wearing them for about 2 weeks, test subjects reported a seemingly miraculous restoration of sight. Is it that easy?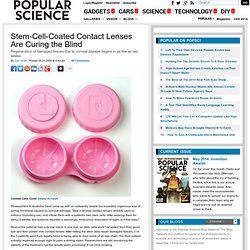 Stem-Cell-Coated Contact Lenses Are Curing the Blind | Popular Science - (Build 20100722150226)
Researchers Create the World's First Fully Synthetic, Self-Repli
Scientists call it 'the first self-replicating species we've had on the planet whose parent is a computer' M. mycoides JCVI-syn1.0 The J. Craig Venter Institute's "synthetic cell." JCVI If figuring out how to quickly sequence genomes was but the first small step for genetics, Craig Venter has gone ahead and made a giant leap for the discipline. The J.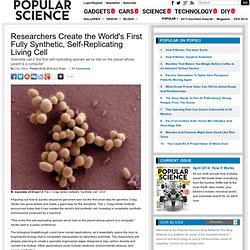 Computer records animal vision in Laboratory - UC Berkeley
A TransHuman Dream [with word abuse]
Transhumanists advocate the improvement of human capacities through advanced technology. Not just technology as in gadgets you get from Best Buy, but technology in the grander sense of strategies for eliminating disease, providing cheap but high-quality products to the world's poorest, improving quality of life and social interconnectedness, and so on. Technology we don't notice because it's blended in with the fabric of the world, but would immediately take note of its absence if it became unavailable.
Ray Kurzweil Explains the Coming Singularity
Kwabena Boahen: Making a computer that works like the brain
In Its Image
Anarchy is Emergent
Robot Controlled by Human Brainwaves