SHERLOCK
Sherlock Holmes in his study - Look and Learn History Picture Library
Believe in Sherlock (sherlock_bsi) on Twitter
I Believe In Sherlock Holmes/Moriarty Is Real
#BelieveInSherlock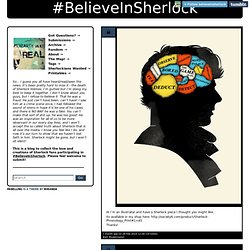 Put this on an easel in our arts class. Sorry for the quality. The letter M made of four crossed sabres is a "trademark" of Moriarty from the Soviet screen version of SH. I Believe! Found hanging off cafe Florin in Utrecht The Netherlands! Due to the weather it had suffered - but I still believe!
The Week in TV: Sherlock, The Golden Globe Awards and Stargazing Live - video | Culture
Beryl Vertue at the Broadcasting Press Guild awards 2012, where she collected the Harvey Lee award for outstanding contribution to broadcasting and spoke out against the focus on overnight ratings. Photograph: Can Nguyen/Capital Pictures Beryl Vertue, the founder and chairman of the independent producer responsible for BBC1 hit Sherlock , has accused the television industry of focusing too much on failure and urged it to ignore overnight ratings and to concentrate on other measures of success including audience appreciation. Vertue, the founder and chair of Hartswood Films, blamed newspaper coverage for much of the focus on ratings winners and singled out the Daily Mail for particular criticism for what she regarded as its negative coverage of the BBC . The paper had "lost the plot", she said. Vertue was speaking at the 38th Broadcasting Press Guild awards on Friday, where she collected the Harvey Lee Award for outstanding contribution to broadcasting.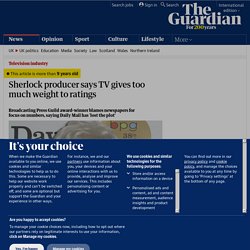 Sherlock producer says TV gives too much weight to ratings | Media
Sherlock - The Reichenbach Fall: Benedict Cumberbatch as Sherlock Holmes and Andrew Scott as Jim Moriarty. Photograph: Colin Hutton/BBC/Hartswood Films When PBS advertised an advance screening in New York of the second season of the BBC's masterful reinvention of the Sherlock Holmes novels, a staggering 10,000 people applied for tickets. Fans of the show came from all over the United States on the promise of an appearance by the star of the show Benedict Cumberbatch.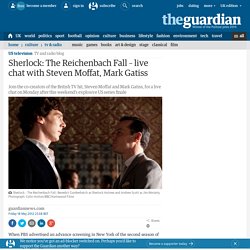 Sherlock - The Reichenbach Fall: live chat | Television & radio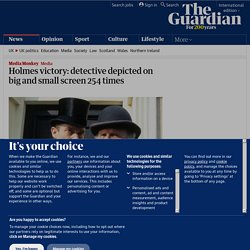 Holmes victory: detective depicted on big and small screen 254 times | Media Monkey | Media
A large casebook: one of the hundreds of incarnations. Photograph: ITV/Rex Features It is a factoid that is surely destined for pub quiz immortality: which literary character has been portrayed more times than any other in film and television? According to Guinness World Records , Sherlock Holmes has been depicted on the big and small screen a monster 254 times, reports the Mail . Shakespeare's Hamlet is the runner-up with 206 appearances.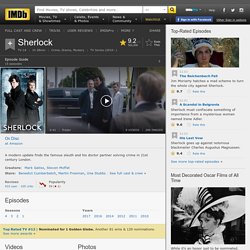 Edit Storyline In this modernized version of the Conan Doyle characters, using his detective plots, Sherlock Holmes lives in early 21st century London and acts more cocky towards Scotland Yard's detective inspector Lestrade because he's actually less confident. Doctor Watson is now a fairly young veteran of the Afghan war, less adoring and more active. Written by KGF Vissers Plot Summary | Add Synopsis
Martin John C. Freeman (born 8 September 1971) [ 3 ] is an English actor. He is known for his roles as Tim Canterbury in the BBC 's Golden Globe -winning comedy The Office , John in Love Actually , Arthur Dent in the film adaptation of Douglas Adams ' The Hitchhiker's Guide to the Galaxy , Dr. Watson in Sherlock , Paul Maddens in Nativity!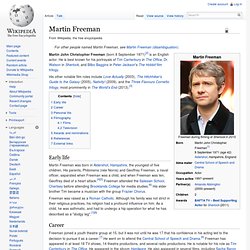 Martin Freeman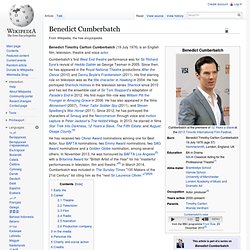 Benedict Timothy Carlton Cumberbatch (born 19 July 1976) is an English actor. His most acclaimed roles include Stephen Hawking in the BBC drama Hawking (2004); William Pitt in the historical film Amazing Grace (2006); protagonist Stephen Ezard in the miniseries thriller The Last Enemy (2008); Paul Marshall in Atonement (2007); Bernard in Small Island (2009); and Sherlock Holmes in the modern BBC adaptation series Sherlock (2010). In February 2011, he began playing both Victor Frankenstein and his creature opposite Jonny Lee Miller in Danny Boyle 's stage adaptation of Mary Shelley 's Frankenstein . The play had a three-month run at the Royal National Theatre . In late 2011, he played Major Stewart in Steven Spielberg 's War Horse (2011). He also played Peter Guillam , one of the pivotal roles in Tomas Alfredson 's Tinker Tailor Soldier Spy (2011).
Benedict Cumberbatch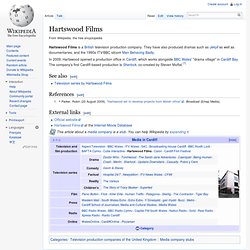 Hartswood Films
Hartswood Films is a British television production company. They have also produced dramas such as Jekyll as well as documentaries, and the 1990's ITV/BBC sitcom Men Behaving Badly . In 2009, Hartswood opened a production office in Cardiff , which works alongside BBC Wales ' "drama village" in Cardiff Bay . The company's first Cardiff-based production is Sherlock , co-created by Steven Moffat. [ 1 ] [ edit ] See also [ edit ] References
Sherlock is a British television crime drama that presents a contemporary update of Sir Arthur Conan Doyle 's Sherlock Holmes detective stories. It stars Benedict Cumberbatch as Sherlock Holmes and Martin Freeman as Doctor John Watson . Six episodes , broadcast since 2010, have been produced, with three more episodes scheduled to begin production in March 2013. The series has been sold to over 180 territories.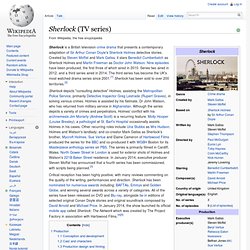 Benedict Cumberbatch brings classic style to the character of Sherlock Holmes. Photograph: BBC/Hartswood Films The BBC has got a lot right with Sherlock .
Sartorial style of Benedict Cumberbatch's Sherlock Holmes points the way for British men | Television & radio | The Observer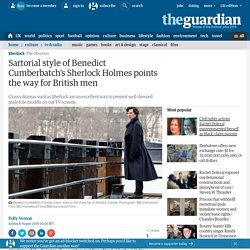 Who's this? Sherlock, a dummy … or Moriarty? Photograph: BBC
Sherlock's 'death': your theories | Television & radio
Ali Miller's tea set makes a guest appearance in Sherlock. Photograph: BBC It was a key scene in Sunday night's Sherlock . After evading justice for the crime of the century, the master detective's nemesis had popped round to Baker Street for a gloat. As he revealed how he'd got away with it, Sherlock poured him a cup of tea from a most striking teapot – and designer Ali Miller suddenly had a hit on her hands.
The Sherlock effect: teapot sales surge | Television & radio
We all saw Sherlock jump to his death from the roof of St Bart's hospital in his latest BBC reincarnation. We even saw the blood pouring from his head. But within five minutes he was looking on wistfully as Watson stood by Holmes's own grave – all ready for a third BBC series.
In praise of … Sherlock Holmes | Editorial | Comment is free
Jeremy Brett in Granada's The Adventures of Sherlock Holmes Photograph: ITV / Rex Features Everyone knows he was the arch villain – the Napoleon of crime – dashing about in the fog with an evil laugh and probably a sword stick. But, like most things everyone knows about Sherlock Holmes, it's not quite true. Professor Moriarty, with the quietly sinister manner and reptilian sway of the head, turns up in exactly one story, The Final Problem, although he plays a direct role in The Valley of Fear, and is indirectly mentioned in some others. Like Irene Adler – of A Scandal in Bohemia fame – and the Hound [of the Baskervilles] itself, he is a one shot deal. True, he does kill off our hero in his one go, but since that was reversed a few years later – oh, Sherlock, we knew you were kidding – it hardly accounts for his fame.
Steven Moffat: Sir Arthur Conan Doyle writes villains like no other | Television & radio
Sherlock finale: your verdict on The Great Game | Television & radio
Benedict Cumberbatch as Sherlock Holmes and Martin Freeman as Doctor John Watson in BBC1's Sherlock. Photograph: BBC/Hartswood Films When Steven Moffat tweeted that this first run of Sherlock peaked with the very last scene, he wasn't just trying to keep watching 'til the end.
TV review: Sherlock | Television & radio
TV ratings – 8 August: Sherlock ends with 7.3m viewers | Media
Sherlock and the strange case of the missing commissioning team | Peter Preston | Media | The Observer
Speedy's Sandwich Bar & Cafe
Sherlock: BBC will not remove nude scenes for 7pm repeat | Media
Sherlock's nude 'dominatrix' says she found role 'empowering' | Media
Six to Watch: True bromances | Television & radio