SHERLOCK
Sherlock Holmes in his study - Look and Learn History Picture Library
Believe in Sherlock (sherlock_bsi) on Twitter
(just as it says on the tin) Please take the time to read this. ... What is this you say?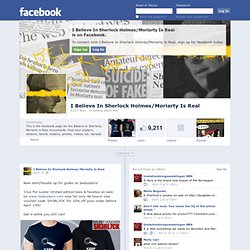 I Believe In Sherlock Holmes/Moriarty Is Real
#BelieveInSherlock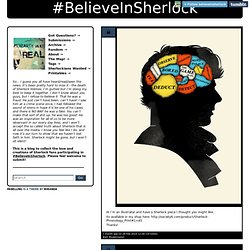 Get Sherlocked ! → With an aim of reaching 50 in 10 days we are launching a T-shirt with "I am sherlocked" printed on it. So grab this simple, elegant, interesting tee and celebrate this sherlock season and help us reach our goal. http://teespring.com/getsherlocked My violin/piano medley as tribute to Sherlock :)
The Week in TV: Sherlock, The Golden Globe Awards and Stargazing Live - video | Culture
Beryl Vertue, the founder and chairman of the independent producer responsible for BBC1 hit Sherlock, has accused the television industry of focusing too much on failure and urged it to ignore overnight ratings and to concentrate on other measures of success including audience appreciation. Vertue, the founder and chair of Hartswood Films, blamed newspaper coverage for much of the focus on ratings winners and singled out the Daily Mail for particular criticism for what she regarded as its negative coverage of the BBC. The paper had "lost the plot", she said. Vertue was speaking at the 38th Broadcasting Press Guild awards on Friday, where she collected the Harvey Lee Award for outstanding contribution to broadcasting. "The ones with the bigger numbers are the winners," she said, of what she claimed was an excessive focus in the industry and in newspapers on overnight ratings figures.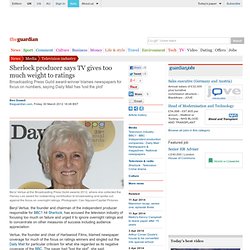 Sherlock producer says TV gives too much weight to ratings | Media
When PBS advertised an advance screening in New York of the second season of the BBC's masterful reinvention of the Sherlock Holmes novels, a staggering 10,000 people applied for tickets. Fans of the show came from all over the United States on the promise of an appearance by the star of the show Benedict Cumberbatch. This series of Sherlock has drawn record audiences for PBS's Sunday night Masterpiece Mystery slot. The first episode in the three-ep season drew 3.2m viewers, more than double the average of PBS's primetime rating. And the best is to come: an explosive season finale, The Reichenbach Fall, airs on PBS Sunday night. And we guarantee that you'll want to talk about it all day Monday.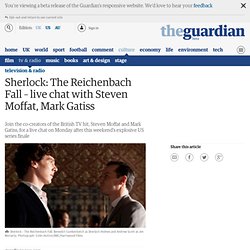 Sherlock - The Reichenbach Fall: live chat | Television & radio
Holmes victory: detective depicted on big and small screen 254 times | Media Monkey | Media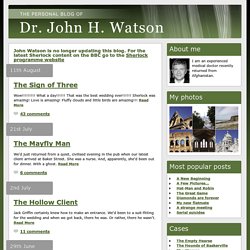 The blog of Dr. John. H. Watson
11th August The Sign of Three Wow!!!!!!!!!
Sherlock (TV Series 2010– 
Early life Martin Freeman was born in Aldershot, Hampshire, the youngest of five children. His parents, Philomena (née Norris) and Geoffrey Freeman, a naval officer, separated when Freeman was a child, and when Freeman was ten, Geoffrey died of a heart attack.[4][5] Freeman attended the Salesian School, Chertsey before attending Brooklands College for media studies.[6] His elder brother Tim became a musician with the group Frazier Chorus. Freeman was raised Roman Catholic.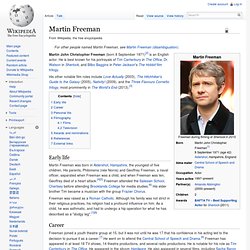 Martin Freeman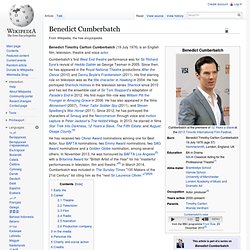 Benedict Timothy Carlton Cumberbatch (born 19 July 1976) is an English film, television, theatre and voice actor. He is most known for his roles as Stephen Hawking in the drama Hawking (2004), Paul Marshall in Atonement (2007), Victor Frankenstein and his creature in Danny Boyle's stage adaptation of Frankenstein (2011), Major Jamie Stewart in War Horse (2011), Sherlock Holmes in the series Sherlock (2010–present), Peter Guillam in Tinker Tailor Soldier Spy (2011), Christopher Tietjens in the miniseries Parade's End (2013), Khan Noonien Singh in Star Trek Into Darkness (2013), William Ford in 12 Years a Slave (2013), Julian Assange in The Fifth Estate and Smaug the dragon through voice and motion capture in Peter Jackson's The Hobbit trilogy. He has earned an Olivier Award, four BAFTA nominations, two Emmy Award nominations and a Golden Globe nomination, among several others.
Benedict Cumberbatch
Hartswood Films
A fansite dedicated to BBC Sherlock | Sherlockology
Sherlock is a British television crime drama that presents a contemporary adaptation of Sir Arthur Conan Doyle's Sherlock Holmes detective stories. Created by Steven Moffat and Mark Gatiss, it stars Benedict Cumberbatch as Sherlock Holmes and Martin Freeman as Doctor John Watson. Nine episodes have been produced, the first three of which aired in 2010. Series two aired in 2012, and a third series started to air in 2014.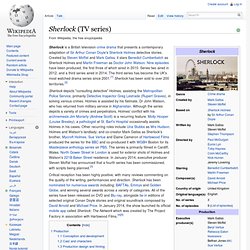 Sherlock (TV series)
Advertisement We are always looking to improve the site and your opinions count. Do you have a few minutes to tell us what you think about this site? x Accessibility links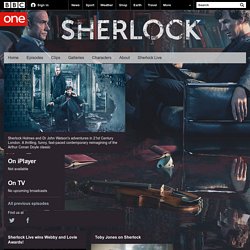 BBC One - Sherlock
The BBC has got a lot right with Sherlock. The pitch-perfect casting, the smartness of the dialogue, the seamless melding of trad old school Holmes aesthetics and sensibilities with the modern (who knew text would compliment a Conan Doyle creation so effortlessly? Or GPS, for that matter?) But better than all this is the wardrobe of lead actor Benedict Cumberbatch. Holmes was created a fashion icon: chic, theatrical, a devotee of a grand silhouette, a fan of a flamboyant accessory.
Sartorial style of Benedict Cumberbatch's Sherlock Holmes points the way for British men | Television & radio | The Observer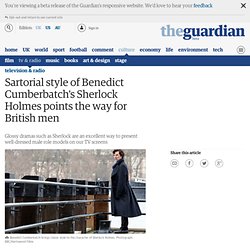 Greatcoat billowing in the breeze, Sherlock stepped gracefully from the rooftop edge on Sunday night and began his plummet towards earth. John Watson watched in horror – and at home 8 million BBC1 viewers did much the same. What was going on?
Sherlock's 'death': your theories | Television & radio
It was a key scene in Sunday night's Sherlock. After evading justice for the crime of the century, the master detective's nemesis had popped round to Baker Street for a gloat. As he revealed how he'd got away with it, Sherlock poured him a cup of tea from a most striking teapot – and designer Ali Miller suddenly had a hit on her hands. Miller has been selling the teapot, a fine bone china number with a picture of a map of the UK, through her website for about a year. "I sold out by the end of the evening," she says. "I am so very delighted.
The Sherlock effect: teapot sales surge | Television & radio
In praise of … Sherlock Holmes | Editorial | Comment is free
Steven Moffat: Sir Arthur Conan Doyle writes villains like no other | Television & radio
Sherlock finale: your verdict on The Great Game | Television & radio
TV review: Sherlock | Television & radio
TV ratings – 8 August: Sherlock ends with 7.3m viewers | Media
Sherlock and the strange case of the missing commissioning team | Peter Preston | Media | The Observer
Speedy's Sandwich Bar & Cafe
Sherlock: BBC will not remove nude scenes for 7pm repeat | Media
Sherlock's nude 'dominatrix' says she found role 'empowering' | Media
Six to Watch: True bromances | Television & radio