SHERLOCK
Sherlock Holmes in his study - Look and Learn History Picture Library. Believe in Sherlock (sherlock_bsi) I Believe In Sherlock Holmes/Moriarty Is Real. #BelieveInSherlock. Hi I'm an illustrator and have a Sherlock piece I thought you might like.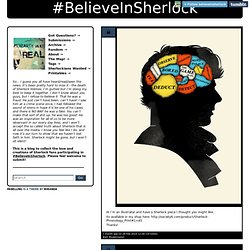 Its available in my shop here: Thanks! Lego version of the series 3 launch trailer by Alexander Leitner. Get Sherlocked ! → The Week in TV: Sherlock, The Golden Globe Awards and Stargazing Live - video. Sherlock producer says TV gives too much weight to ratings | Media. Beryl Vertue at the Broadcasting Press Guild awards 2012, where she collected the Harvey Lee award for outstanding contribution to broadcasting and spoke out against the focus on overnight ratings.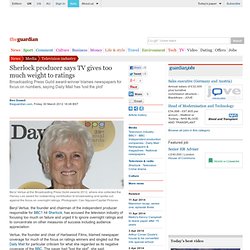 Photograph: Can Nguyen/Capital Pictures Beryl Vertue, the founder and chairman of the independent producer responsible for BBC1 hit Sherlock, has accused the television industry of focusing too much on failure and urged it to ignore overnight ratings and to concentrate on other measures of success including audience appreciation.
Vertue, the founder and chair of Hartswood Films, blamed newspaper coverage for much of the focus on ratings winners and singled out the Daily Mail for particular criticism for what she regarded as its negative coverage of the BBC. The paper had "lost the plot", she said. Sherlock - The Reichenbach Fall: live chat | Television & radio. When PBS advertised an advance screening in New York of the second season of the BBC's masterful reinvention of the Sherlock Holmes novels, a staggering 10,000 people applied for tickets.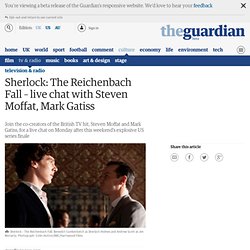 Fans of the show came from all over the United States on the promise of an appearance by the star of the show Benedict Cumberbatch. This series of Sherlock has drawn record audiences for PBS's Sunday night Masterpiece Mystery slot. The first episode in the three-ep season drew 3.2m viewers, more than double the average of PBS's primetime rating. And the best is to come: an explosive season finale, The Reichenbach Fall, airs on PBS Sunday night. And we guarantee that you'll want to talk about it all day Monday. Holmes victory: detective depicted on big and small screen 254 times | Media Monkey | Media. The blog of Dr. John. H. Watson. Sherlock (TV Series 2010– 
Edit Storyline In this modernized version of the Conan Doyle characters, using his detective plots, Sherlock Holmes lives in early 21st century London and acts more cocky towards Scotland Yard's detective inspector Lestrade because he's actually less confident.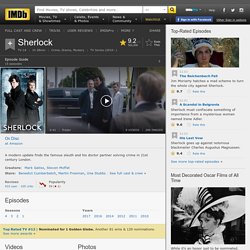 Doctor Watson is now a fairly young veteran of the Afghan war, less adoring and more active. Written by KGF Vissers Plot Summary | Plot Synopsis. Martin Freeman. Early life Martin Freeman was born in Aldershot, Hampshire, the youngest of five children.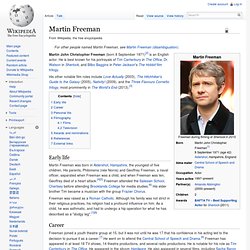 His parents, Philomena (née Norris) and Geoffrey Freeman, a naval officer, separated when Freeman was a child, and when Freeman was ten, Geoffrey died of a heart attack.[4][5] Freeman attended the Salesian School, Chertsey before attending Brooklands College for media studies.[6] His elder brother Tim became a musician with the group Frazier Chorus. Freeman was raised as a Roman Catholic. Benedict Cumberbatch. Benedict Timothy Carlton Cumberbatch (19 July 1976) is an English film, television, theatre and voice actor.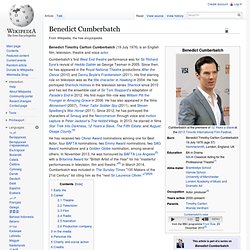 He has received two Olivier Award nominations winning one for Best Actor, four BAFTA nominations, two Emmy Award nominations, two SAG Award nominations and a Golden Globe nomination, among several others. In November 2013, he was honoured by BAFTA Los Angeles[5] with a Britannia Award for "British Artist of the Year" for his "masterful performances in television, film and theatre. "[6] In March 2014, Cumberbatch was included in The Sunday Times "100 Makers of the 21st Century" list citing him as the "next Sir Laurence Olivier.
Hartswood Films. A fansite dedicated to BBC Sherlock | Sherlockology. Sherlock (TV series) Sherlock is a British television crime drama that presents a contemporary adaptation of Sir Arthur Conan Doyle's Sherlock Holmes detective stories.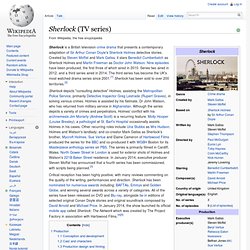 Created by Steven Moffat and Mark Gatiss, it stars Benedict Cumberbatch as Sherlock Holmes and Martin Freeman as Doctor John Watson. Nine episodes have been produced, the first three of which aired in 2010. Series two aired in 2012, and a third series aired in 2014. BBC One - Sherlock. Sartorial style of Benedict Cumberbatch's Sherlock Holmes points the way for British men | Television & radio | The Observer. The BBC has got a lot right with Sherlock.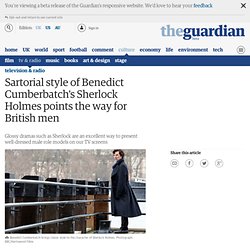 The pitch-perfect casting, the smartness of the dialogue, the seamless melding of trad old school Holmes aesthetics and sensibilities with the modern (who knew text would compliment a Conan Doyle creation so effortlessly? Or GPS, for that matter?) But better than all this is the wardrobe of lead actor Benedict Cumberbatch. Holmes was created a fashion icon: chic, theatrical, a devotee of a grand silhouette, a fan of a flamboyant accessory. Sherlock's 'death': your theories | Television & radio. Greatcoat billowing in the breeze, Sherlock stepped gracefully from the rooftop edge on Sunday night and began his plummet towards earth.
John Watson watched in horror – and at home 8 million BBC1 viewers did much the same. What was going on? The Sherlock effect: teapot sales surge | Television & radio. Ali Miller's tea set makes a guest appearance in Sherlock.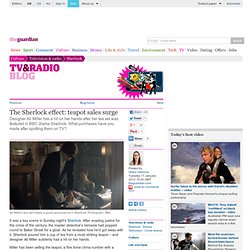 Photograph: BBC It was a key scene in Sunday night's Sherlock. After evading justice for the crime of the century, the master detective's nemesis had popped round to Baker Street for a gloat. As he revealed how he'd got away with it, Sherlock poured him a cup of tea from a most striking teapot – and designer Ali Miller suddenly had a hit on her hands. Miller has been selling the teapot, a fine bone china number with a picture of a map of the UK, through her website for about a year. In praise of … Sherlock Holmes | Editorial.
Steven Moffat: Sir Arthur Conan Doyle writes villains like no other | Television & radio. Jeremy Brett in Granada's The Adventures of Sherlock Holmes Photograph: ITV / Rex Features Everyone knows he was the arch villain – the Napoleon of crime – dashing about in the fog with an evil laugh and probably a sword stick. But, like most things everyone knows about Sherlock Holmes, it's not quite true. Professor Moriarty, with the quietly sinister manner and reptilian sway of the head, turns up in exactly one story, The Final Problem, although he plays a direct role in The Valley of Fear, and is indirectly mentioned in some others. Sherlock finale: your verdict on The Great Game | Television & radio. When Steven Moffat tweeted that this first run of Sherlock peaked with the very last scene, he wasn't just trying to keep watching 'til the end.
With snipers, explosives and trigger-fingers this was more devilish than a Spooks cliffhanger - it's as though Moffat and Mark Gatiss were worried that the show wouldn't be recommissioned. And while that seems highly unlikely, a perverse part of me almost doesn't want the show to come back so the ending can be preserved forever. First though, a little housekeeping. Three stories in and we see the continuity blend together, the series hitting its stride just as it ends. We see Watson's blog beginning to make ripples around London, mirroring his dispatches from the books, and cross-stitching in the series' own mythos.
TV review: Sherlock | Television & radio. 'Ask me what that is," I say to my girlfriend, nodding at my new purchase, a small tree in a pot on the patio. I've been hoping she'd ask me of her own accord, but it's been a few days and she hasn't, almost certainly on purpose – to hurt my feelings. "Go on then, what is it? " she sighs. "Ah ha," I say, whipping out the magnifying glass I just happen to have about my person. I make a play of examining the evidence, the dark green shiny leaves, the smell that comes off when I crush one in my fingers. TV ratings – 8 August: Sherlock ends with 7.3m viewers | Media. Sherlock and the strange case of the missing commissioning team | Peter Preston | Media | The Observer. Speedy's Sandwich Bar & Cafe.
Sherlock: BBC will not remove nude scenes for 7pm repeat | Media. Sherlock's nude 'dominatrix' says she found role 'empowering' | Media. Six to Watch: True bromances | Television & radio.
---