Second Life - Team ZooM
Psychadellivision by ~Volcanic-Penguin on deviantART. Free LSL script Library. S 3D Tools and LSL Script Repository. Image UUID: 40474b70-5a33-5102-6872-14a926fc53f7.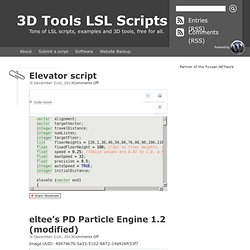 LSL Portal. From Second Life Wiki LSL (Linden Scripting Language) is the scripting language that gives behavior to Second Life primitives, objects, and avatars.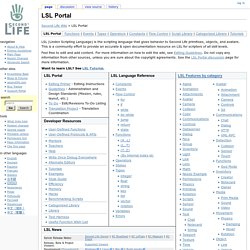 This is a community effort to provide an accurate & open documentation resource on LSL for scripters of all skill levels. Feel free to edit and add content. For more information on how to edit the wiki, see Editing Guidelines. Do not copy any information from other sources, unless you are sure about the copyright agreements. Second Life. Built into the software is a three-dimensional modeling tool based on simple geometric shapes that allows residents to build virtual objects.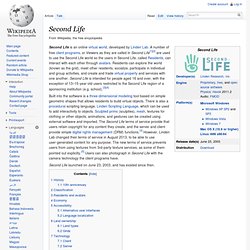 There is also a procedural scripting language, Linden Scripting Language, which can be used to add interactivity to objects. Sculpted prims (sculpties), mesh, textures for clothing or other objects, animations, and gestures can be created using external software and imported. The Second Life terms of service provide that users retain copyright for any content they create, and the server and client provide simple digital rights management (DRM) functions.[3] However, Linden Lab changed their terms of service in August 2013, to be able to use user-generated content for any purpose.
The new terms of service prevents users from using textures from 3rd-party texture services, as some of them pointed out explicitly.[5] Users can also photograph in Second Life with the camera technology the client programs have. Virtual Worlds, Avatars, free 3D chat, online meetings - Second Life Official Site.
DeWeY Umia
Elizabeth Calderwood.
---