Science
Directorate for Computer & Information Science & Engineering Critical Techniques and Technologies for Advancing Big Data Science & Engineering (BIGDATA) Solicitation 14-543 Full Proposal Deadline Date: June 9, 2014 This year, the solicitation invites two types of proposals: "Foundations" (F): those developing or studying fundamental techniques, theories, methodologies, and technologies of broad applicability to Big Data problems; and "Innovative Applications" (IA): those developing techniques, methodologies and technologies of key importance to a Big Data problem directly impacting at least one specific application.
Funding - Core Techniques and Technologies for Advancing Big Data Science & Engineering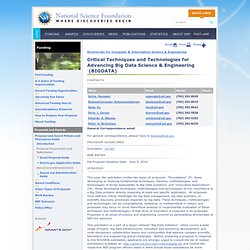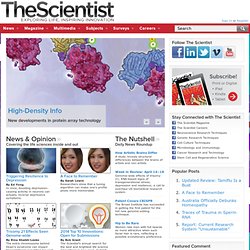 INTEGRA announces the VIAFLO ASSIST - an innovative new device that, in combination with a VIAFLO II electronic handheld pipette, enables the pipette's protocols to be performed automatically. This unique new product from INTEGRA reduces the need for traditional handheld pipetting to a minimum, relieving lab personnel from activities that may cause repetitive stress injuries. Lipofectamine® 3000 demonstrates the highest transfection efficiency in the broadest spectrum of cell types with improved cell viability and reproducibility. Eppendorf has launched five new models to its epMotion range of automated pipetting systems. Designed for effective, automated liquid handling applications, epMotion 5075 systems provide a precise, accurate alternative to time-consuming manual pipetting and liquid handling tasks. The Titrette® is the new generation of bottletop burette from BRAND.
NOVA Energy LabHelp design energy systems that meet demand and save the greatest amount of carbon emissions for the least amount of moneyAstro Drone Crowdsourcing GameIf you own a Parrot AR.Drone Quadricopter, you can participate in the European Space Agency's (ESA) Astro Drone crowdsourcing game to help improve robot visionWeddell Seal Population CountHelp scientists in the field monitor the Weddell seal population in McMurdo Sound, Antarctica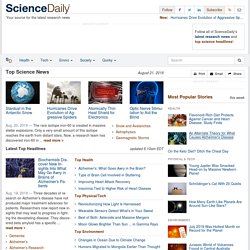 Megafloods: What They Leave Behind South-central Idaho and the surface of Mars have an interesting geological feature in common: amphitheater-headed canyons. Researchers offer a plausible account that all these canyons were created by enormous floods. ... > full story Image Perception in the Blink of an Eye Imagine seeing a dozen pictures flash by in a fraction of a second. You might think it would be impossible to identify any images you see for such a short time.
popsci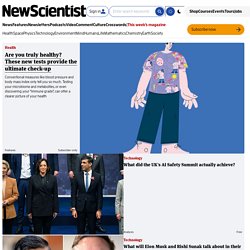 Cookies on the New Scientist website close Our website uses cookies, which are small text files that are widely used in order to make websites work more effectively.
Star birth sparked at the Galaxy's edge Nidever, et al., NRAO/AUI/NSF and Mellinger, Leiden-Argentine-Bonn Survey, Parkes Observatory, Westerbork Observatory, Arecibo Observatory. Gas from another galaxy is hitting our own, triggering the birth of bright new stars and adding fresh luster to the Milky Way. An article by Scientific American.