Curriculum Portals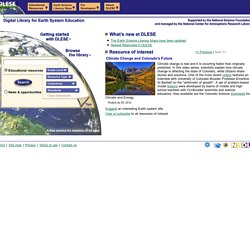 Climate Change and Colorado's Future Climate change is real and it is occurring faster than originally predicted. In this video series, scientists explain how climate change is affecting the state of Colorado, while citizens share stories and solutions.
Digital Library for Earth System Education
View selected lessons from MSC translated into Spanish. Ver las Lecciones ► Investigate the world of atoms and molecules through hands-on inquiry-based activities and molecular model animations. View the Lessons ► View selected lessons from MSC translated into Spanish. Ver las Lecciones ► Investigate the world of atoms and molecules through hands-on inquiry-based activities and molecular model animations.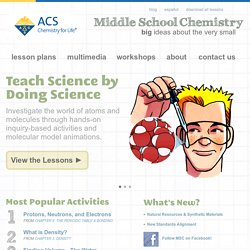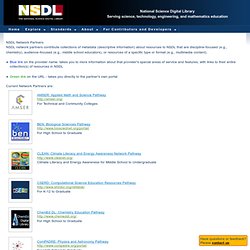 NSDL Pathways - The National Science Digital Library
NSDL Network Partners NSDL network partners contribute collections of metadata (descriptive information) about resources to NSDL that are discipline-focused (e.g., chemistry), audience-focused (e.g., middle school educators), or resources of a specific type or format (e.g., multimedia content). Blue link on the provider name: takes you to more information about that provider's special areas of service and features, with links to their entire collection(s) of resources in NSDL Green link on the URL - takes you directly to the partner's own portal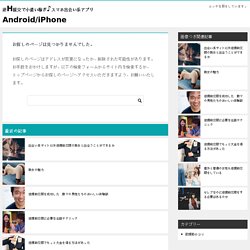 The APS Archive of Teaching Resources
Search the Archive My Archive My Community Submit to the Archive Featured Collections
Making Science Make Sense - Home
New York Times Knowledge Network
Online Science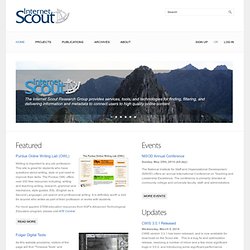 Internet Scout Project
This short film from the University of Cambridge introduces the field of nanoscience. The film would be a good introduction to the nanoscale, and the applications of nanotechnology, for students learning these concepts for the first time. Narrated by Stephen Fry, running time for this video is 17:27. For more applied STEM education resources from NSF's Advanced Technological Education program, please visit ATE Central. Although the case method has been used for years to teach law, business, and medicine, it is not common in science. Yet the use of case studies holds great promise as a pedagogical technique for teaching science, particularly to undergraduates, because it humanizes science and well illustrates scientific methodology and values.
ENC Online: A K-12 math and science teacher center.
Doing What Works - Math and Science
Office of Science Outreach
Questions or comments? Visit my FAQ page or send an e-mail to the webmaster! The Science Spot was developed in March 1999 by Tracy (Trimpe) Tomm8th Grade Science Teacher @ Havana Junior High, Havana, IL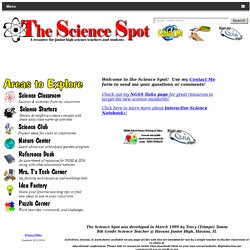 learningscience.org
Browse Resources Verizon Foundation proudly partners with some of the country's top educational organizations to provide you with the latest topics, tools and trends in education. Created by the John F. Kennedy Center for the Performing Arts, ARTSEDGE provides resources and examples for teachers to teach in, through and about the arts. The site includes lesson plans, advocacy and professional development resources, and up-to-date information on arts programs from around the world.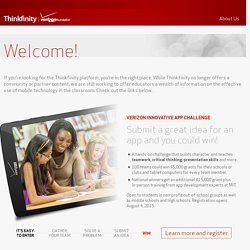 Resources for STEM Education
This site contains an initial sampling of resources and findings from NSF-funded projects. Their proposals underwent merit review; subsequent annual and final project reports were reviewed and approved. The resulting research-based resources have been pilot- or field-tested in schools or with teachers. The websites identified may offer additional information derived from their development and use with students, teachers, or other stakeholders. These resources and websites represent the work, findings, and conclusions of the Principal Investigators and do not necessarily reflect the views of the NSF.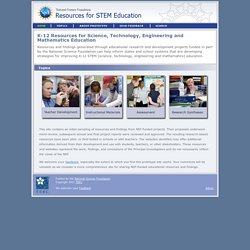 Science Text Central
Project Kaleidoscope (PKAL)
Education Recovery and Reinvestment Center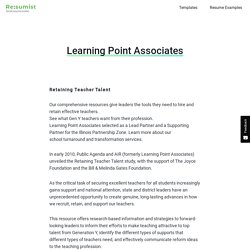 Where am I? Skip navigation and go to content Take advantage of extraordinary opportunities – we can help! It is daunting enough to determine which of the three Innovation Grants (i3) to pursue.
Science, Federal Resources for Educational Excellence (FREE)
Teacher Resource Center
The Teacher Resource Center provides a preview collection of K-12 instructional materials. TRC services include professional development workshops, consultation assistance, bibliographies and reference assistance. Educators have access to curriculum materials, books, multimedia, educational supply catalogs, periodicals and newsletters. The collection also includes reports on science and mathematics education, standards, assessment, equity and other topics. Visitors also have access to selective, password-protected websites.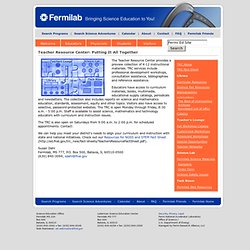 List Resources by Title - Consumers Guide to Afterschool Science
The Living Environment: Eggs Again
Browse By Subject Browse By Standard What is FREE?
Resources for Teaching Middle School Science--Contents
Curriculum Consortium - collaborative curriculum development to
Save the date for the BioQUEST 2014 Workshop! Join us as we focus on interdisciplinarity in STEM higher education. BioQUEST Faculty Summer 2014 Workshop University of Delaware June 21 – 28, 2014 BioQUEST actively supports undergraduate biology education through collaborative development of open curricula in which students pose problems, solve problems, and engage in peer review. Mashing it up!
Have you ever wondered if your wife is using mind control techniques on you? I know it sounds crazy, but when you really think about it have you ever been sitting there and then felt compelled to cook dinner for your wife when you normally wouldn't? Or maybe you don't normally take the trash out but all of a sudden you feel compelled to do it one day. Well if this s something which concerns you then you should definitely check out this site: http://www.mindcontroltechniquestraining.com/ I found that site while researching mind control and hypnosis and I have to say I was very surprised. I also found this video:
NSDL Science Literacy Maps help teachers connect concepts, standards, and NSDL educational resources by providing a way to see and discover how scientific concepts relate to one another. View the NSDL Science Literacy Maps NSDL provides access to audio, video, and other multimedia resources for science and math education through Apple's iTunes Store. There is no cost to use or download materials from NSDL on iTunes U. View NSDL on iTunes U View the distribution of NSDL resources in graphical form and browse by education level, resource type, subject, and audience.