Musées 9
Русский музей. Fundación-Museo Jorge Oteiza. Alzuza, Navarra. Palazzo Forti - Verona - Galleria d'arte moderna. Percorsi alle Gallerie dell'Accademia di Venezia. Museo d'Arte Moderna e Contemporanea di Trento e Rovereto. The State Hermitage Museum. The collection of the State Hermitage includes more than three million works of art and artefacts of the world culture.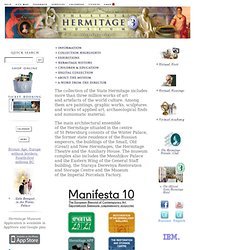 Among them are paintings, graphic works, sculptures and works of applied art, archaeological finds and numismatic material. The main architectural ensemble of the Hermitage situated in the centre of St Petersburg consists of the Winter Palace, the former state residence of the Russian emperors, the buildings of the Small, Old (Great) and New Hermitages, the Hermitage Theatre and the Auxiliary House. The museum complex also includes the Menshikov Palace and the Eastern Wing of the General Staff building, the Staraya Derevnya Restoration and Storage Centre and the Museum of the Imperial Porcelain Factory.
Musei Civici Vicenza. MUSEO BORGOGNA - BORGOGNA MUSEUM. Museo di Castelvecchio - Homepage. Palladio - Centro Internazionale di Studi di Architettura Andrea Palladio. Galleria d'Arte Moderna - Home page. НГХМ. Art Museum. Fondazione Querini Stampalia. FONDAZIONE ACCORSI - SCELTA DELLE IMPOSTAZIONI GRAFICHE. CAC Málaga · Modern Art Center. Tretyakov State Gallery. OutsiderArt. Fondazione Palazzo Bricherasio. "By luck, I stumbled upon your site, and of course I wanted to try it out.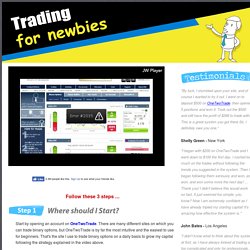 I went on to deposit $500 on OneTwoTrade, then opened 5 positions and won 4. Took out the $500 and still have the profit of $288 to trade with. This is a great system you got there Sir, I definitely owe you one. " Castello di Rivoli - Torino - Museo d'Arte Contemporanea. Moscow museum of modern art. Ìîñêîâñêèé Êðåìëü. Palazzo Grassi. Musei Vaticani - Sito Ufficiale. Fundación Juan March. Государственный Музей Изобразительных Искусств им. А.С.Пушкина. The Pushkin Fine Arts Museum, Russia.
Иркутский художественный музей. Irkutsk regional art museum after the name of V.P.Sukachov The site is created at the financial support of the.
Museo Julio Romero de Torres. CAAM. Centro Atlántico de Arte Moderno. Museo Civico, Biblioteca e Mediateca di Urbania (PU) Palazzo Colonna. Chelyabinsk Region Picture Gallery. Fundação Serralves. Arte y tecnología | Colecciones de arte. Divulgamos el conocimiento A través de la generación y divulgación del conocimiento, creamos, difundimos y compartimos el conocimiento cultural y tecnológico generado a partir de los usos, formatos y contenidos digitales.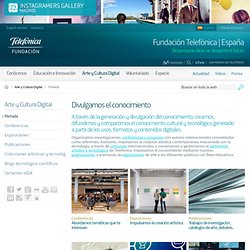 Organizamos investigaciones, conferencias y congresos con autores internacionales consolidados como referentes. Asímismo, impulsamos la creación artística contemporánea relacionada con la tecnología, a través de concursos internacionales, y conservamos y gestionamos el patrimonio artístico y tecnológico de Telefónica. Impulsamos el conocimiento mediante nuestras publicaciones, y acercando las exposiciones de arte a los diferentes públicos con fines educativos. Fondazione Musei Civici di Venezia. Venice. The permanent collection is composed of masterworks of Cubism, Futurism, European Abstractionism, Metaphysical Painting, Surrealism, and American Abstract Expressionism.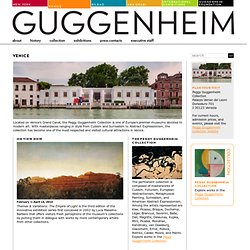 Among the artists represented are Klee, Picasso, Braque, Duchamp, Léger, Brancusi, Severini, Balla, Dalí, Magritte, Delaunay, Kupka, Miró, Picabia, Mondrian, Kandinsky, van Doesburg, Giacometti, Ernst, Pollock, Rothko, Calder, Moore, and Marini. Explore works in the Peggy Guggenheim Collection. Museo Revoltella. Portuguese Institute of Museums. Current Program | Museu do Chiado - MNAC. Fundació Suñol, Barcelona. Contemporary Art. | La Fundació. The Fundació Suñol is a private, non-profit making organisation which has put Josep Suñol's contemporary art collection on display to the public, and at the same time is running a project which encourages the production and diffusion of avant-garde art.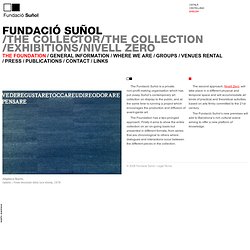 The Foundation has a two-pronged approach. Firstly it aims to show the entire collection on an on-going basis but presented in different formats, from series that are chronological to others where dialogues and interactions occur between the different pieces in the collection. The second approach, Nivell Zero, will take place in a different physical and temporal space and will accommodate all kinds of practical and theoretical activities based on arts firmly committed to the 21st century. Museu d'Art Contemporani de Barcelona.
Centre de Cultura Contemporània de Barcelona. Casa-Museu Medeiros e Almeida. M U S E U _ C O L E C Ç Ã O _ B E R A R D O. Home. Museu Calouste Gulbenkian. Fundació Gala - Salvador Dalí - Fundació Gala - Salvador Dalí. Museu Nacional d'Art de Catalunya. Fundación Caixa Galicia - La promoción de la cultura de Caixa Galic... Museu Episcopal de Vic. Museo Patio Herreriano de Valladolid Página Principal.
Inicio. Museu Picasso de Barcelona | El web de la ciutat de Barcelona. Sanfrancisco - Portada. Ivam.es. Instituto Valenciano de Arte Moderno Centre Julio González. Inicio - Museo de Bellas Artes de Valencia. Museo Bellas Artes de Sevilla. Portal de Museos y Conjuntos Arqueológicos y Monumentales de Andalucía. Inicio | Museo Guggenheim Bilbao. Museu Frederic Marès. Fes un tomb per les sales del Museu Actualitat Memòria medieval 2014Conferència el 6 de maig: Vestigis i memòries del claustre del convent de Santa Clara de Barcelona RAFAEL CASANOVA.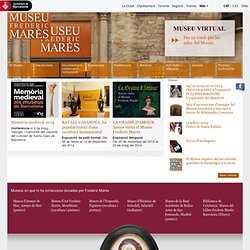 La popularització d'una escultura monumentalExposició de petit format. Del 26 de febrer al 14 de desembre del 2014 LA GRAINE D'AMOUR. Xavier visita el Museu Frederic MarèsExposició temporal.Del 20 de novembre del 2013 al 25 de maig del 2014. Museo Vostell Malpartida. Centro Andaluz de Arte Contemporáneo. Museo Esteban Vicente. ::.:: cGac - ::.:: MUSEO DE NAVARRA. Fundació Pilar i Joan Miró a Mallorca. Museo Vázquez Díaz. NERVA. MGEC - Marbella.
Fundación Bartolomé March. Museo Picasso Málaga. Museo Sorolla. Fundación Lázaro Galdiano - Museo. El Museo de arte Thyssen-Bornemisza - (Paseo del Prado, 8, Madrid-España) Museo Reina Sofía. Museo Nacional del Prado. Museu d'Art Jaume Morera. MUSAC ::: Museo de Arte Contemporáneo de Castilla y León. Giri in bicicletta - un' ottimo modo per trascorrere il tempo libero. Castello del Buonconsiglio monumenti e collezioni provinciali. Palazzo Ruspoli. Chamber of Deputies - 16 th Parliament - Administration - Chamber Premises - Artistic heritage - Artistic heritage (Part 1) Museo Napoleonico. Museo de Arte Contemporáneo. Historia del Museo de Arte Contemporáneo Museo Arte Contemporáneo AVISO: El Museo se cerró al público el día 18 de abril del 2010 y no tiene fecha prevista de apertura.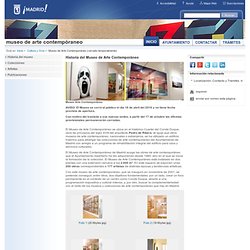 La Alhambra de Granada. Museo Chillida-Leku. Inicio | Museo de Bellas Artes de Bilbao. Accademia dei Concordi - Pinacoteca.
---