Related sites
PIG eusk - convocatoria_pig_2013_2014_eusk
Social Lab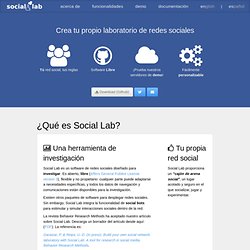 Es un wargame Un wargame es un reto relacionado con la seguridad informática en el que es necesario explotar una vulnerabilidad de un sistema o aplicación para lograr acceder al sistema. Las personas que participan en el reto han de emplear técnicas hacker para lograr superarlo. Ingeniería social
El también lo define como un wargame , un reto relacionado con la seguridad informática. Como se dice en la propia web: Social Lab replica las funcionalidades de una red social básica (peticiones de amistad, actualizaciones de estado, mensajes privados, fotos, páginas, etc.) para proporcionar un "sandbox social" , un lugar acotado y seguro donde experimentar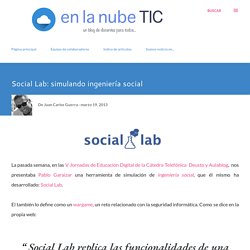 En la nube TIC: Social Lab: simulando ingeniería social
Cyberbullying
If you would like to support NCPC's work on cyberbullying or any other campaign, please click here . If you're like most teenagers, you spend a lot of time on a cell phone or instant messenger chatting with friends and uploading photos, videos, and music to websites. You may have online friends whom you've never met in person, with whom you play games and exchange messages. Teens' lives exist in a variety of places such as school hallways, part-time jobs, and friends' houses.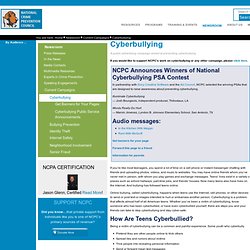 Home Do you use the internet to share information about yourself or others, communicate with friends, comment on what you see online, play games, get material for an assignment or buy stuff online? If you answered YES to any of these, you are a digital citizen. Why is digital citizenship important?
Digital Citizenship 7-12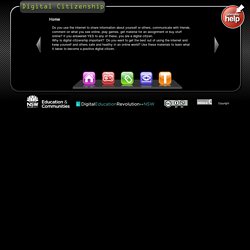 Advice on safety issues from our partners We work closely with a number of child safety organizations. Check out more advice from these partners on issues like digital reputation and cyberbullying. Tips from parents at Google Watch some of our parents at Google talking about how they manage their children's safety online and read safety tips from Google.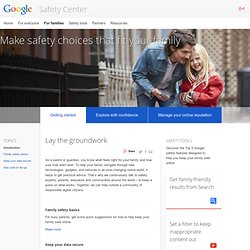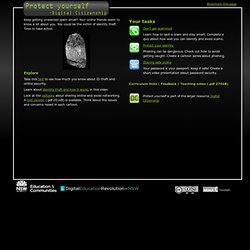 Keep getting unwanted spam email? Your online friends seem to know a lot about you. You could be the victim of identity theft.
protect yourself digital citizenship
Munch, Poke, Ping (MPP) * is a project which explores how social media and mobile phone technology affects young people's peer relationships, behaviour and identity and how they cope when there is conflict online. The project is run by e-safety and child advocate Stephen Carrick-Davies. The project works directly with young people who are, or who feel, excluded and uses film-making to help 'unlock' and explore young people's experience of growing up online. All the films on this website have been devised and acted by young people who have been excluded from main-stream school and are taught in Pupil Referral Units. What is unique about this project is that through the intensive workshops and film-making we have been able to caputre the authentic voices of young people, and then contrast these views with those from the dedicated staff who we filmed sharing about how they deal with these issues in their professional practice.
MPP Stephen Carrick Davies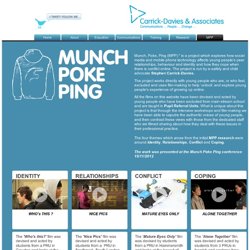 10 Interactive Lessons By Google On Digital Citizenship Added by Jeff Dunn on 2012-07-22 YouTube has a firm place in the current classroom. From Khan Academy's videos to YouTube EDU and beyond, there's a reason all these videos are finding a home in schools.
unnamed pearl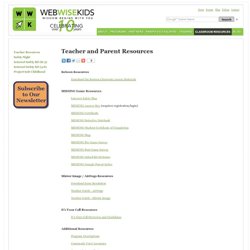 Web Wise Kids - Teacher/Parent Resources
BeSeen Resources Download the BeSeen Classroom Lesson Materials MISSING Game Resources Internet Safety Plan MISSING Answer Key (requires registration/login) MISSING Certificate MISSING Detective Notebook MISSING Student Certificate of Completion MISSING Map MISSING Pre Game Survey MISSING Post Game Survey MISSING School Kit Welcome MISSING Sample Parent Letter Mirror Image / AirDogs Resources Download Issue Resolution Teacher Guide - AirDogs Teacher Guide - Mirror Image
Making Safer Online Choices
Discovery Education Web2012 : Internet Safety
Safe | DigitalMe
www.safesocialnetworking.org Safe is a unique new project that gives primary school pupils a real-life way of learning e-safety through social networking. Practical activities develop children's skills, confidence and safety awareness online. Since children are going online at younger and younger ages, internet safety campaigns and initiatives must be tailored towards younger age groups,...this has implications for curricula and teacher training in primary schools. 57% of 9-16 year olds have a social networking profile Safe complements and adds to initiatives like the DfE and UKCCis's Zip it Block it Flag it, by offering a safe and authentic way to practice these skills. Safe trains pupils to ask, before they share online: Who will see what you share?
Digital Citizenship, Privacy & Safety - New Tools - LibGuides at Springfield Township High School
Introduction - Google+ Help
Thinkuknow - home
Have you ever done something you regret? Ever shared something and wished you hadn't? Would you know what to do and where to turn if you did? Find out what it's like when things spiral out of control with our new film – First to a Million. It's a film with a difference – you're in control.
Bully | Now Playing In Select Theaters | Official Site
National Cyber Security Alliance | StaySafeOnline.org
Welcome
There's a lot to deal with on the Internet—cyberbullies, privacy settings, gossip, and even creeps.
Teens
unnamed pearl
Digital Citizenship
Welcome to the Digital Citizenship Website Digital Citizenship is a concept which helps teachers, technology leaders and parents to understand what students/children/technology users should know to use technology appropriately. Digital Citizenship is more than just a teaching tool; it is a way to prepare students/technology users for a society full of technology. Digital citizenship is the norms of appropriate, responsible technology use.
Under the framework of the European Commission's Safer Internet Programme, Insafe and INHOPE work together to deliver a safer and better internet.
Pan-EU Youth | Pan-EU Youth
Digital Education Revolution