Related sites
PIG eusk - convocatoria_pig_2013_2014_eusk
▶ PEARLTREES en ESPAÑOL: Construye los recursos con tus alumnos
Social Lab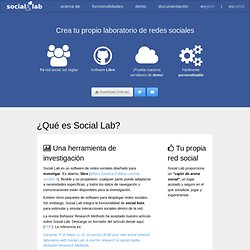 Requisitos Un servidor web compatible con PHP 5 (por ejemplo, Apache, Lighttpd, IIS, etc.). El framework Symfony 1.4. Un servidor de bases de datos compatible con Symfony 1.4 (por ejemplo, MySQL, PostgreSQL, etc.).
El también lo define como un wargame, un reto relacionado con la seguridad informática. Como se dice en la propia web: Social Lab replica las funcionalidades de una red social básica (peticiones de amistad, actualizaciones de estado, mensajes privados, fotos, páginas, etc.) para proporcionar un "sandbox social", un lugar acotado y seguro donde experimentar A pesar de que pueda parecer similar a un truco o fraude, se trata habitualmente de técnicas encaminadas al engaño con el objetivo de obtener información privilegiada o el acceso a un sistema informático. En la mayoría de los casos el atacante nunca se encuentra cara a cara con sus víctimas. La ingeniería social como un acto de manipulación psicológica ha sido asociada previamente con las ciencias sociales, pero actualmente es habitual su presencia en ámbitos propios de las nuevas tecnologías.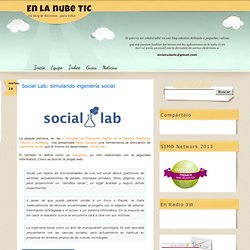 En la nube TIC: Social Lab: simulando ingeniería social
Cyberbullying
If you would like to support NCPC's work on cyberbullying or any other campaign, please click here. If you're like most teenagers, you spend a lot of time on a cell phone or instant messenger chatting with friends and uploading photos, videos, and music to websites. You may have online friends whom you've never met in person, with whom you play games and exchange messages. Teens' lives exist in a variety of places such as school hallways, part-time jobs, and friends' houses.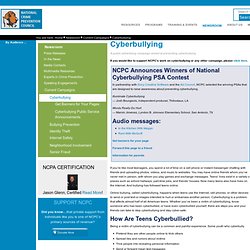 Home Do you use the internet to share information about yourself or others, communicate with friends, comment on what you see online, play games, get material for an assignment or buy stuff online? If you answered YES to any of these, you are a digital citizen. Why is digital citizenship important?
Digital Citizenship 7-12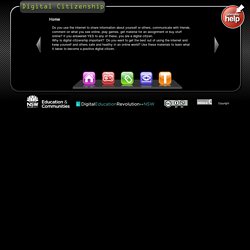 Set a filter to keep inappropriate content out If you'd prefer to not to see mature or age-restricted content as you browse YouTube, scroll to the bottom of any YouTube page and enable Safety Mode. Safety Mode helps filter out potentially objectionable content from search, related videos, playlists, shows, and films. Learn more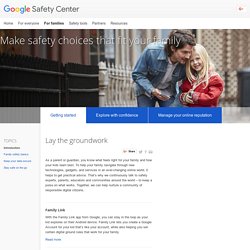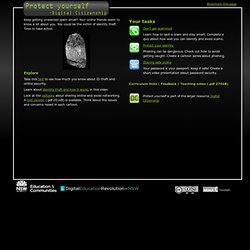 Keep getting unwanted spam email? Your online friends seem to know a lot about you. You could be the victim of identity theft.
protect yourself digital citizenship
Munch, Poke, Ping (MPP) * is a project which explores how social media and mobile phone technology affects young people's peer relationships, behaviour and identity and how they cope when there is conflict online. The project is run by e-safety and child advocate Stephen Carrick-Davies. The project works directly with young people who are, or who feel, excluded and uses film-making to help 'unlock' and explore young people's experience of growing up online. All the films on this website have been devised and acted by young people who have been excluded from main-stream school and are taught in Pupil Referral Units. What is unique about this project is that through the intensive workshops and film-making we have been able to caputre the authentic voices of young people, and then contrast these views with those from the dedicated staff who we filmed sharing about how they deal with these issues in their professional practice.
MPP Stephen Carrick Davies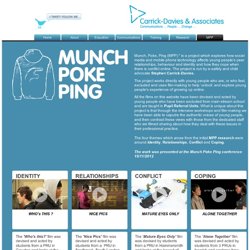 10 Interactive Lessons By Google On Digital Citizenship Added by Jeff Dunn on 2012-07-22 YouTube has a firm place in the current classroom. From Khan Academy's videos to YouTube EDU and beyond, there's a reason all these videos are finding a home in schools.
unnamed pearl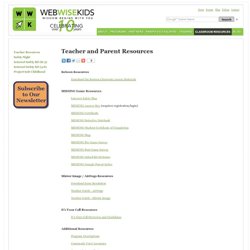 Web Wise Kids - Teacher/Parent Resources
BeSeen Resources Download the BeSeen Classroom Lesson Materials MISSING Game Resources Internet Safety Plan MISSING Answer Key (requires registration/login) MISSING Certificate MISSING Detective Notebook MISSING Student Certificate of Completion MISSING Map MISSING Pre Game Survey MISSING Post Game Survey MISSING School Kit Welcome MISSING Sample Parent Letter Mirror Image / AirDogs Resources Download Issue Resolution Teacher Guide - AirDogs Teacher Guide - Mirror Image
Making Safer Online Choices
Discovery Education Web2012 : Internet Safety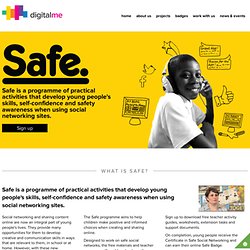 Safe | DigitalMe
This site uses some unobtrusive cookies to store information on your computer. Some cookies on this site are essential, and the site won't work as expected without them. These cookies are set when you submit a form, login or interact with the site by doing something that goes beyond clicking on simple links. We also use some non-essential cookies to anonymously track visitors or enhance your experience of the site. If you're not happy with this, we won't set these cookies but some nice features of the site may be unavailable.Some cookies on this site are essential, and the site won't work as expected without them. These cookies are set when you submit a form, login or interact with the site by doing something that goes beyond clicking on simple links.
Digital Citizenship, Privacy & Safety - New Tools - LibGuides at Springfield Township High School
Introduction - Google+ Help
Bully | Now Playing In Select Theaters | Official Site
Apr 9, 2014 Leading identity theft experts from The Identity Theft Council, National Consumers League, ID Theft Resource Center, PRIVATE WIFI and NCSA discussed the steps you can take to protect your personal information and how to respond if you become a victim of identity theft. Apr 7, 2014 Private WiFi's Jillian Ryan delves into the data from its latest study by Harris Poll identifying WiFi users, practices and risks, and shares it all in a new infographic. A version of this blog appeared on Private WiFi's blog on April 3.
National Cyber Security Alliance | StaySafeOnline.org
Welcome
Teens
unnamed pearl
Digital Citizenship
Pan-EU Youth | Pan-EU Youth