Recherche images
Moteur Banque D'Images, Photos, Illustrations Libre De Droits. Search Twitter Pictures | Thudit | Filter Twitter Pictures on Twitter | Real Time Twitter Image Search. MyGreatWorld - Your spot related photo community. Skylines | See it happen. PicFog - Quick Image Search. Twitter Hashtag Photo Albums | Hashalbum. Image Gratuit et Moteur de Recherche d'images. Sélection de moteur |- Fotosearch fournisseur de banques de photographies, illustrations, cartes géographiques, vidéos et audio.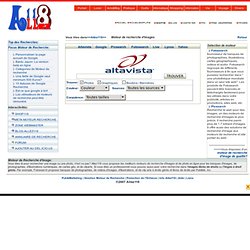 Fotosearch regroupe de différents fournisseurs à fin que vous puissiez rechercher dans " une photothèque mondiale dans un seul site web". LIFE photo archive hosted by Google. Free Stock Photos at freerangestock.com - Totally Free Stock Photography and Textures! Free Stock Photos - Foter. Banque d'Images Libres de Droits - 11,2 Millions de Photos, de Vidéos, d'Illustrations et d'images libres de droits. Une Photothèque et une Vidéothèque disponibles pour votre Recherche. Photo libre | photo gratuite libre de droit | photo libre de droit. CC Search. SearchPSD - The PSD source.
Openphoto.net: The Original Open Photo Project . since 1998 . 15892 images . 13469 registered users. Free On Line Photos - Page d'accueil de FOLP. Free Pictures - FreeFoto.com. Recherche d'images Web. Bing. Search - Recherche d'images. TinEye Reverse Image Search. Pictures. Recherche avancée. Images. Stock Photography - Search 11.1 Million Stock Photos, Stock Footage Video Clips, Royalty Free Images, and Illustrations. Recherche Image. Photo Pin : Free Photos for Bloggers via Creative Commons.
---