Learning & Intelligence
5 Freewriting Secrets for Being a "Genius". You've heard of freewriting, certainly.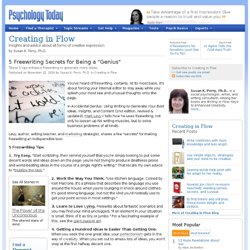 At its most basic, it's about forcing your internal editor to stay away while you splash your most raw and unusual thoughts onto the page. In Accidental Genius: Using Writing to Generate Your Best Ideas, Insights, and Content (2nd edition, revised & updated), Mark Levy tells how he uses freewriting, not only to loosen up his writing muscles, but to solve business problems of all kinds. Backmasking & Reverse Speech. What is Reverse Speech?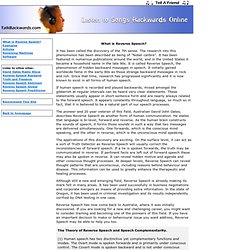 It has been called the discovery of the 7th sense. The research into this phenomenon has been described as being of "Nobel calibre". It has been featured in numerous publications around the world, and in the United States it became a household name in the late 90s. It is called Reverse Speech, the phenomenon of hidden backward messages in speech. How to Re-program Your Memory to Become More Self-Reliant. Highly Trusting People Better Lie Detectors. Contrary to our intuition, research suggests that more trusting people are better than cynics at detecting when others are lying.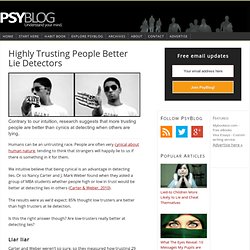 Humans can be an untrusting race. People are often very cynical about human nature, tending to think that strangers will happily lie to us if there is something in it for them. We intuitive believe that being cynical is an advantage in detecting lies. Or so Nancy Carter and J. Mark Weber found when they asked a group of MBA students whether people high or low in trust would be better at detecting lies in others (Carter & Weber, 2010). How to Promote Visionary Thinking. Why we are more creative when mind and body are out of step.
Usually we perform best with mind and body in sync. With our thoughts tied to our actions decisions are made faster, we are more engaged and we feel at one with ourselves. If you want to be creative, though, sometimes it pays to be out of sync according to a recent study by Huang and Galinsky (2011). They had some people recalling a happy time in their life while at the same time frowning. The All-Time Top Six Psychological Reasons We Love Music. What psychological roles does music play in our lives?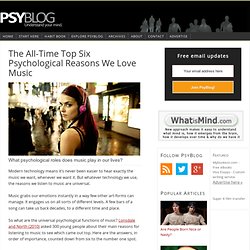 Modern technology means it's never been easier to hear exactly the music we want, whenever we want it. But whatever technology we use, the reasons we listen to music are universal. THE REVOLUTIONARY PLEASURE OF THINKING FOR YOURSELF. How to Hack Your Brain. @septentriones: Haha, what you're saying is actually quite indeed close to correct, though there is a bit more.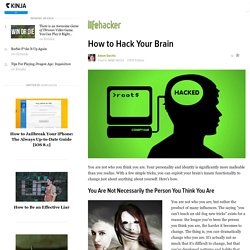 We are a culmination of our experiences, but that doesn't mean that our minds cannot advance further than that, for all that is required is the idea of an experience, for example, I have never been sledding down a mountain. However, I can imagine a sled, imagine a mountain, and myself in motion, so I can build the idea of the experience. If you can transcend your own personal experiences and create new ones idly, your potential for knowledge is increased 10fold. Manipulation News, Videos, Reviews and Gossip - Lifehacker. This is really more of a side effect of the way that computer sales work.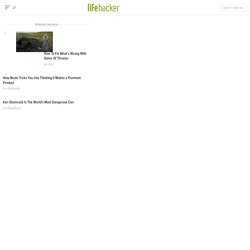 As a computer salesman, my goal is to pair you with a computer that (a) you'll be able to use to accomplish everything you want to do with a computer, including things you weren't thinking about (games, netflix) but that you'll use the thing for anyway, (b) that is capable of running things that your workplace / school will require of you, and also (c) that fits into your lifestyle well enough that it's something you'll be happy to keep using. If I fail at this job, two things will happen. You'll definitely be upset with me, because I sold you a product that didn't do what you needed. You're also very likely to return the product for a different one, and that hurts my numbers more than me selling you a cheap computer. "Mind-Mapping": How We Manipulate the People We Love. December 7, 2011 | Like this article?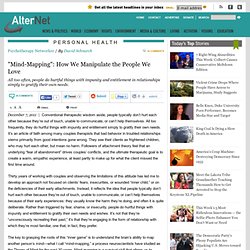 Join our email list: Stay up to date with the latest headlines via email. Conventional therapeutic wisdom aside, people typically don't hurt each other because they're out of touch, unable to communicate, or can't help themselves. All too frequently, they do hurtful things with impunity and entitlement simply to gratify their own needs. Home Page. This wiki is a collaborative environment for exploring ways to become a better thinker.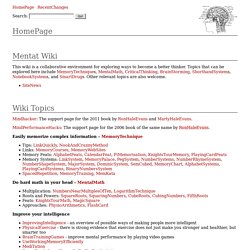 Topics that can be explored here include MemoryTechniques, MentalMath, CriticalThinking, BrainStorming, ShorthandSystems, NotebookSystems, and SmartDrugs. Other relevant topics are also welcome. SiteNews Wiki Topics Mindhacker: The support page for the 2011 book by RonHaleEvans and MartyHaleEvans. Why Do Some People Learn Faster? | Wired Science  The physicist Niels Bohr once defined an expert as "a person who has made all the mistakes that can be made in a very narrow field."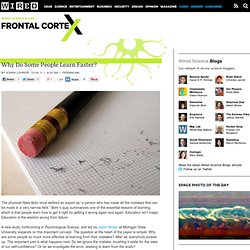 Bohr's quip summarizes one of the essential lessons of learning, which is that people learn how to get it right by getting it wrong again and again. Education isn't magic. Education is the wisdom wrung from failure. A new study, forthcoming in Psychological Science, and led by Jason Moser at Michigan State University, expands on this important concept. The question at the heart of the paper is simple: Why are some people so much more effective at learning from their mistakes?
---