Learning & Intelligence
You've heard of freewriting, certainly. At its most basic, it's about forcing your internal editor to stay away while you splash your most raw and unusual thoughts onto the page. In Accidental Genius: Using Writing to Generate Your Best Ideas, Insights, and Content (2nd edition, revised & updated), Mark Levy tells how he uses freewriting, not only to loosen up his writing muscles, but to solve business problems of all kinds.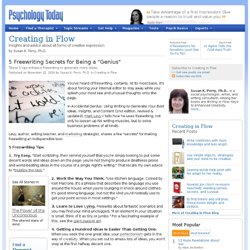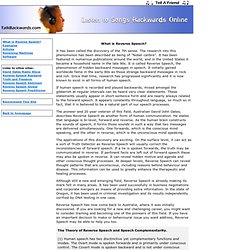 Backmasking & Reverse Speech
What is Reverse Speech? It has been called the discovery of the 7th sense. The research into this phenomenon has been described as being of "Nobel calibre". It has been featured in numerous publications around the world, and in the United States it became a household name in the late 90s. It is called Reverse Speech, the phenomenon of hidden backward messages in speech.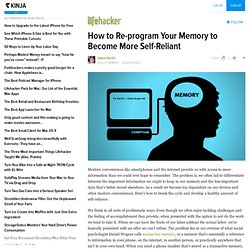 Modern conveniences like smartphones and the internet provide us with access to more information than we could ever hope to remember. The problem is, we often fail to differentiate between the important information we ought to keep in our memory and the less-important data that's better stored elsewhere. As a result we become too dependent on our devices and other modern conveniences. Here's how to break the cycle and develop a healthy amount of self-reliance. We think in all sorts of problematic ways.
Contrary to our intuition, research suggests that more trusting people are better than cynics at detecting when others are lying. Humans can be an untrusting race. People are often very cynical about human nature, tending to think that strangers will happily lie to us if there is something in it for them. We intuitive believe that being cynical is an advantage in detecting lies. Or so Nancy Carter and J. Mark Weber found when they asked a group of MBA students whether people high or low in trust would be better at detecting lies in others (Carter & Weber, 2010).
Highly Trusting People Better Lie Detectors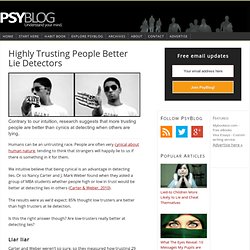 Why we are more creative when mind and body are out of step. Usually we perform best with mind and body in sync. With our thoughts tied to our actions decisions are made faster, we are more engaged and we feel at one with ourselves. If you want to be creative, though, sometimes it pays to be out of sync according to a recent study by Huang and Galinsky (2011). They had some people recalling a happy time in their life while at the same time frowning.
How to Promote Visionary Thinking
The All-Time Top Six Psychological Reasons We Love Music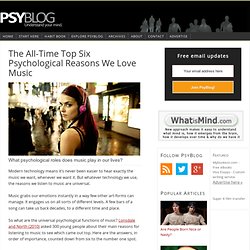 What psychological roles does music play in our lives? Modern technology means it's never been easier to hear exactly the music we want, whenever we want it. But whatever technology we use, the reasons we listen to music are universal.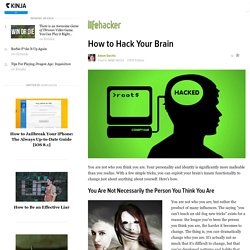 I've been doing this sort of thing since I was a freshman in highschool; I used to be a super shy person that didn't talk to anyone, currently I'm a shy person that doesn't really care about anything, thinks he has the capacity to do absolutely anything with limitless potential yet still amounts to nothing as there's always someone better (psychological trick to improve capabilities faster) and is far more social than ever. ;D I just find it easier to teach myself that I truly don't exist, I'm simply what I want to be whilst influenced by the knowledge I have. Deciding what you want to be and what factors decide how that can happen is the hardest part, but once you figure it out you can literally do or be anything you'd like. Hacking yourself is extremely fun, just be careful so you don't run into an identity crisis or depression. It's a fine line if you go too fast, and it can freak out your friends if you change _too_ quickly. 1/31/11 3:43pm
If you've ever been convinced by a salesperson that you truly wanted a product, done something too instinctively, or made choices that seemed entirely out of character, then you've had an idea planted in your mind. Here's how it's done. Note: We've gotten a lot of emails about how to do this in specific situations. Although some of those situations have been legitimate, this post was written to teach you to detect these tactics rather than use them on others. If you want a good way to convince people to do what you want that doesn't involve the dark side of manipulation, read this. In the corporate world, "manipulation" is called leadership.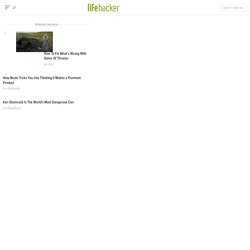 December 7, 2011 | Like this article?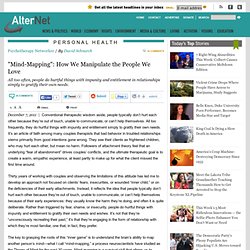 "Mind-Mapping": How We Manipulate the People We Love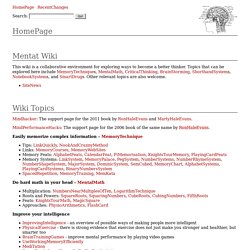 This wiki is a collaborative environment for exploring ways to become a better thinker. Topics that can be explored here include MemoryTechniques, MentalMath, CriticalThinking, BrainStorming, ShorthandSystems, NotebookSystems, and SmartDrugs. Other relevant topics are also welcome. SiteNews Wiki Topics Mindhacker: The support page for the 2011 book by RonHaleEvans and MartyHaleEvans.
The physicist Niels Bohr once defined an expert as "a person who has made all the mistakes that can be made in a very narrow field." Bohr's quip summarizes one of the essential lessons of learning, which is that people learn how to get it right by getting it wrong again and again. Education isn't magic.