Findings & anecdotes
Feeling edgy? Get some sleep. UC BERKELEY (US) — A lack of sleep, which is common in anxiety disorders, may play a key role in firing up brain regions that contribute to excessive worrying.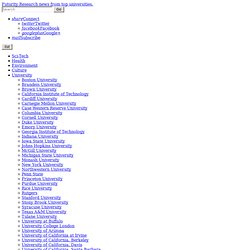 Sleep deprivation amplifies anticipatory anxiety by activating the brain's amygdala and insular cortex—regions associated with emotional processing. The resulting pattern mimics the abnormal neural activity seen in anxiety disorders. Furthermore, research suggests that innate worriers—people who are naturally more anxious and therefore more likely to develop a full-blown anxiety disorder—are acutely vulnerable to the effect of insufficient sleep.
Porn Star James Deen GQ Profile - July 2012: Celebrities. It is a clement spring day in greater Los Angeles, and James Deen is driving through the soft green tumescences of the Calabasas hills on his way to a pornographic-movie shoot.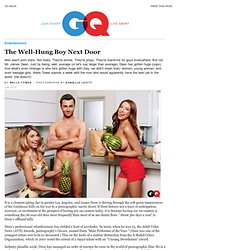 If Deen betrays not a trace of anticipation, aversion, or excitement at the prospect of having sex on-camera today, it is because having sex on-camera is something the 26-year-old does more frequently than most of us use dental floss: "About 360 days a year" is Deen's offhand tally. Deen's professional relentlessness has yielded a host of accolades. In 2009, when he was 23, the Adult Video News (AVN) Awards, pornography's Oscars, named Deen "Male Performer of the Year. " Psychologists discover oxytocin receptor gene's link to optimism, self-esteem. UCLA life scientists have identified for the first time a particular gene's link to optimism, self-esteem and "mastery," the belief that one has control over one's own life -- three critical psychological resources for coping well with stress and depression.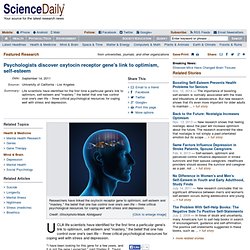 "I have been looking for this gene for a few years, and it is not the gene I expected," said Shelley E. Taylor, a distinguished professor of psychology at UCLA and senior author of the new research. "I knew there had to be a gene for these psychological resources. " Basics - A Molecule of Motivation, Dopamine Excels at Its Task. Which Traits Predict Success? (The Importance of Grit) | Wired Science  What are the causes of success?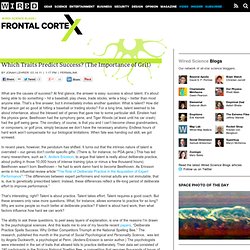 At first glance, the answer is easy: success is about talent. It's about being able to do something – hit a baseball, play chess, trade stocks, write a blog – better than most anyone else. That's a fine answer, but it immediately invites another question: What is talent? The Benefits of Distraction and Overstimulation. I.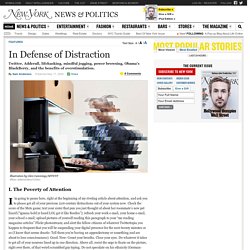 The Poverty of Attention I'm going to pause here, right at the beginning of my riveting article about attention, and ask you to please get all of your precious 21st-century distractions out of your system now. The Memory Doctor 2010 - The future of false memories. Psychology Today: The Ideological Animal. Cinnamon Stillwell never thought she'd be the founder of a political organization.
She certainly never expected to start a group for conservatives, most of whom became conservatives on the same day—September 11, 2001. She organized the group, the 911 Neocons, as a haven for people like her—"former lefties" who did political 180s after 9/11. Stillwell, now a conservative columnist for the San Francisco Chronicle , had been a liberal her whole life, writing off all Republicans as "ignorant, intolerant yahoos.
" How Violent Sex Helped Ease My PTSD - Media. It was my research editor who told me it was completely nuts to willingly get fucked at gunpoint.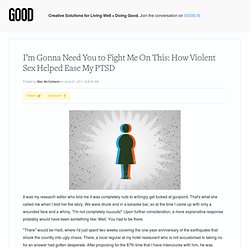 That's what she called me when I told her the story. We were drunk and in a karaoke bar, so at the time I came up with only a wounded face and a whiny, "I'm not completely nuuuuts! " Upon further consideration, a more explanative response probably would have been something like: Well. You had to be there.
---