Emotional Intelligence
Welcome to SIOP
Six Seconds
Graduate School of Applied and Professional Psychology
Emotional-social Intelligence (EI) and Emotional Quotient (EQ) Pioneer, Reuven Bar-On
Health, Emotion and Behavior Laboratory Yale University
The Health, Emotion, and Behavior Laboratory is now the Yale Center for Emotional Intelligence. We are thrilled to be embarking on this new phase of our work, spurred on by many exciting changes both at Yale and nationwide. In the fall of 2012, Yale University Provost and HEB Lab Director Peter Salovey was elected President of Yale. Congratulations, President-Elect Salovey! Under the direction of Dr. Marc Brackett, the Yale Center for Emotional Intelligence will carry on proudly Dr.
Hay Group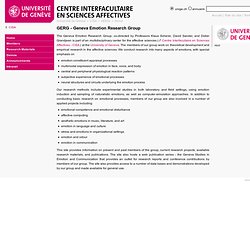 Titre du site Web - GERG - Geneva Emotion Research Group
The Geneva Emotion Research Group, co-directed by Professors Klaus Scherer, David Sander, and Didier Grandjean is part of an multidisciplinary center for the affective sciences ( Centre Interfacultaire en Sciences Affectives - CISA ) at the University of Geneva . The members of our group work on theoretical development and empirical research in the affective sciences. We conduct research into many aspects of emotions, with special emphasis on emotion-constituent appraisal processes multimodal expression of emotion in face, voice, and body central and peripheral physiological reaction patterns subjective experience of emotional processes neural structures and circuits underlying the emotion process Our research methods include experimental studies in both laboratory and field settings, using emotion induction and sampling of naturalistic emotions, as well as computer-simulation approaches.
eq
Emotional Intelligence
EMONET - Emotions Network
ESADE Law & Business Schools
ESADE Law & Business Schools
Center for Social and Emotional Education
National School Climate Center